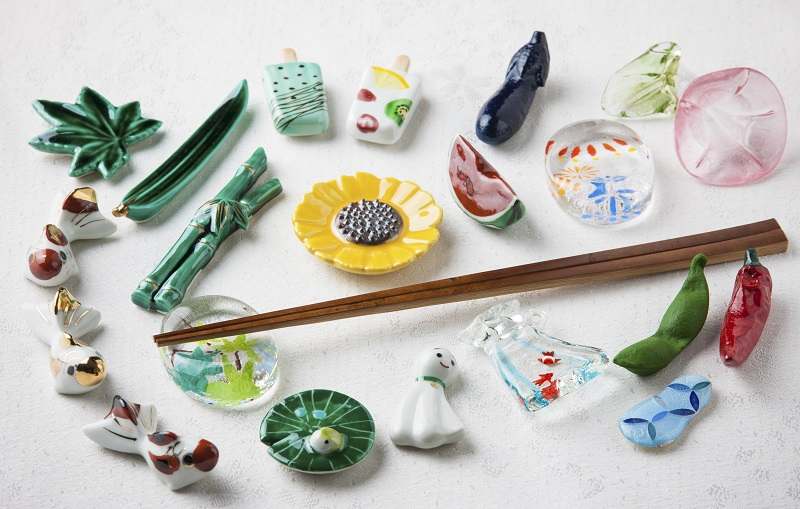 14:29 JST, August 17, 2021
As many people have to eat at home far more than usual amid the pandemic, perhaps new chopstick rests could provide a welcome change of mood around the dining table.
Chopstick rests, called hashioki in Japanese, can add a bit of color or seasonal touches to the table depending on their materials and motifs.
Glass morning glories and adorable goldfish that help convey a feeling of cooling off, as well as green edamame beans that instantly make you want to have a beer — chopstick rests perfect for the season can be found at Ginza Natsuno's flagship store in the Ginza district of Tokyo.
It can be fun just to look at the flowers, vegetables and other chopstick rest motifs reflecting the four seasons.
"Chopstick rests bring a little richness and excitement to our daily lives," said Toshiki Sato, manager of the Ginza store.
Pay special attention to what the rest is made of when selecting one. There are many materials to choose from, including ceramic hashioki from all over Japan, such as Kiyomizu ware and Arita ware. The shop also sells glass and brass rests, as well as ones coated in lacquer — as chopsticks themselves often are.
Sato travels around the country, visiting artisans and ceramic shops to select items for his store.
For example, Kyo-Satsuma ware chopstick rests are eye-catching with their gorgeous use of color and their small, intricate designs.
A furniture maker's wooden chopstick rests draw the eye, as they look like tiny chairs.
"Many people use them to decorate their homes," Sato said.
Modern homes are often too small for traditional decorations like koinobori carp streamers for Children's Day or hina dolls for the Hina Matsuri doll festival. To save space, chopstick rests symbolizing seasonal events can be used in lieu of the actual objects. Just placing chopstick rests with a flower motif in the entryway of your home can be enough to express a change in the seasons.
Hashioki artisans, like traditional craftspeople in general, often have no choice but to close their shops as they grow old without successors. When Sato visits the artisans, he tells them about the needs of his customers so they can develop new products. To better suit the modern dining table, one suggestion is to make items slightly smaller than before.
"Chopstick rests are an indispensable piece of decoration in Japanese culture and cuisine," Sato said. "Our job is to connect the artisans with the customers, protecting interesting, high-quality items, and ensuring the techniques are passed on."
Pairing well
When selecting a chopstick rest, consider what the chopsticks are made of and pair them accordingly.
Unlacquered bamboo and wooden chopsticks pair well with chopstick rests that are made of brass or another type of metal. The shine of the metal complements the grain and the rustic appearance of the wood.
On the other hand, if the chopsticks are painted with an iridescent color, a similarly lacquered chopstick rest will match perfectly. The glossy finishes of both items really draw the eye.
"I hope people will enjoy pairing [chopsticks and chopstick rests] based on their materials as well," Sato said.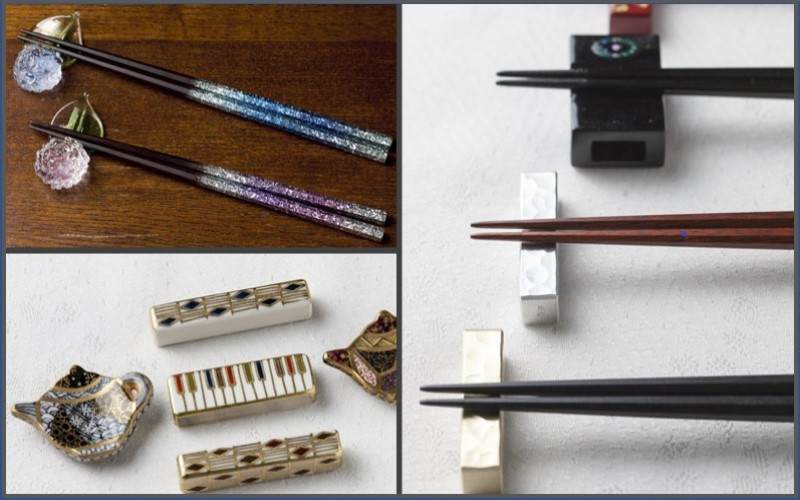 Add TheJapanNews to your Google News feed.