Japan Railway Operators Eye Net-zero CO2 Emissions Via Hydrogen Fuel Cell Trains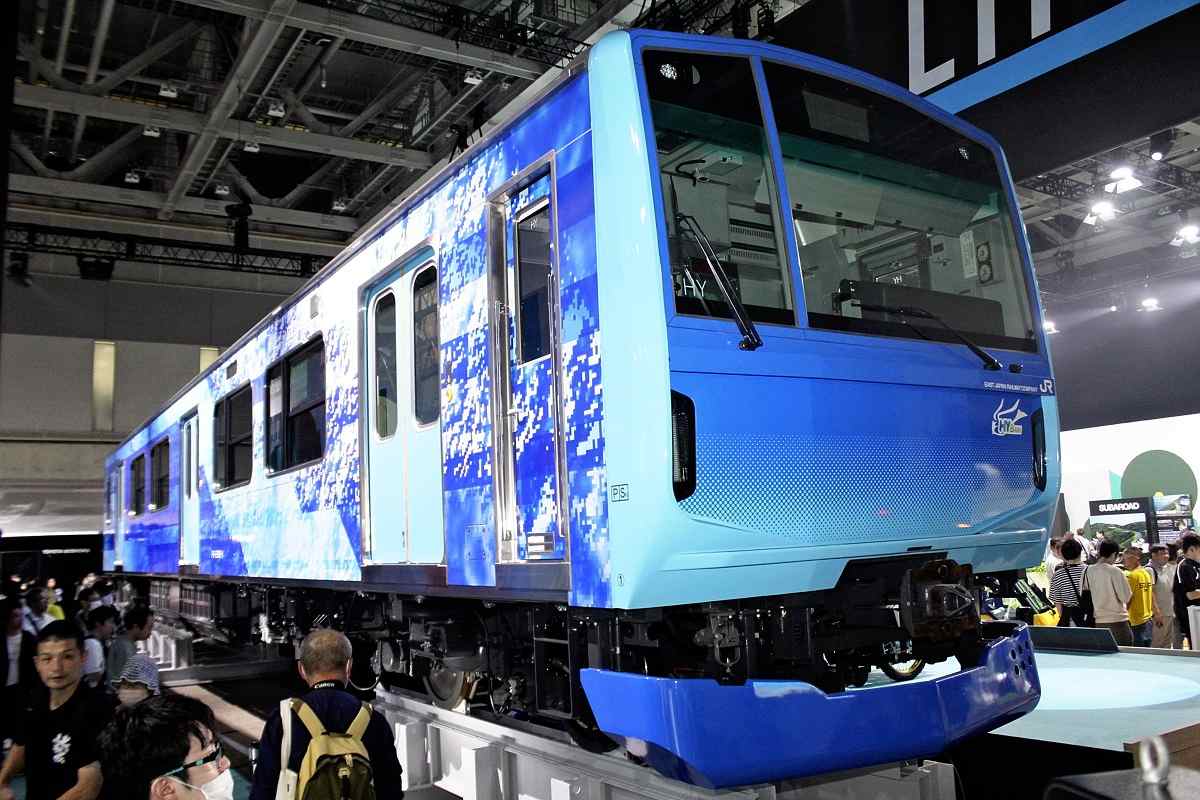 17:41 JST, November 19, 2023
Railway operators are accelerating moves to put hydrogen fuel cell trains into commercial use. The trains are expected to help cut CO2 emissions and boost the decarbonization of society.
In light of these developments, the government intends to review related regulations and push for the spread of such trains.
At the Japan Mobility Show 2023 in Tokyo earlier this month, an employee of East Japan Railway Co. (JR East) promoted the firm's "HYBARI" test vehicle, saying, "This train operates on clean energy, using hydrogen as a fuel."
The train is partly powered by a hydrogen fuel cell that utilizes electricity generated through a chemical reaction involving oxygen and hydrogen stored atop the train's body. Unlike diesel-driven vehicles, which use diesel oil, hydrogen-powered vehicles do not emit CO2.
JR East completed HYBARI in 2022, with the aim of reducing its CO2 emissions to net zero by fiscal year 2050. The company estimates that replacing all 450 of its diesel-driven vehicles will reduce CO2 emissions by approximately 60,000 tons per year.
Currently, demonstration tests are underway on its Tsurumi and Nambu lines in Kanagawa Prefecture, with an eye of commercial introduction in 2030.
To generate power, HYBARI employs a heavy-duty hydrogen tank that can withstand vibrations and impacts while traveling, and has a built-in function to allow the quick release of hydrogen in the event of an emergency.
Improving travel distance is a challenge, too. Presently, the vehicle can cover about 140 kilometers before refueling. However, the company hopes to have upped this figure to around 300 to 500 kilometers per refueling — equivalent to that of a diesel-powered vehicle — by the time the train is introduced.
Automobiles targeted, too
A stable hydrogen supply system is indispensable for the widespread introduction of hydrogen trains. West Japan Railway Co. (JR West), which is weighing the introduction of hydrogen fuel-driven trains in the early 2030s, has announced plans to build a large-scale hydrogen station — employing existing stations and tracks — while simultaneously running such trains.
Meanwhile, JR West plans to install a hydrogen station at Japan Freight Railway Co.'s freight station in Himeji, Hyogo Prefecture, to serve as a base for supplying and transporting hydrogen.
JR West envisions future collaborations with local governments and private companies to provide hydrogen to business operators beyond the JR Group companies for buses, trucks and passenger cars.
The company also plans to use its freight trains to transport hydrogen to various locations, thus contributing to the realization of a decarbonized society.
Public and private sectors
The central government has set a goal of reducing railway industry CO2 emissions to less than half of the fiscal 2013 level by the 2030s. Yet, present laws and regulations do not assume hydrogen as a source of power for railways. Rather, hydrogen tanks and the like are regulated by a law related to high-pressure gas safety, while train bodies fall under the authority of a different law related to railway operations.
Some railway operators are calling for relevant laws and regulations to be unified, saying the present rules could hinder the widespread use and commercialization of hydrogen-run trains.
"We'd like to promote the practical application of hydrogen-driven trains while examining how they should be regulated in the future," a government official said.
Currently, Switzerland, the United Kingdom, China and other countries lead the way In the development of hydrogen trains, spearheaded by a French rolling stock manufacturer that began full-scale operations of trains in northern Germany last summer.
A senior official of the Land, Infrastructure, Transport and Tourism Ministry said, "To catch up with overseas competitors, the public and private sectors need to collaborate to efficiently promote technological development and safety checks [for hydrogen trains]."
Other options eyed
Railway operators' decarbonization efforts have been spreading beyond hydrogen trains.
For example, starting in January, all the electricity used on Seibu Railway Co.'s 12 railway lines will come from renewable energy sources.
For the past two years, the company's Yamaguchi Line has been pilot-testing the use of electricity generated by solar power. From January, 11 other lines will also use the "non-fossil" energy. A certificate is issued when buying such electricity generated by renewable energy sources, such as wind and solar.
By doing so, CO2 emissions from the firm's train service operations — which previously totaled about 157,000 tons per year — will fall to net zero.
Meanwhile, Central Japan Railway Co. (JR Tokai) aims for its diesel oil-fueled trains to run on biofuels instead. JR Tokai has already conducted a test run on the main track of its Kisei Line. The company plans to continue working with the central government and other JR companies to verify the practicability of biofuels usage for trains.
Add TheJapanNews to your Google News feed.