Department Stores Stuff 2024 Lucky Bags with Family-friendly Experiences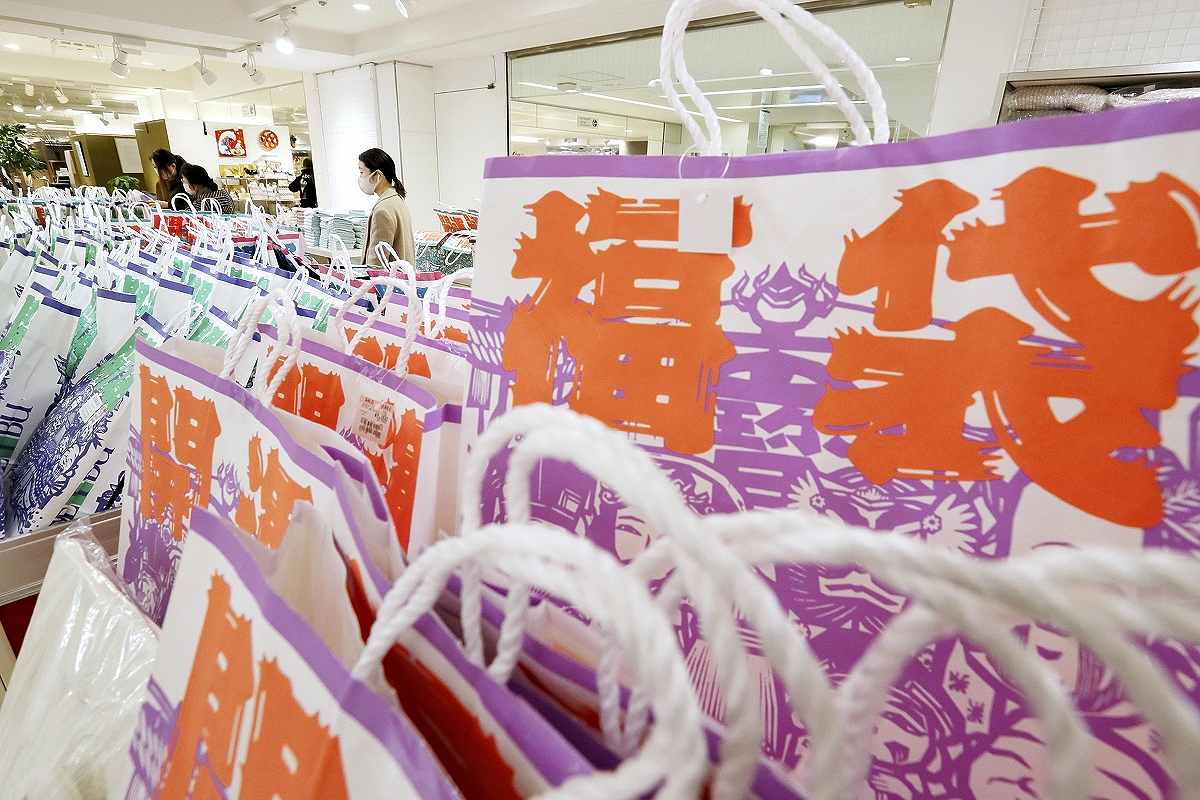 21:00 JST, November 11, 2023
Major department stores have unveiled their lineups of fukubukuro "lucky bags" for the 2024 New Year's holiday season. It will be the first New Year's holiday shopping after COVID-19 was downgraded to Category V under the Infectious Diseases Law. The companies have focused on experiences that can be had with family members and friends, and some lucky bags will feature high-end items.
Matsuya plans to sell lucky bags that offer customers special experiences in Tokyo's Ginza and Asakusa districts, where its department stores are located. One notable lucky bag is called the "Ginza first-class cultural experience fukubukuro," and will go for ¥38,500, including tax. This lucky bag will give customers a chance to take in dance and song by Shimbashi geisha while wearing luxurious Oshima Tsumugi kimono.
"We want to hold grand New Year's sales to help our customers have a better start to the New Year," said an employee in Matsuya's customer strategy department.
The Matsuya Ginza main store is scheduled to be closed on Jan. 1 and 2. Its New Year's sale is slated to start later than usual, on Jan. 3, for the first time in some 20 years.
Sogo & Seibu plans to sell lucky bags in collaboration with local businesses in the areas where its department stores are located. The Seibu Ikebukuro main store envisions ¥20,240 fukubukuro that will let customers play at being a stationmaster at Seibu Railway's Ikebukuro Station. Takashimaya intends to sell a "mobile sauna" lucky bag for ¥2.2 million, allowing purchasers to experience a sauna outdoors.
Meanwhile, Daimaru Matsuzakaya has expanded its lineup of high-priced lucky bags targeting affluent customers. The most costly will set you back ¥110 million for a crystal, and other offerings include a ¥7.77 million whiskey barrel from the Komoro Distillery in Nagano Prefecture.
The department stores expect fukubukuro sales to bounce back as the economy recovers from the COVID-19 pandemic. Daimaru Matsuzakaya projects its New Year's sales in January 2024 will exceed those in 2019, before the pandemic. With some people reluctant to travel overseas amid a weak yen, the stores hope to channel revenge spending their way.
"More and more people are seeking not only affordability but also quality," said a spokesperson for Daimaru Matsuzakaya. "We want to compete with department store-style lucky bags that meet the particular tastes and interests of our customers."
Add TheJapanNews to your Google News feed.