China Stresses Open-market Stance at International Import Expo in Shanghai; Some Japanese Firms Skip Show over Seafood Ban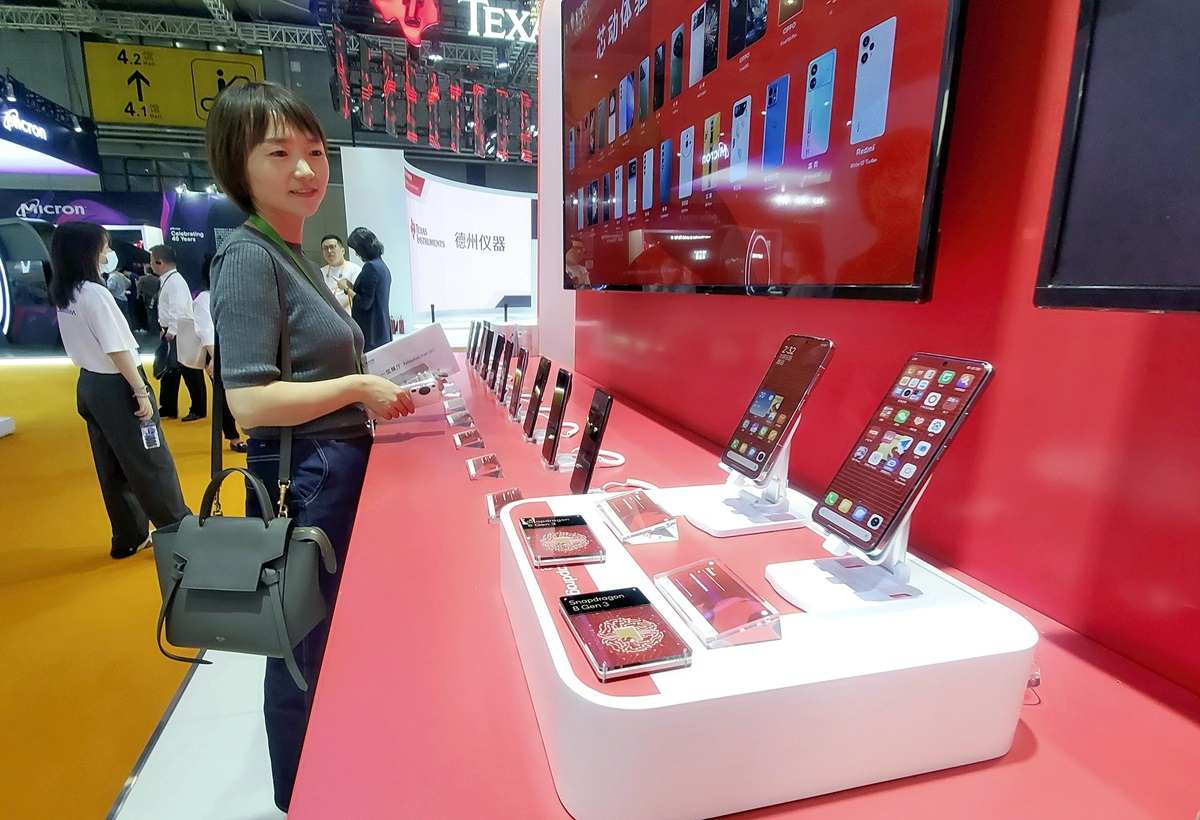 18:11 JST, November 6, 2023
SHANGHAI — The China International Import Expo, hosted by the Chinese government, opened in Shanghai on Sunday with booths featuring imported goods.
China is believed to be using the expo to show its willingness to open markets, as its economy stagnates and foreign investment slumps.
However, many Japanese companies are skipping the event, partly due to issues surrounding the release of treated water from the Fukushima No. 1 nuclear power plant.
Semiconductor exhibits
Chinese President Xi Jinping drew an appealing picture of open markets in his letter for the event's opening ceremony. He said the import expo, which will run through Friday, serves "as a platform of high-standard opening up that allows China's enormous market to be shared by the world."
The expo started in 2018 with the support of Xi. With more than 3,400 companies from 128 countries and regions this year, the event has seen a 20% rise in exhibitors from last year. The influx came thanks to a drastic easing of entry restrictions to China with the end of the country's zero-COVID policy, which lasted almost three years.
Semiconductor-related exhibitors seemed the center of attention at the show on Sunday. Such semiconductor giants as U.S. company Qualcomm Inc., Dutch firm ASML Holding N.V. and South Korea's Samsung Electronics Co. all had booths.
An area was also set up for visitors to experience AI, reflecting China's emphasis on cutting-edge technology.
The booth for U.S.-based Micron Technology, Inc., a first-time exhibitor at the expo, was filled with cutting-edge semiconductors for 5G smartphones and electric vehicles.
In May, China banned leading domestic infrastructure firms from buying Micron chips as ties with the United States grew more strained. But a Micron official said Sunday all of the products on display were being supplied to Chinese companies, though they wouldn't say where they were produced.
Qualcomm was showcasing a smartphone equipped with its latest chip, whose export to Chinese telecoms company Huawei Technologies Co. has been banned by the U.S. government. The display reflected the hopes Qualcomm has for the huge Chinese market, which accounts for 60% of the company's sales.
Economic diplomacy
A crisis in China's real estate market has dragged down the wider economy.
Foreign investment has also slowed. Direct investment in China by foreign companies fell $11.8 billion (¥1.8 trillion) during the July-September period, marking the first decline since 1998.
Amid these trends, the Chinese government is increasingly using the trade show as a venue for economic diplomacy. The opening ceremony was attended by the leaders of some 10 countries, including Australian Prime Minister Anthony Albanese. It was the first visit to China by an Australian leader in seven years.
Tensions between China and Australia ran high in 2020 over the origin of the novel coronavirus, and China imposed import restrictions on wine and other Australian products.
China's recent removal of trade curbs on some Australian products, however, has allowed many Australian wines to be featured at the expo.
At the opening ceremony, Albanese expressed his desire to improve relations with China, saying that stronger dialogue and cooperation between the countries would benefit everyone. Albanese was expected to hold talks with Xi by Tuesday.
Japanese reluctance
Meanwhile, about 350 Japanese companies, 50 less than the last year, were expected to join the expo, revealing some reluctance among Japanese firms to participate. Many fishery and apparel-related companies are said to have decided against attending this year.
A cutting demonstration for Nagasaki Prefecture caught tuna, which has been held by the Japan External Trade Organization every year at the expo as a major visitor draw, will not be held this year. China banned the import of fishery products from Japan in late August when the release of the treated water began, making it impossible to get the tuna to the event.
China's revised anti-espionage law, which took effect in July, also cast a shadow over the event. In mid-October, Chinese authorities arrested a Japanese citizen who works for Astellas Pharma Inc. on suspicion of violating the law.
"We are traveling with the minimum number of people necessary," said an official for a Japanese exhibitor. "We also limit the number of people with whom we have business meetings here."
Add TheJapanNews to your Google News feed.