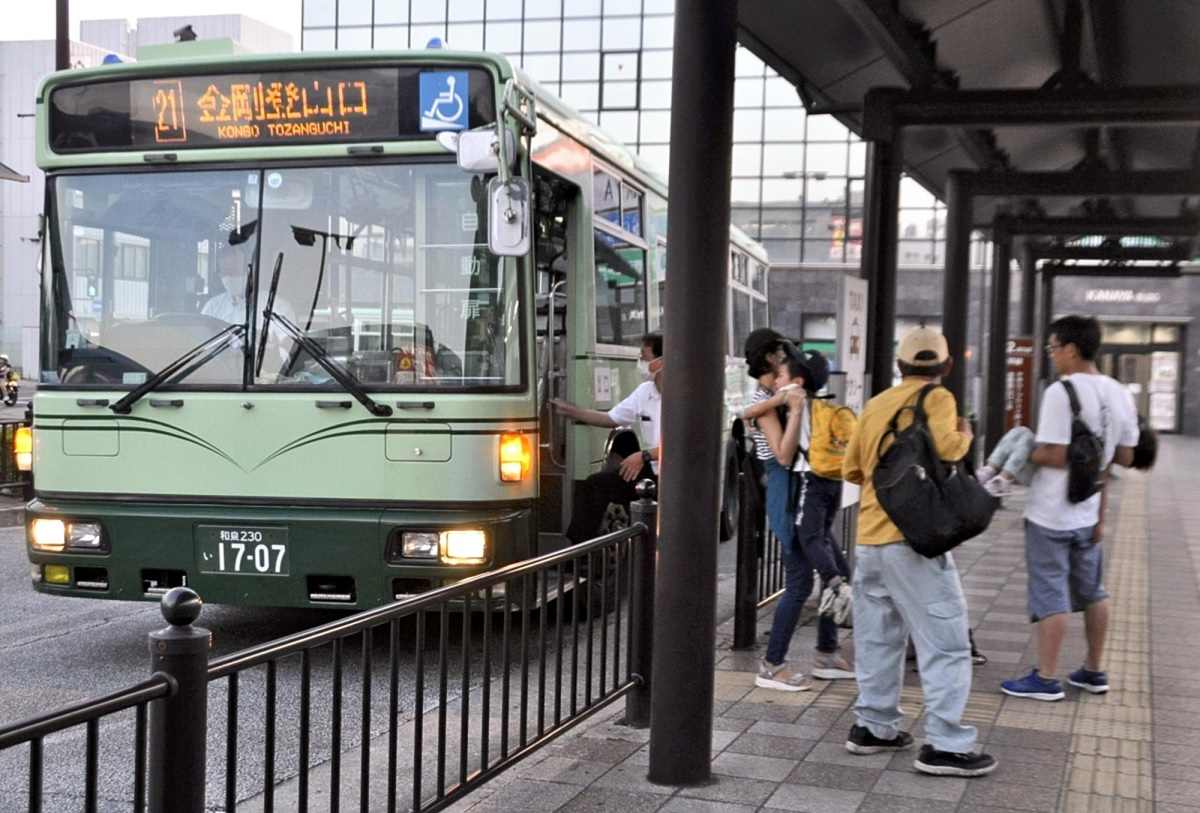 6:00 JST, October 6, 2023
Local bus companies are being forced to reduce their frequency of service or eliminate some routes altogether due to a shortage of drivers around the nation.
With a tightening of overtime regulations for bus and other drivers scheduled to take effect in April 2024, the shortage of drivers is expected to become even more severe. Under the new regulations, overtime cannot exceed 45 hours per month or 360 hours per year, in principle.
To preserve public transportation services, the public and private sectors are working together to secure drivers.
Nearly half quit
On Sept. 11, a notice was posted at a bus stop of Kongou Jidousha Co. in front of Kintetsu Railway Co.'s Tondabayashi Station in Tondabayashi, Osaka Prefecture, thanking passengers for their longtime patronage and announcing the discontinuation of the company's bus business as of Dec. 20.
The company runs local bus services covering train stations and residential areas in Tondabayashi and three other municipalities. It has been operating at a loss for more than 10 years due to a decrease in the number of passengers.
A recovery in tourism demand after the pandemic had the paradoxical effect of deepening the company's financial difficulties. The company had 30 drivers, but 13 have moved on to sightseeing and other bus companies offering better pay since autumn last year. With no prospect of securing drivers as there were no applicants for the job, President Nobutaka Shirae judged that it would be difficult to continue bus operations.
The four municipalities served by the company approached another bus firm about taking over the bus services.
20,000-driver shortfall looms
There were about 116,000 bus drivers in fiscal 2021, down by more than 13,000 from fiscal 2012, according to government statistics.
A factor behind the decrease was bus service operators' chronic business difficulties resulting from a decline in the number of passengers. According to a survey by the Land, Infrastructure, Transport and Tourism Ministry, 94% of bus companies with 30 or more vehicles were in the red in fiscal 2021.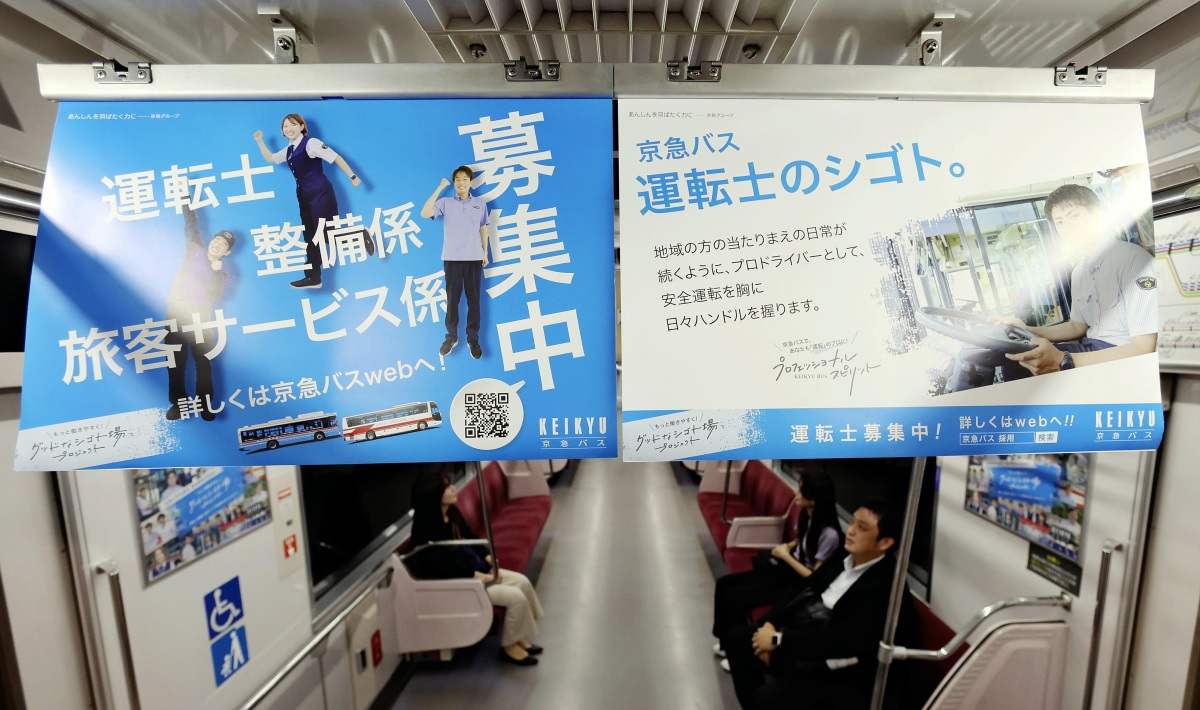 Low wages and long working hours are the main reasons why driving jobs are shunned. In 2022, the average annual income of bus drivers was ¥3.99 million, which is ¥980,000 below the average for all industries. Yet bus drivers also worked 193 hours per month on an average, 16 hours more than the average for all industries.
Because of the revision of the Labor Standards Law, which will take effect in April 2024, the situation is expected to worsen. The number of working hours per person will be reduced under new regulations, making it even more difficult to secure a sufficient number of drivers to maintain services.
According to estimates from about 800 firms compiled by the Tokyo-based Nihon Bus Association last month, there will be a shortage of 21,000 drivers in fiscal 2024 and 36,000 in fiscal 2030.
The reality is that local bus companies are supported by municipal and other government subsidies to maintain their operations.
'It will be yabai for us'
Companies are devising various ways to attract new drivers.
"It will be yabai for us as we face the shortage of valuable human resources," said an ad for Yokohama-based Keihin Kyuko Bus Corp., posted inside a Keikyu Corp. railway train in summer. The Keikyu Group company posted the job ad, using all of the advertising space in one entire car. "Yabai" is a Japanese slang word that describes something far beyond imagination, either good or bad.
The company said that after it placed the ad, the number of participants in information sessions for those hoping to join the firm doubled. "We hope more people will become interested in bus driving in order to protect the local community," a company official said.
In August, the Saitama Bus, a prefectural bus association, held its first-ever joint job fair for its 17 member companies.
In an effort to maintain the public transportation network, the central and local governments also are stepping up their support. The city of Beppu, Oita Prefecture, received about 90 inquiries about a system it set up in July under which up to ¥4 million will be paid to a person who moves to the city and becomes a bus driver. The program was designed to attract members of the generation living outside the prefecture who struggled to get a foot on the career ladder after graduating during the so-called employment ice age.
The Land, Infrastructure, Transport and Tourism Ministry is considering adding bus, taxi and truck drivers to the list of jobs for which foreign nationals can obtain specified skilled worker residential status, in order to employ people with experience and abilities.
Add TheJapanNews to your Google News feed.