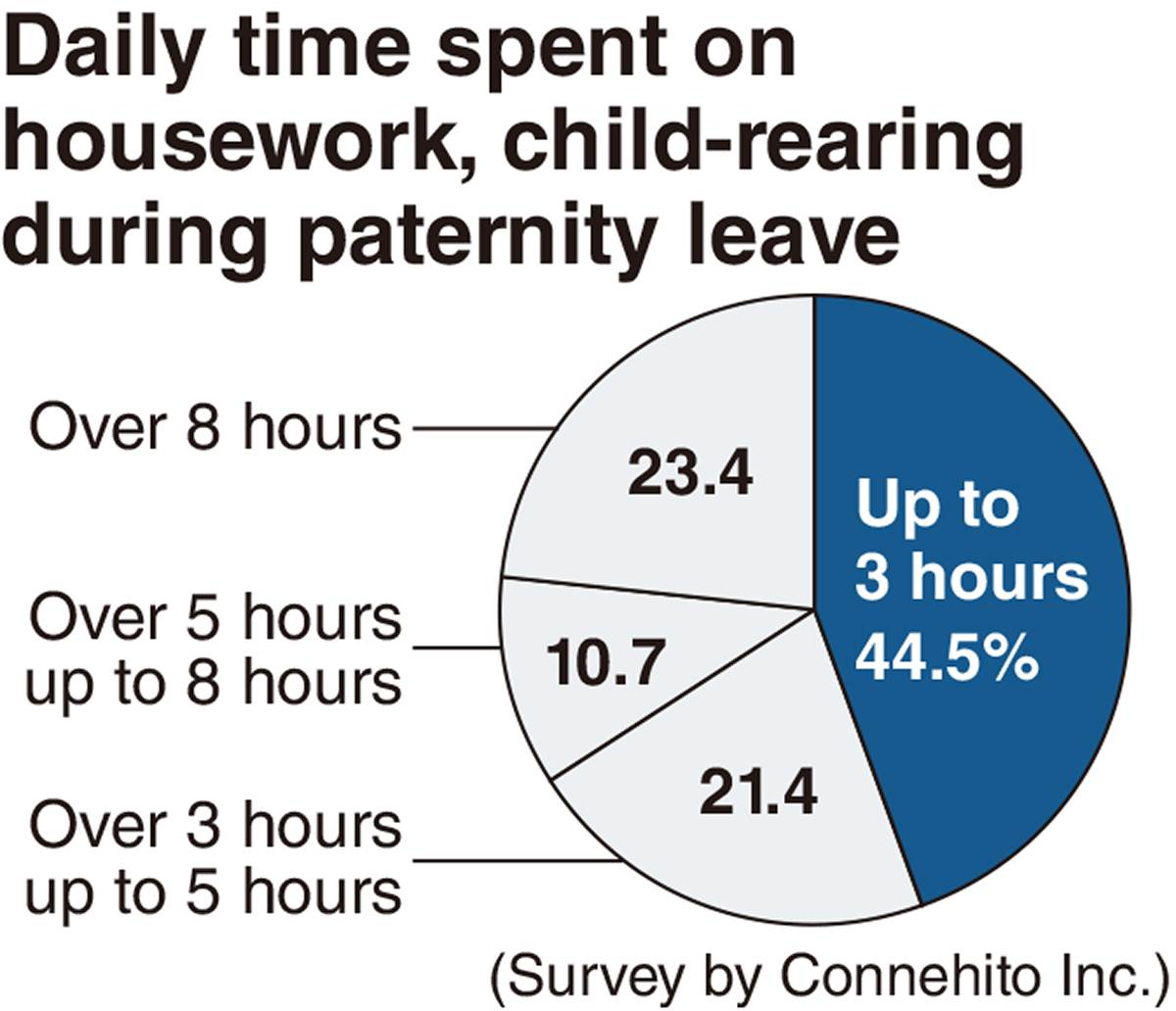 1:00 JST, June 20, 2023
An increasing number of companies are encouraging employees to take paternity leave, partly to help women continue working after giving birth.
Reducing the burden of child-rearing on women, which tends to be greater than that borne by men, will eventually promote the overall growth of the companies themselves.
The government has also positioned paternity leave as a key measure in dealing with the low birth rate.
The challenge is to prevent men from taking such leave in name only, without actually helping with housework and child-rearing, and to expand the initiative to small and midsize companies that are suffering from labor shortages.
Starting in April last year, the government has obliged companies to ask employees whether they want to take parental leave, when learning about a pregnancy or the birth of a child.
In October 2022, the government established a paternity leave program that allows male employees to take up to four weeks of leave within eight weeks after a child is born.
From April this year, companies with 1,000 employees or more are required to disclose the percentage of male employees eligible for paternity leave who take the leave.
Of the about 4,400 companies that fall into this category, 755 had announced their numbers as of June 2, the Health, Labor and Welfare Ministry said.
Companies themselves are also promoting the practice.
Mitsui Sumitomo Insurance Co. began providing in April a lump-sum payment of up to ¥100,000 to employees whose colleagues take parental leave.
A rare measure among large companies, this program aims to make the entire workplace more willing to accept the taking of parental leave.
Helping only up to 3 hours
A fiscal 2021 ministry survey showed that 85% of mothers took parental leave, but only 14% of fathers took the leave.
The survey also found that about half of the fathers took less than two weeks of leave, with 25% being off work for less than five days and 27% being off for five days to less than two weeks.
In contrast, 85% of 20- to 24-year-old men and 80% of 25- to 39-year-old men wanted to take paternity leave when they become fathers, according to a 2021 survey by Persol Career Co.
However, there are concerns that even if a larger percentage of employees takes paternity leave, it may only result in more men nominally taking such leave and not sufficiently participating in housework and child-rearing.
A survey conducted last August by Connehito Inc., the operator of a child-rearing support app, found that 44.5% of fathers on paternity leave spent three hours or less per day on housework and child-rearing.
This was almost unchanged from 47.4% in 2019.
"Companies need to give full consideration to the wishes of employees, not just focus on increasing the percentage of workers who take paternity leave," said Shingou Ikeda, a senior researcher at the Japan Institute for Labour Policy and Training.
"It's also important to give employees an opportunity to think about the meaning of such leave before taking it."
Small and midsize firms key
The government wants to raise the overall percentage of workers taking paternity leave to 50% by fiscal 2025 and to 85% by fiscal 2030.
To achieve those goals, it is essential to expand the practice to small and midsize companies, which are not required to disclose their percentage of employees eligible for taking such time off.
A ministry survey found that among households where fathers on their days off spend less than two hours on housework and child-rearing, only 33% have a second or later child.
In contrast, 87% of households have a second or later child if fathers spend six hours or more on housework and child-rearing on their days off.
If paternity leave is taken, it can help resolve the problem of mothers raising children without help and encourage women to return to the workplace.
A 2021 survey of small and midsize companies by the Japan Chamber of Commerce and Industry highlighted a major problem with paternity leave.
A total of 56.7% of respondents said that other employees had enough on their hands that they could not take on the duties of those on paternity leave.
Still, some small and midsize companies are actively encouraging the taking of paternity leave.
At Giken Ltd., headquartered in Kochi and which manufactures and sells construction machinery, about 80% of employees are men and all of the applicable employees have taken paternity leave since fiscal 2021. The average length of the leave taken is about 100 days.
Although no employee had taken paternity leave until fiscal 2018, the company has encouraged taking it through such measures as letting each employee know what their estimated after-tax pay will be during the leave.
"We're always conscious of being productive without assigning work to specific employees," a company representative said.
"We're also careful the workload is not concentrated on specific employees."
The government plans to raise the compensation of workers who take paternity leave from the current 67% of regular pay to 80% by fiscal 2025.
Add TheJapanNews to your Google News feed.