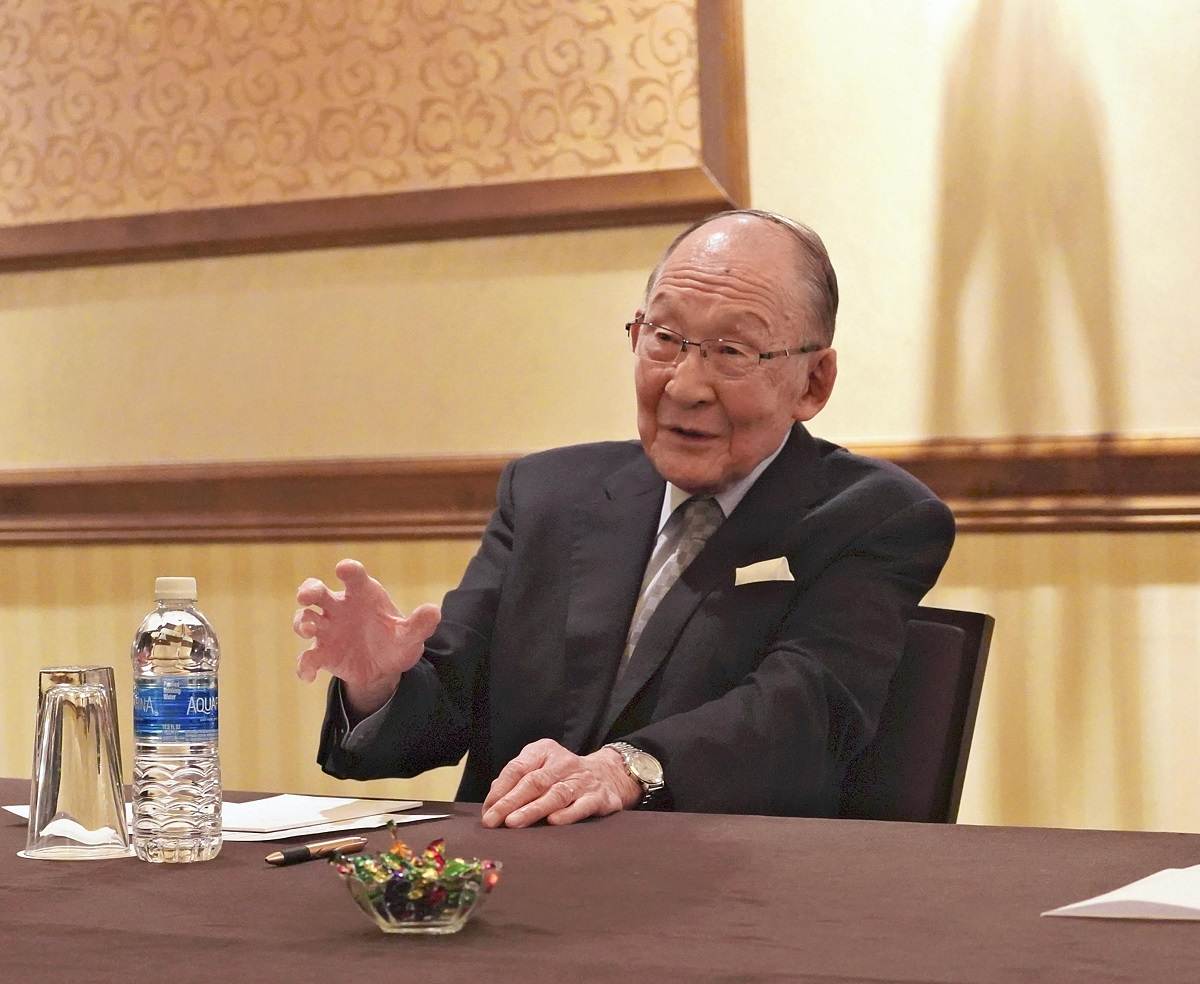 14:21 JST, June 11, 2023
WALWORTH, Wis. — This year marks the 50th anniversary of Kikkoman Corp.'s first shipment of soy sauce from its Wisconsin factory.
To commemorate the landmark, Yuzaburo Mogi, the food company's 88-year-old honorary chairman, held a press conference in the U.S. state on Wednesday.
Kikkoman's soy sauce is popular in North America, where sales have tripled in the past decade. Mogi said the company plans to expand its U.S. presence by putting more priority on soy milk products.
"Demand for soy sauce will grow further," Mogi opined. "Soy milk has a lot of potential, too." Mogi likely based his views on the growing worldwide population and a burgeoning interest in Japanese foods.
Kikkoman has a nearly 50% slice of the Japanese soy milk market, based on such products as processed soy milk and soy milk-based beverages. The company is now keen to strengthen overseas sales of such products.
"Soy sauce has been accepted in the United States, even though food culture there is different from Japan," Mogi said. "We have the know-how [to operate in that market]."
The company's first soy sauce factory outside Japan was built in Walworth, Wis., and products began shipping in June 1973. The firm was attracted to the town due to its close location to production areas of soybeans and wheat — the primary ingredients of soy sauce — and accessibility to groundwater. Kikkoman was one of the first Japanese companies to operate factories in the United States, along with Sony Group Corp. and YKK Corp.
Initially, most Americans were unfamiliar with soy sauce. But demand began to grow as Japanese foods gained popularity, not least with the spread of teriyaki, which involves soaking meat in a soy sauce-based marinade prior to grilling. These days, it is thought that more than 50% of U.S. households have soy sauce in the kitchen.
Kikkoman's Wisconsin base now ships more soy sauce than any of the company's other factories. Shipments there have swelled 30-fold in the past 50 years, eclipsing the company's main domestic factory in Noda, Chiba Prefecture, home to the firm's headquarters.
"Even when the company incurred a huge loss due to the [1970s] oil crisis, I never thought about pulling out [the United States]," Mogi said. adding that he never wavered in his belief that soy sauce would become an internationally accepted seasoning because it complements meat dishes so well.
Kikkoman logged sales revenue of ¥618.8 billion in the business year that ended March — a two-fold increase over the past decade. Overseas sales accounted for more than 70% of that figure, with North American revenue tripling to ¥338.5 billion.
Add TheJapanNews to your Google News feed.