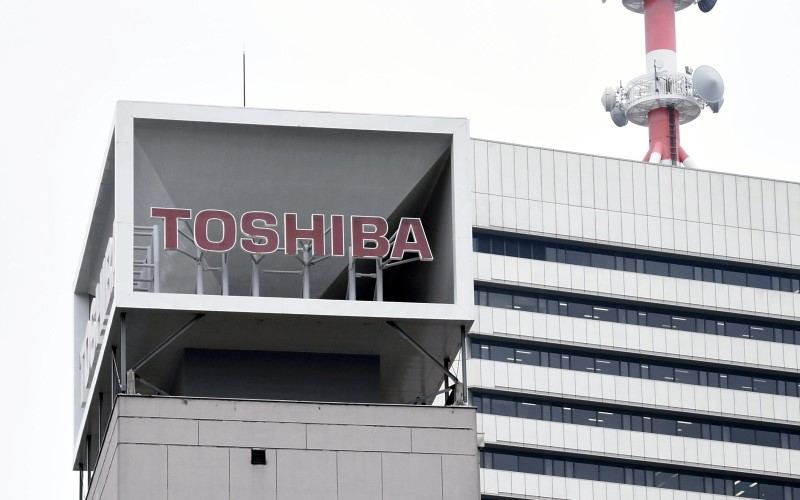 10:57 JST, March 30, 2023
TOKYO (Jiji Press) — The Tokyo District Court on Tuesday ordered five former Toshiba Corp. executives including former Presidents Norio Sasaki and Hisao Tanaka to pay a total of about ¥300 million in damages over their involvement in accounting irregularities at the company.
Presiding Judge Yoshihide Asakura found that the five were responsible for accounting irregularities related to U.S. infrastructure operations of the Japanese electronics and machinery giant.
It is the first time that any individual has been found liable for compensation over accounting irregularities.
The other three slapped with the damages order are former Corporate Senior Executive Vice Presidents Makoto Kubo, Hideo Kitamura and Toshio Masaki.
Meanwhile, the court rejected the compensation claim against deceased former President Atsutoshi Nishida and nine other former executives over accounting irregularities in the company's personal computer business.
Toshiba and its shareholders had filed the damages claims against the 15 executives over the accounting scandal discovered in 2015.
According to the claims, Toshiba fraudulently padded its profits by a total of ¥224.8 billion between fiscal 2008 and fiscal 2014 by understating its loss provisions for infrastructure projects such as the delivery of U.S. subway equipment and nuclear plant construction, as well as by using so-called buy-sell transactions, in which it sold parts at high prices to contractors and bought finished products from them, in its personal computer business.
Toshiba had demanded ¥3.2 billion in damages from five former executives including Sasaki, while its shareholders had requested that the remaining 10 defendants pay up to ¥3.3 billion to the company.
In his ruling, Asakura said that buy-sell transactions "were at least one of the possible accounting procedures at the time, and cannot be found to have been in violation of accounting standards."
On the other hand, the judge found that "not recording the provisions [for the infrastructure projects] violated accounting standards and was illegal."
The five former executives had failed in their duty to cease or correct the accounting irregularities, and Tanaka had given instructions that encouraged and facilitated the irregularities, the ruling also said.
Asakura found a causal relationship between their failures and damage faced by Toshiba, including the payment of punitive surcharges, the payment of listing contract penalties to the Tokyo Stock Exchange and damage to the company's reputation. He ordered the five to pay compensation for part of the damage.
Toshiba released a comment that it will examine the details of the ruling and make a decision after consulting with its attorney.
"We feel that our role as shareholders has been fulfilled because our claims toward defendants against whom Toshiba had not filed a claim have been accepted," the attorney for the shareholders said.
Add TheJapanNews to your Google News feed.