7:00 JST, February 28, 2023
Major Japanese companies are increasingly speeding their pullout from Russia following that country's invasion of Ukraine last year.
Economic sanctions against Moscow have altered trade flows worldwide, and efforts by multiple countries to secure liquefied natural gas have caused electricity prices to rise, weighing on household finances.
Following the start of the invasion on Feb. 24, 2022, multiple Japanese automakers, among others, have initiated moves to pull out of the Russian market. A large number of companies operating in various industries have cited difficulties in procuring parts due to disruptions in the logistics network. Some firms initially adopted a wait-and-see stance and suspended their local operations, but recently, more and more have begun to withdraw.
According to Teikoku Databank Ltd., 79 of the 168 listed Japanese companies active in Russia prior to the conflict had, as of Feb. 19, announced business suspensions, restrictions or withdrawals.
Of these, 27 firms, or 16%, have announced a de facto withdrawal from Russia, among other actions. As of August, however, fewer than 10 had actually left.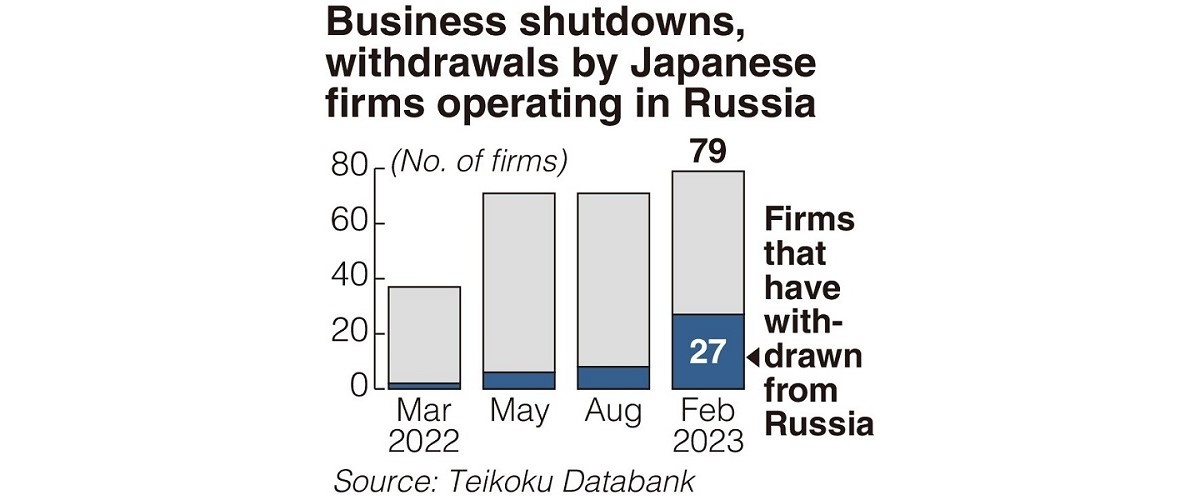 In September, Toyota Motor Corp. decided to close its St. Petersburg plant and pull out of local production due to difficulties in obtaining parts. The automaker reportedly has no intention of resuming production in the city.
Toyota, meanwhile, decided to put priority on supporting its employees — such as by offering an increased retirement allowance — while it still had sufficient funds at its local subsidiaries.
Nissan Motor Co. and Mazda Motor Corp. transferred their Russian operations to local companies, while Isuzu Motors Ltd. is considering withdrawing from local truck production and sales.
The impact on each company's sales is limited, however, as local sales account for only a few percent of their total sales.
But costs associated with the withdrawal process are squeezing business performance. Toyota and Nissan had each seen losses of about ¥100 billion as of the end of December. This is among the reasons that their respective final consolidated profits are expected to decline for the fiscal year ending March 31, 2023.
"We have to continue paying wages even if we cease production," said an executive of a major carmaker. "There are inspections too, which adds to the deficit. It's possible that operations could resume in the future, but the risks are high."
Some firms are still undecided about whether to withdraw from the Russian market. For example, Japan Tobacco Inc. sees the country as one of its key bases. About 4,000 people are employed at the firm's four Russian plants, and income from surrounding countries accounts for 20% of the firm's total profits.
"Based on a wide-ranging judgment, we decided to continue operating those businesses that we can [keep afloat]," Japan Tobacco President Masamichi Terabatake said at an earnings press conference on Feb. 14.
The company suspended new investments in Russia following the invasion.
In March last year, Uniqlo fashion chain operator Fast Retailing Co. suspended operations at all 50 of its Uniqlo outlets in Russia. The company, which has yet to comment on resuming operations there, has been working to close some of the outlets.
Add TheJapanNews to your Google News feed.