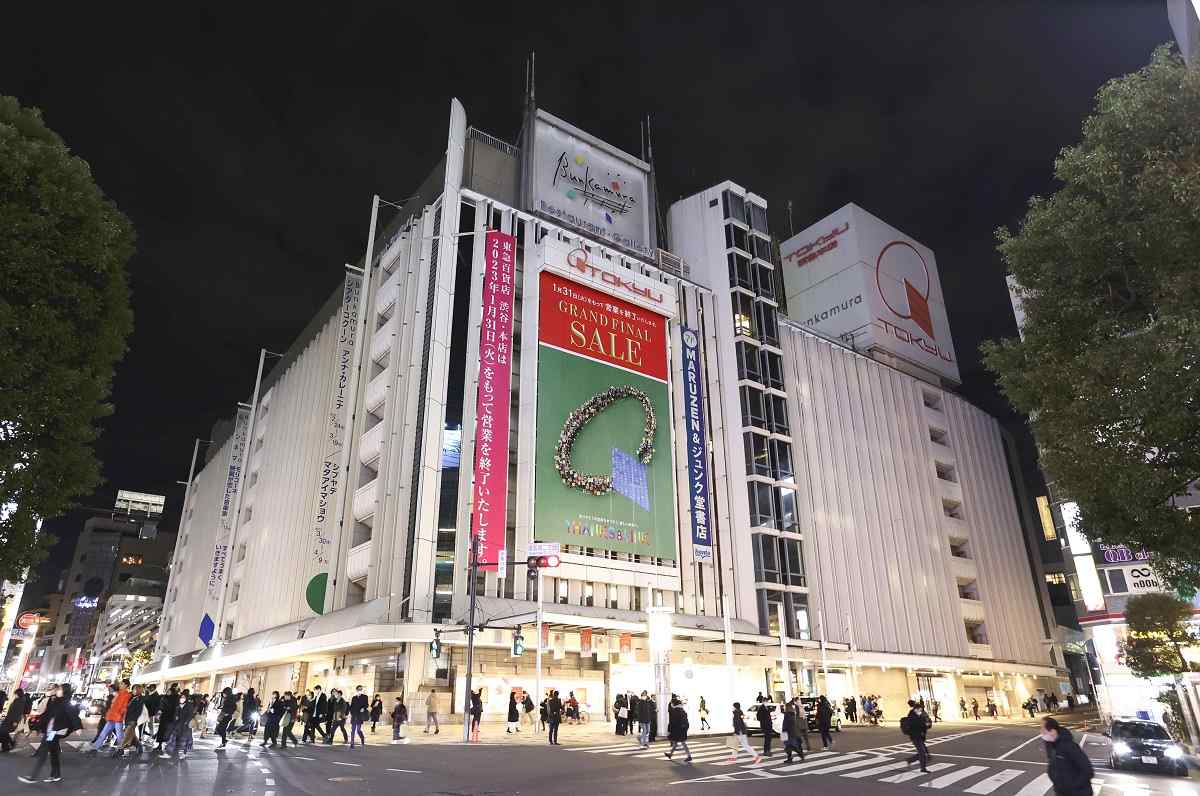 17:14 JST, February 1, 2023
Hit by successive blows from redevelopment and online shopping, department stores are witnessing an end to their star status as draws for customers.
Tokyu Department Store Co. closed its flagship store in Shibuya Ward, Tokyo, on Tuesday, and a mixed-use building is set to be constructed on the site. It has not yet been decided whether another department store will open in the new building.
The flagship store, which opened in November 1967, was located near an upscale residential area. To differentiate itself from the Tokyu Toyoko store, which was also in Shibuya Ward and directly connected to Shibuya Station, it focused on luxury brands.
The store, along with the Bunkamura cultural complex that opened next door in 1989, was often the source of cutting-edge fashion and culture.
Tokyu Department store also closed its Toyoko location in 2020 as part of the redevelopment of the area around Shibuya Station. Now, the only department store nearby is the Seibu Shibuya department store, under the umbrella of Seven & i Holdings Co.
The Tachikawa Takashimaya Shopping Center in Tachikawa, Tokyo, and the Fujimaru department store in Obihiro, Hokkaido, were also closed on Tuesday.
Seven & i plans to sell its department store unit, Sogo & Seibu Co., to a U.S.-based investment fund. Proposals have surfaced for Yodobashi Camera Co. to open outlets in the flagship Seibu Ikebukuro store in Tokyo's Toshima Ward and other locations.
According to the Japan Department Stores Association, the number of department stores has declined from a peak of 311 in 1999 to 185 at the end of last year.
Even before the spread of the novel coronavirus, many department stores, especially those in less populous areas, were shuttering for good.
Stores' troubles have only grown with a wave of redevelopment near major stations in the Tokyo metropolitan area.
As for department stores affiliated with railway companies, Odakyu Department Store closed the main building of its flagship store in Shinjuku Ward, Tokyo, in October last year due to redevelopment work for the west exit of Shinjuku Station. A 48-story, 260-meter-high office and commercial complex is planned be built on the site. The redevelopment project also includes plans to rebuild the building that houses Keio Department Store's Shinjuku outlet. It has not yet been decided whether department stores will open in either building.
This string of department store closures comes as railroad companies are shifting business model, seeking rent via hotels and other tenants that can generate customer traffic for mixed-use buildings near stations.
Railroad companies have opened department stores at major stations to serve as the centerpieces of development along their rail lines. The stores are able to attract people living along the line, and the companies have been able to expect synergistic effects with their main rail businesses.
However, department stores have diminished in value as internet shopping lures more and more customers away.
Railway firms are still trying to get their businesses back up to speed after the pandemic kept passengers away and put the brakes on earnings.
The department stores affiliated with railways may continue to see closures in the future, with one major private railway saying, "The department store business needs to be reconsidered."
Add TheJapanNews to your Google News feed.