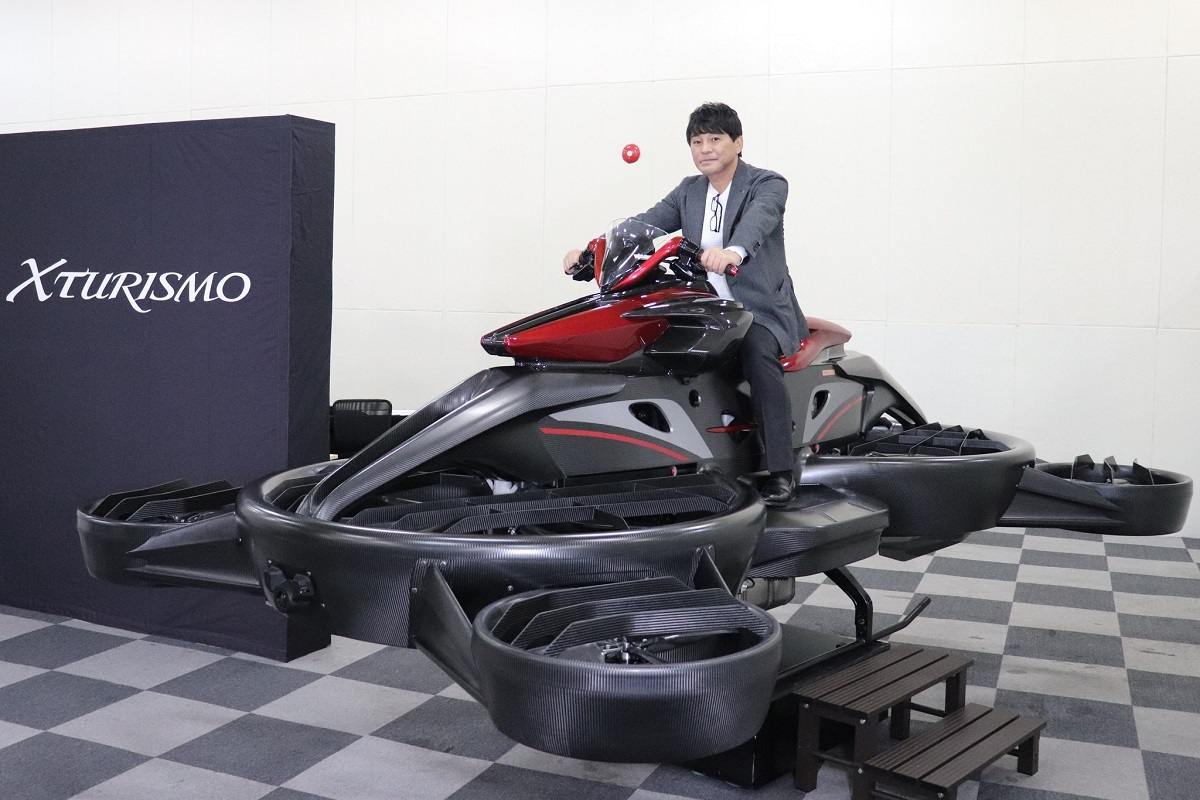 16:17 JST, January 18, 2023
TOKYO (Jiji Press) — Efforts are in progress in Japan to put into practical use of "flying bikes," expected to be used in rescue operations and supplies transportation in disaster-hit areas, while technical and legal challenges remain.
The first unit of the Xturismo hoverbike, developed by A.L.I. Technologies Inc., a Tokyo-based startup, was delivered in December 2022.
Inspired by the "Star Wars" movie series, the startup designed the hoverbike to fly at about 3 meters above the ground using six propellers. It flies at speeds of up to around 80 to 100 kilometers per hour.
In October 2021, the startup began to sell by subscription a limited 200 units of the hoverbike, priced at ¥77.7 million.
In March 2022, the Xturismo hoverbike attracted attention when Tsuyoshi Shinjo, manager of the Japanese professional baseball team Hokkaido Nippon-Ham Fighters, appeared at a ceremony while riding on it.
Such hoverbikes are not allowed to travel on public roads in Japan now. But A.L.I. President Daisuke Katano said that they are "coming closer to becoming real vehicles, rather than futuristic ones."
Since 2018, a public-private panel set up by the industry and transport ministries has been discussing technologies and systems for transportation in the sky.
According to A.L.I., it is receiving many inquiries about its hoverbike from the entertainment sector, as well as from police and firefighting authorities abroad, mainly the Middle East and North America, both of which have many deserts.
In Japan, the use of hoverbikes is currently limited by law to places including seas, racing circuits and resort facilities. In the future, their mobility is expected to be helpful in disaster relief missions.
A.L.I. has concluded an accord with the Yamanashi prefectural government, and they are holding discussions about the use of hoverbikes if a natural disaster shuts roads.
Efforts to improve hoverbikes, such as downsize and fully electrify them, are expected to be accelerated.
While flying cars are regarded as aircraft and subject to the aviation law, flying bikes have yet to be categorized.
Shinji Suzuki, project professor at the University of Tokyo's Institute for Future Initiatives, is skeptical that hoverbikes will be widely used.
"I think they could be used as a substitute for rescue helicopters, whose prices and maintenance costs are high," Suzuki said.
Add TheJapanNews to your Google News feed.