Companies analyze employee sleep quality in efforts to improve productivity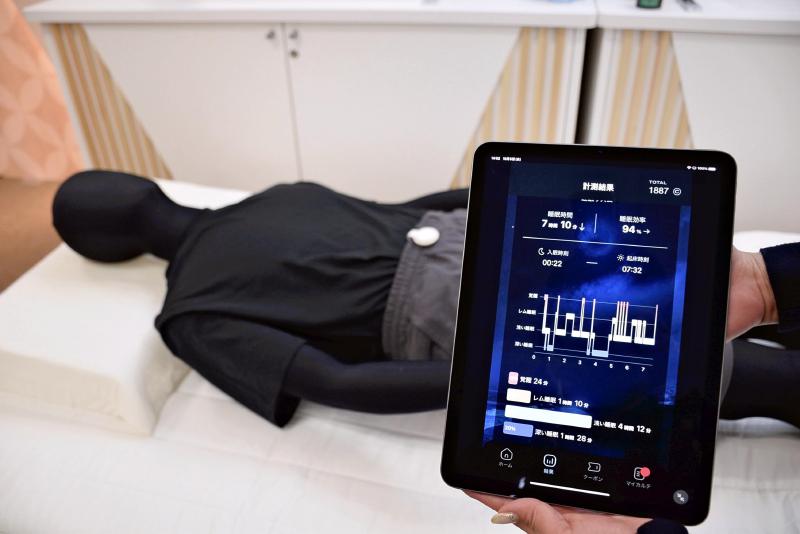 2:00 JST, January 5, 2023
An increasing number of companies are using IT technology to improve the quality of employees' sleep.
Various companies in the IT and other industries are working to improve their employees' health, which is becoming an indicator of corporate value. The issue of how long people sleep is attracting attention as a problem that can affect productivity.
Visualizing sleep data
Until December, Rakuten Group Inc. used Suimin Rally (sleep rally), a sleep improvement program provided by Tokyo-based startup NeuroSpace Co. The program aims to use sleep pattern data provided by a smartphone application to improve the quality of a person's sleep. In October, Rakuten held a seminar on sleep improvement, which saw 600 employees participate remotely.
NeuroSpace was founded in 2013. Since then, the company has helped to improve sleep for over 20,000 people working at more than 100 companies, including top food companies and a major airline company.
Participants in the NeuroSpace program reportedly saw better concentration and time management skills, which led to improvements in their productivity.
"Employees' sleep is a problem that needs to be worked on at companies and in society," said Takanori Kobayashi, the president of the company.
The use of "Nen ni Ichidono Suimin Shindan Undo" (Once-a-year sleep check movement) is also increasing in various industries. This program is run by several companies, including Daiichi Sankyo Healthcare Co. and T&D Holdings Inc., the parent company of Daido Life Insurance Co., and also uses a smartphone app to analyze employees' sleep quality.
Bottom of the table
A growing number of companies are working to improve employees' sleep because they regard it as essential for improving productivity.
According to a survey in 2021 by the Organization for Economic Cooperation and Development, the average sleeping time in member countries was about eight hours and 30 minutes, whereas Japan was at the bottom of the table with an average of seven hours and 22 minutes. A U.S. research institute has estimated that sleep deprivation causes an annual economic loss of ¥15 trillion.
Other research has shown that companies with higher profit margins have employees that sleep longer. Isamu Yamamoto, a Keio University professor specializing in labor economics, conducted a survey on about 10,000 company employees and found that there was a difference of between 1.8 and 2.0 percentage points between the profit rates of companies in the top 20% for better sleep time, and that of companies in the bottom 20%.
Various industries involved
Companies from various industries are joining forces to provide sleep technology.
In November last year, NTT East Corp. started selling a sensor developed by Brain Sleep, a startup in Tokyo, to company employees and others. The device is the size of a ¥10 coin and can be worn on the elastic band of pajama pants. It checks on sleep levels by measuring how often the wearer rolls over or snores during sleep.
Sleep hours and methods naturally vary from person to person.
"There are problems regarding how far companies can get involved in visualizing sleep data of an individual," Yamamoto said. "Sleep technologies are effective as an investment for improving productivity."
Add TheJapanNews to your Google News feed.