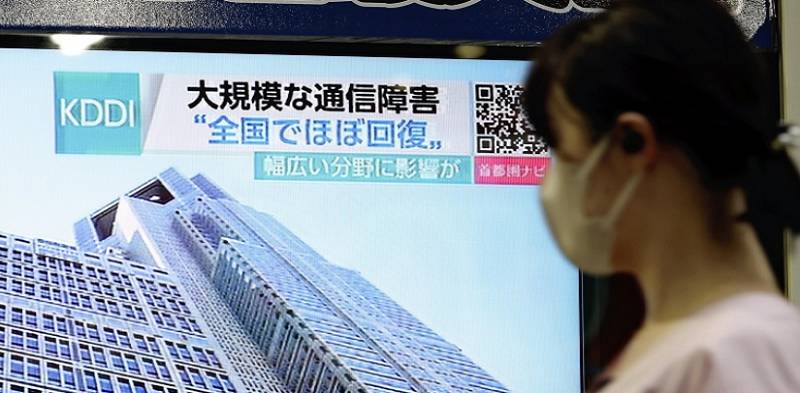 12:42 JST, July 9, 2022
KDDI Corp., still reeling from a large-scale network disruption that occurred July 2, has set up a task force to study ways to reinforce its communications equipment, the firm said Friday.
President Makoto Takahashi heads the internal group that will investigate the cause of the outage that affected millions of customers and devise measures to prevent recurrences.
The company plans to submit a detailed report on the system failure to the Internal Affairs and Communications Ministry by Aug. 1, based on the findings of the task force.
Upon receiving the report, the ministry will consider whether to issue administrative guidance to KDDI in August or later.
According to sources close to the matter, the task force, tasked with strengthening the telecommunications infrastructure and customer support, was established Thursday. It consists of 100 members, including business and technical executives.
Working groups will be set up in four areas: strengthening the telecommunications infrastructure; improving the quality of the communications network operation; upgrading the quality of maintenance and inspection work; and reinforcing methods of informing individual and corporate customers of such problems.
KDDI plans to analyze records remaining in the equipment and communication network to determine the how the breakdown occurred and why it lasted so long.
The firm intends to proceed with discussions regarding compensation for corporations and individuals separately from the task force.
The network disruption occurred at around 1:35 a.m. on July 2, making it difficult to connect cell phone calls and messaging. The entire system was not fully restored until Tuesday afternoon, about 86 hours later. Over 39 million subscribers were affected.
The task force is expected to focus on investigating a malfunction that occurred after a router was replaced during periodic maintenance.
The communications ministry regards the disruption to be a "serious accident" as defined by the Telecommunications Business Law, thus requiring KDDI to submit a detailed report on the failure within 30 days after the incident occurred. The ministry set a deadline of Aug. 1.
Add TheJapanNews to your Google News feed.