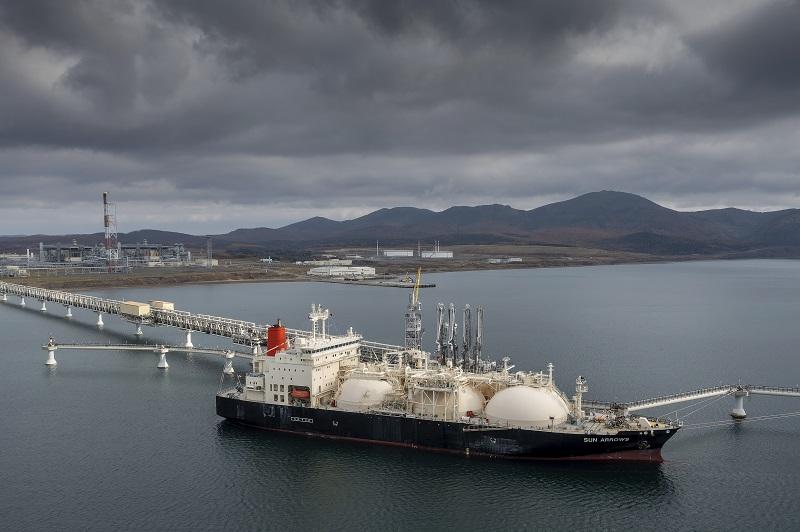 6:00 JST, July 3, 2022
As if aiming a blow at Japan, which stands with Western democracies in imposing sanctions against Russia over its invasion of Ukraine and which is also now trying to maintain a balance between supply and demand of electricity amid a record heatwave at home, the administration of Russian President Vladimir Putin has exerted new pressure.
Japanese power and gas companies have signed long-term contracts of around 15 years for liquefied natural gas with the operator of the Sakhalin-2 project. Russian LNG accounts for about 9% of Japan's imports of the product, and most of that comes from the Sakhalin-2 project.
Hiroshima Gas Co. depends on LNG from the project for almost half its supply, while Toho Gas Co., based in Nagoya, relies on it for about 20%.
LNG from the Sakhalin-2 project is also highly advantageous in terms of price. The prices of LNG from the Sakhalin-2 project are reckoned to be 10% to 25% of the average LNG prices in spot trading, which is based on immediate supply and demand.
If the amount of LNG procured from the Sakhalin-2 project were instead procured on the spot market, the additional cost to Japan is estimated at more than ¥1 trillion a year.
One industry official said there was a prevailing view that "with our weak position perceived by LNG sellers, the actual cost would balloon further."
With Japan having to rely on thermal power generation, the supply and demand situation may become tighter than ever if the LNG supply from the Sakhalin-2 project is cut off. It will also become inevitable that utility charges, including the price of electricity, will rise.
With the latest presidential decree, Russia demands that all assets owned by the operator of the Sakhalin-2 project, in which Mitsui & Co. and Mitsubishi Corp. have stakes, be transferred without compensation to a Russian firm that will be newly established. Yet, it has not mentioned any suspension of LNG exports. As capital investment and long-term supply contracts are not necessarily linked, even if Japan's investment were to be lost as the result of the transfer of the assets, that would not inevitably lead to an immediate suspension of exports to Japan.
Nevertheless, some in the LNG industry in Japan say that while there is no telling what Russia will do, Japan should have an investment in the new company in order to have some say and continue to procure gas from the Sakhalin-2 project.
Akio Mimura, chairman of the Japan Chamber of Commerce and Industry, criticized Russia's move, saying on Friday: "It's just unbelievable. There would be few private companies that would invest in Russia in the future."
International University of Japan Vice President Takeo Kikkawa, who is knowledgeable about energy policy, said: "It would be a big problem if Japan were to lose its interests in the project. It may also have a ripple effect on other projects in Russia that Japan is involved with. Therefore, it is important for the Japanese government and private companies to respond with unbreakable unity."