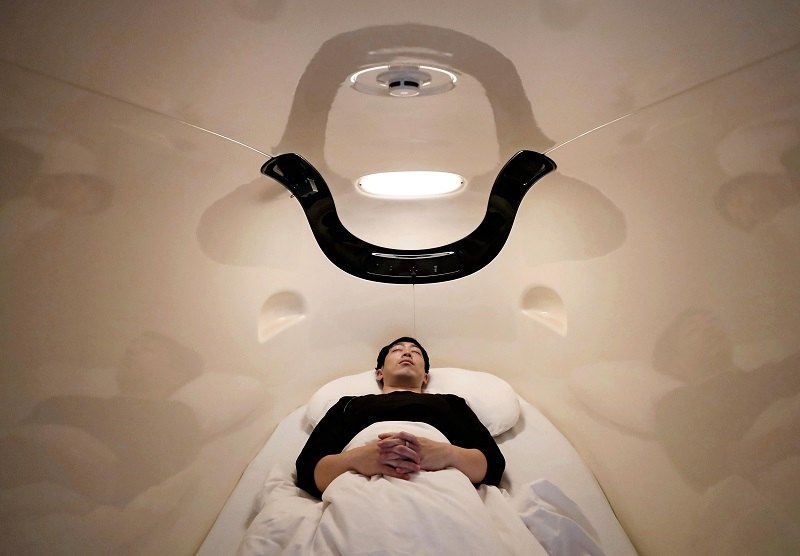 17:00 JST, June 18, 2022
The market for sleep aids is expanding rapidly as more people have difficulty getting to sleep due to disruptions in the rhythm of their daily lives amid the novel coronavirus pandemic, which has sparked both worries about the future and new circumstances such as the rise of teleworking.
The popularity of food and beverage products that claim to improve the quality of sleep has grown, while an increasing number of companies are offering IT-based services called "sleep tech."
"It's always sold out. Where can I buy it?" read a message on social media, referring to one such product, the Yakult 1000 beverage.
Numerous posts have appeared on social media regarding the effectiveness of the lactobacillus drink designed to promote sleep quality, and the locations where the product is purchasable.
Yakult 1000, containing a considerable amount of the Shirota strain of lactobacillus casei bacteria, helps reduce stress and enhance sleep quality, according to Yakult Honsha Co. It had primarily been a product for home delivery, but has been sold at convenience stores and other shops since October. As the product has been in short supply, the company plans to increase production in stages from July.
Yakult 1000 is among products described as "foods with function claims." If applications are submitted along with scientific evidence and approved by the Consumer Affairs Agency, food business operators can call the products "foods with function claims" and label them to indicate their effectiveness.
According to research firm Fuji Keizai Co., the market for food and beverage products designed to relieve stress and support sleep has expanded from ¥1.1 billion in 2013, when a relevant survey began, to ¥16.1 billion in 2020, a 15-fold increase. It is expected to grow further to ¥33.1 billion in 2022.
Sleep analysis at hotel
Last December, Nine Hours, Inc., which operates capsule hotels, started a service that assesses guests' sleep quality using infrared cameras and mattresses equipped with sensors to measure body movements.
The guests are offered data such as heart rate, snoring and the length of pauses in breathing, or sleep apnea. They can use the service for no additional fee. This service has enabled such data to be collected from about 200 people a day, and food and beverage companies have asked the hotel operator for cooperation to develop products.
According to the National Health and Nutrition Survey conducted by the Health, Labor and Welfare Ministry in 2019, about 30% of respondents aged 20 to 59 said they were not satisfied with their sleep quality at least three times a week. The pandemic may have caused sleeping problems in more people.
In March this year, an organization was established to set quality standards for products and services that support sleep. Long-established bedding manufacturer Nishikawa Co., the University of Tsukuba, Itochu Corp., Nippon Life Insurance Co. and Asics Corp. are among its members.
"The boom in the sleep aid market is welcome, but the products and services are a mixed bag," said Takuto Nonomura, head of Nishikawa's Japan Research Laboratory of Sleep Science. "We want to contribute to society to help people sleep better through such efforts as establishing quality standards across industry boundaries."
Add TheJapanNews to your Google News feed.