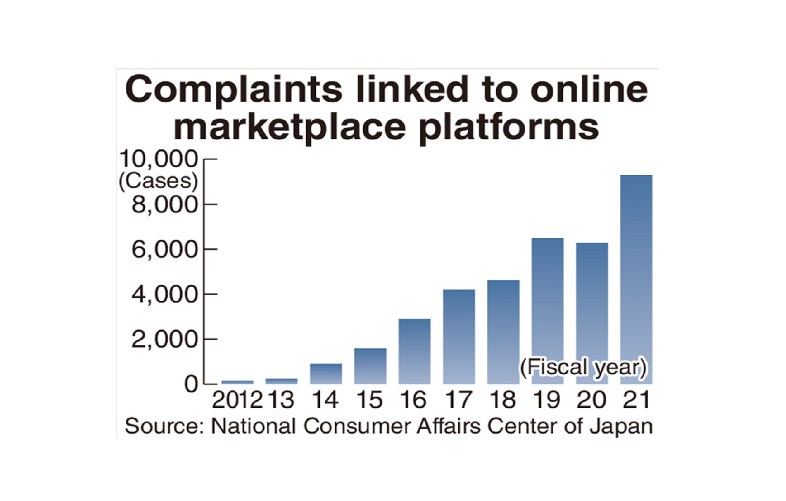 12:36 JST, June 16, 2022
The listing of stolen goods on internet marketplaces has become rampant in recent years. Even though platform operators prohibit such practices in their terms of use, in reality, countermeasures have not kept pace with the problem.
With marketplace platforms doing booming trade amid the COVID-19 pandemic, victims whose stolen items have been listed online are calling for more to be done.
In September, a woman from Sapporo noticed a used cooler box for sale online that was just like one that had been stolen from her during a camping trip.
The item, which was listed on the Mercari and Rakuten Rakuma online marketplaces, appeared to have a mark where she had removed a sticker and stains that convinced her that the cooler box for sale was the one that had been stolen.
She contacted the police to report the sale of the item. She also contacted Mercari, Inc. and Rakuten Group, Inc., which operate the sites, but was told to seek advice from the police as the firms were "not able to investigate whether the item had been stolen."
In April, the seller was arrested on suspicion of theft by the Hokkaido prefectural police, who recovered the item and returned it to the woman.
"No matter how much I complained that the listed item had been stolen, the operators kept slamming the door in my face. I wish they had been more cooperative," she said.
The proprietor of Gekkodo, a thrift store in Meguro Ward, Tokyo, said an item that seemed to have been stolen from the store was listed for sale on Mercari in September 2020. After spotting the item online, he filed a report with the police and contacted Mercari but did not receive a reply from the marketplace operator.
The number of Mercari users topped 20 million in April, while the Rakuten Rakuma app had been downloaded more than 30 million times as of June last year.
With the popularity of such services surging, there has also been a rise in the number of problems linked to online marketplace platforms.
According to the National Consumer Affairs Center of Japan, 9,292 complaints related to online marketplaces were received in fiscal 2021, compared to 173 in fiscal 2012. Complaints included such issues as goods not arriving and sellers refusing to accept returns for fake goods.
Although platforms prohibit the sale of stolen goods in their terms of use, they are struggling to find a way to prevent this problem.
A Rakuten Rakuma official said, "It's difficult to block the sale of stolen goods and other items related to crimes without a police decision."
According to Mercari, there have been cases in which it took actions such as suspending a user if a victim contacts the company, but "the way of confirming such cases varies on a case-by-case basis," an official said.
Atsuo Takagi, a lawyer knowledgeable about consumer affairs issues, said, "It becomes more difficult to recover stolen items once they are sold. If the platforms are presented with reasonable evidence, they should take actions such as questioning the seller or suspending the listing, without waiting for a judgment to be made by investigative authorities."
Regarding the resale of e-tickets for theme parks and other facilities, Mercari has changed its terms of use to prohibit such listings from June 10, following complaints about the issue.
Most theme park operators prohibit the resale of tickets on online marketplaces. Buyers who purchase e-tickets listed for resale online cannot use them if operators invalidate them.
Universal Studios Japan invalidates e-tickets listed on online marketplaces based on the ticket number and QR code. Meanwhile, Seibu-en amusement park in Tokorozawa, Saitama Prefecture, warns visitors on its homepage that e-tickets bought via online marketplaces cannot be used.
According to Yomiuri Land, an amusement park in Inagi, Tokyo, a case has been confirmed in which e-tickets purchased with illegally obtained credit card information were listed on Mercari.
The online marketplace changed its terms of use because it received many complaints about such issues.