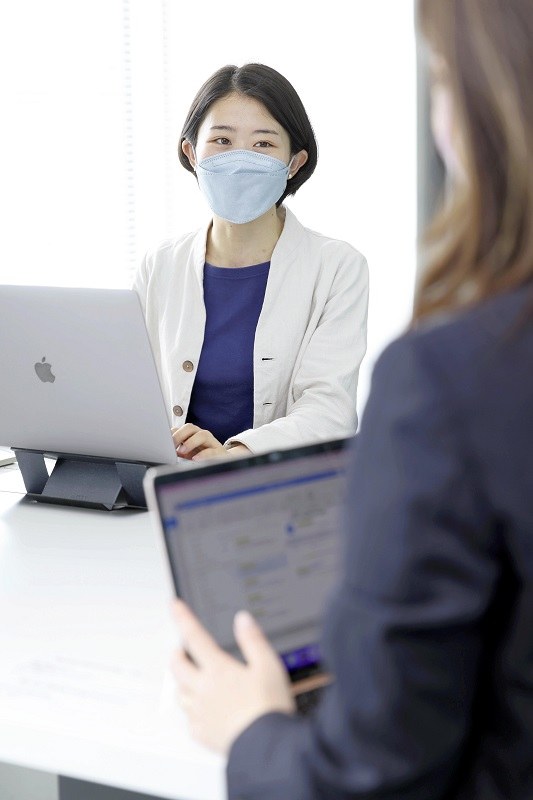 14:25 JST, May 4, 2022
The five-day week may soon be a thing of the past in Japan, as more companies eye shorter workweeks, aiming to create an environment that helps employees balance work with other activities such as child-rearing, nursing care and self-development.
But for such systems to spread, companies will have to find a way to maintain pay levels, as staff who work fewer days a week may not want to sacrifice their income.
One employee who has taken advantage of a shorter workweek is Ayane Kumagai, who joined IBM Japan Ltd. three years ago. A member of the IBM Consulting division, Kumagai has been working three days a week since February. The 26-year-old mainly works from home for about 8 hours between 10:30 a.m. and 7:00 p.m., Wednesday through Friday.
On weekends, she studies Chinese traditional medicine, which, although unrelated to her current role, she said she hopes will be useful in her future career.
Like other employees at her company, Kumagai also gets time off during the New Year period, on national holidays, and over summer. Teleworking during the COVID-19 pandemic is what prompted her to reconsider her work style. "It helped me to have a better work-life balance," she said. "I consider it an investment in myself."
IBM Japan introduced a reduced workweek in 2004. Currently, all employees are eligible for the program and can choose to work three or four days a week. Although salaries are reduced according to the number of hours worked, over 100 employees have taken advantage of the system.
Since 2017, IT giant Yahoo Japan has allowed employees to take one day off a week in addition to Saturdays and Sundays, as part of efforts to retain staff who may be considering leaving because of child-rearing or nursing-care responsibilities. About 200 employees have utilized the system.
The government encouraged companies to adopt an "optional, four-day workweek system" in its 2021 Basic Policy on Economic and Fiscal Management and Reform, with such companies as Panasonic Holdings Corp. and NEC Corp. heeding the call.
The COVID-19 pandemic has also prompted companies to consider changing conventional work practices.
Reduced workweek systems can involve longer hours on workdays, with incomes unchanged; unchanged workday hours and income; or prorated incomes — the most common of the three options.
In a Mynavi Corp. survey, about 80% of respondents said they would not do a four-day week if it meant a drop in pay, indicating that income levels are a decisive factor in the uptake of such systems.
According to a 2021 survey by the Health, Labor and Welfare Ministry, only 11% of workers had more than two days off a week. The larger the company, the higher the percentage was.
The introduction of shorter workweeks at small- and medium-sized firms would likely be more difficult amid chronic labor shortages.
Hidden overtime is also a risk among staff who work shorter weeks, as some employees might end up having to complete unfinished work at home.
"There could be disparities depending on the size of the company and the type of industry," said Prof. Junya Tsutsui of Ritsumeikan University. "It is also necessary to keep an eye out for unfair practices."
Add TheJapanNews to your Google News feed.