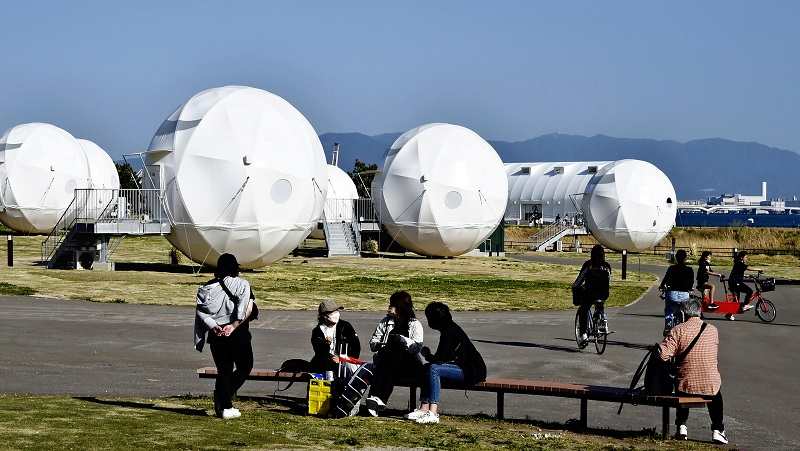 18:55 JST, May 4, 2022
FUKUOKA—An increasing number of businesses are cashing in on the vogue for glamping — outdoor camping with home-comforts.
Glamping — a portmanteau of "glamourous," and "camping" — began taking off in Japan around 2015. Facilities have recently been springing up across the country amid the pandemic because the glamping allows people to enjoy nature, but in the comfort of a resort-like area.
Operators from a variety of backgrounds have discovered they can turn a profit in the burgeoning sector with a relatively small initial outlay.
French cuisine
On April 9, families thronged "Inn the Park Fukuoka," a glamping facility that opened in March in Uminonakamichi Seaside Park in Fukuoka. The complex's 13 spherical tents, measuring 6 meters in diameter, sit on a lawn-covered open space facing Hakata Bay. Each three-person residence is equipped with beds, a refrigerator, and an air-conditioner. In the evening, people can enjoy locally produced French cuisine or barbecued food.
The facility has a total of 30 guest rooms of four different types, and is an about 30-minute drive from the center of Fukuoka. Except for busy periods, accommodation rates range from ¥15,000 to ¥36,000 per person per night, with two meals included.
Hideto Oshita, a 44-year-old man from Yamaguchi Prefecture, who visited the park with four members of his family, said, "We couldn't take trips due to the spread of coronavirus infections, so we wanted to enjoy something special with glamping."
Uminonakamichi Seaside Park is run by the central government, so the regional office of the Land, Infrastructure, Transport and Tourism Ministry invited applications to build the glamping facility, attracting such companies as Mitsubishi Estate Co. and Sekisui House, Ltd.
The operators hope to attract about 120,000 people each year. The facility is also equipped with a 17-meter-high athletics course through obstacles made of rope, logs among others.
"The glamping facility can be developed without damaging the natural environment, allowing visitors to enjoy unordinary experiences of staying overnight in a state-run park," an official of Mitsubishi Estate said.
Pets welcome
With overnight stays costing around ¥30,000 per person, glamping facilities provide a close-to-home luxury getaway for people frustrated by the restrictions on overseas travel due to the ongoing pandemic.
Glamping is characterized by fully furnished, user-friendly accommodations. Even if the weather is bad, visitors do not need to set up a tent and can instead eat at a restaurant or in the guest rooms. Staffers help with all aspects of a customer's stay, from building a fire to clearing the table after a meal. Glamping facilities are popular with pet lovers, too.
There are presently 440 glamping locations across the country, marking an increase of more than 150 over the past two years, according to the Japan Association of National Glamping Accommodations. Glamping operators will cut the ribbon at over 200 locations in 2022, with the market expected to be worth more than ¥100 billion in 2023.
Satoshi Fukami, an associate professor at Nagasaki University and an expert in tourism, said, "Tourists have fundamentally shifted from large groups to small, and these facilities are meeting the needs of an era in which people desire a minimum level of service."
Hot spa included
With the sharp rise in glamping-friendly services, however, competition has been intensifying among operators, prompting some to try to differentiate their services by leveraging local characteristics.
To attract more visitors during the winter season, the Granxia Beppu Kannawa glamping complex, which opened last April in Beppu, Oita Prefecture, boasts a hot spa in each of its tent-like guest rooms.
New Day, meanwhile, opened April 9 in Hyuga, Miyazaki Prefecture. It primarily targets surfers, with trailer houses facing a beach known for its waves. "We hope our guests feel at home while enjoying the surf," an official at the facility said.
Companies buffeted by the pandemic also have been entering the sector. Kyushu Railway Co. (JR Kyushu) announced plans to enter the business and develop an outdoor facility in Fukuoka City as early as next year.
"Forest Camp Kokura," in Kitakyushu was opened last May by a group of about 10 business operators, including local restaurants. Full meals are served at the facility using locally produced materials.
Operators are attracted to glamping facilities because they can be developed in a relatively short time and require a lower amount of investment compared with opening a hotel. Such facilities can also be remodeled or expanded with relative ease, and run by a small number of staffers.
Operators can also benefit from a government subsidy that helps companies rebuild their businesses. The program aims to support small and midsize firms attempting to move into new sectors amid the pandemic.
Masataka Kanamori, a representative manager of the glamping association, recognized that glamping firms have, to some extent, relied on a sense of novelty.
"From now on, they'll face a process of sifting-out. Key to their success will be not letting this be a temporary boom but offering distinct services and show people how to enjoy different seasons."
Add TheJapanNews to your Google News feed.