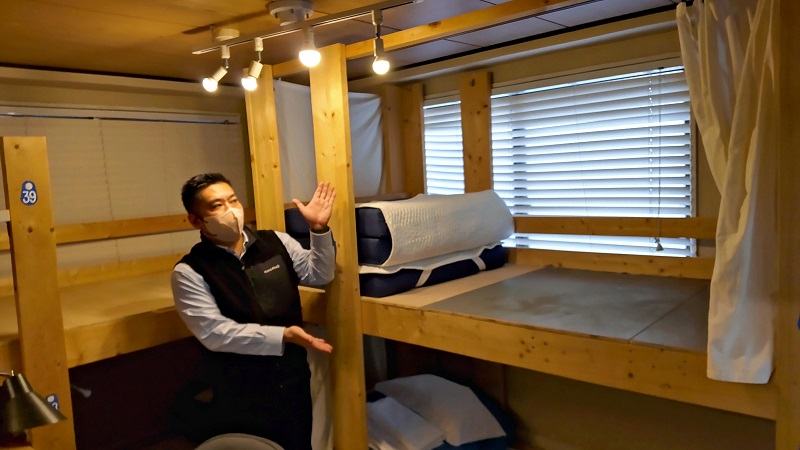 11:40 JST, April 12, 2022
To support displaced people from Ukraine, where the Russian invasion continues, a Tokyo company operating guesthouses for foreign visitors has decided to offer free temporary accommodation for refugees.
"I'd like to provide them with a service that will make them feel safe and relieved," said Takayuki Watanabe, 41, the president of Shukuba Japan, Inc.
The company will offer such Ukrainians free accommodation at Guest House Shinagawa-shuku near Kita-Shinagawa Station on the Keikyu Line in Shinagawa Ward, Tokyo. It is one of four guesthouses run by the company, and before the pandemic the guesthouses welcomed about 10,000 people annually, many of them non-Japanese tourists. Since the outbreak started in 2020, the number of guests has decreased by more than 70% due to people staying home and international travel restrictions.
The company thought of how to use its vacant rooms and learned that there were many foreign residents in Japan who could not return to their home countries because of a reduction in the number of flights and lost jobs. The company announced on social media that it was ready to provide them with free accommodation, and about 30 people had used the service by the end of 2020. The circle of cooperation expanded, with local shopping districts offering food donations. The foreign guests, who seemed anxious at first, gradually started to look more cheerful, according to the company.
Watanabe believes it is a basic right for people to have a warm place to sleep where they can feel safe. After watching the plight of people fleeing Ukraine on the TV news, his heart ached, and he decided to offer support on this occasion as well.
When accepting a guest, the company's staff, including those who can speak English, will listen to their needs and try to help them rebuild their lives by connecting them to relevant municipal bodies.
Add TheJapanNews to your Google News feed.