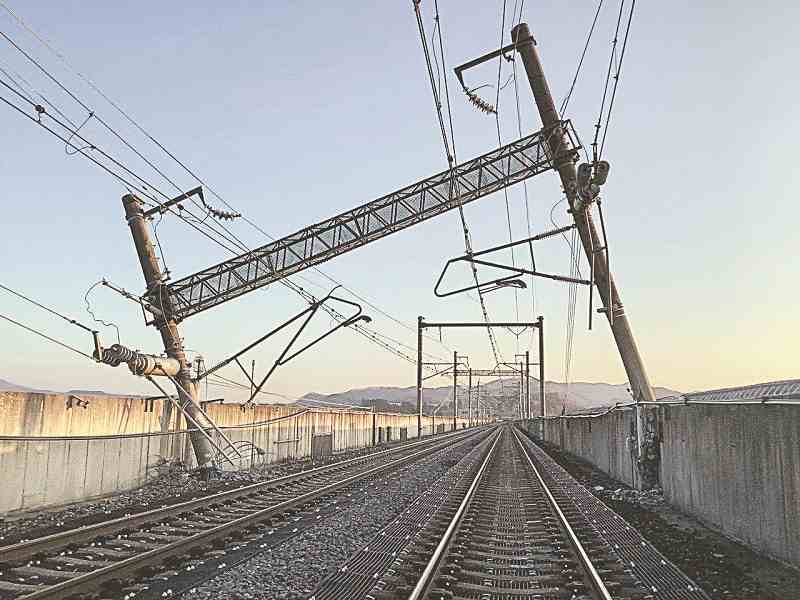 17:07 JST, March 26, 2022
As it rushes to get its derailed Tohoku Shinkansen back on track, East Japan Railway Co. also needs to address the ramifications of damage in about 1,000 locations to utility poles, rails, bridges and other places.
The company estimates that the full restoration of the train line, which suffered a derailment in the strong earthquake that hit off the coast of Fukushima Prefecture on March 16, will take at least one month.
The extended suspension of service would mark the longest for JR East since the 2011 Great East Japan Earthquake, and has prompted the company to urgently review its preparedness in cases of disaster.
The earthquake measured upper 6 on the Japanese seismic intensity scale — which tops out at 7 — causing a Tohoku Shinkansen line train to derail. Train service was suspended on the 350-kilometer stretch of track between Nasu-Shiobara and Morioka.
According to JR East, the company found about 60 damaged areas in elevated bridges and other structures, 79 broken utility poles, bending in rails in about 300 spots, and about 550 damaged fittings in overhead wires. All told, about 1,000 places need repair.
Service was resumed in some sections on March 22, but the stretch between Fukushima and Sendai stations will take the longest to restart, with projections at around April 20. This will be the second longest period of suspension after the 49 days following the Great East Japan Earthquake
A major cause of the slow restoration is the removal of the derailed train cars to clear the track. Sixteen of the 17 cars derailed in the earthquake, and each needs to be put back on the rails one by one before being towed away. This process alone will take about two weeks, with repairs to surrounding equipment to come even later.
Alternative transportation by air, rail and bus began on March 17, the day after the earthquake, but users have voiced dissatisfaction, given that after an upper-6 earthquake in the same area in February last year, the Tohoku Shinkansen suspended operations for 11 days.
"It's a natural disaster so it can't be helped, but I'd like to see it restored as soon as possible," a 27-year-old Tokyo man said last week at Haneda Airport, where he was flying to Sendai to help in the cleanup at his family's house.
In response to the Great East Japan Earthquake, JR East prioritized earthquake-resistance work on major structures such as elevated bridges and bridge piers and abutments. So far, work has been completed on about 11,000 elevated bridges and about 700 bridge piers and abutments.
However, much of the damage from both last year's and this month's major earthquakes in the Tohoku region was centered on equipment such as utility poles and overhead wire fittings, which were not subject to the earthquake-resistance enhancement work.
In particular, as of the end of March last year, such work had been completed on just over 10% of the 20,000 concrete utility poles on the Tohoku and Joetsu Shinkansen lines. JR East revised its quake-resistance strategy last July, and plans to enhance about 4,000 poles by the end of fiscal 2027. Still, that would account for only about 30% of the total.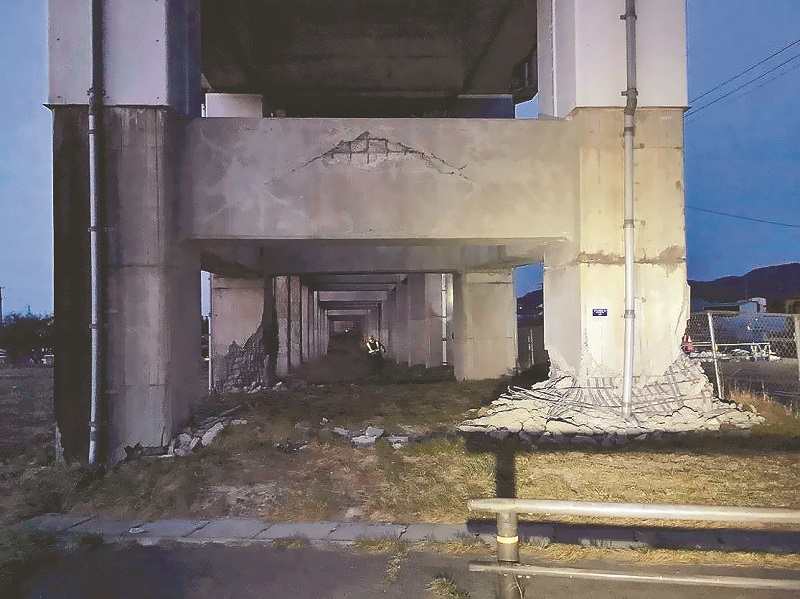 JR East is considering ways to step up the pace, such as by working on poles during the day instead of limiting the task to nighttime. It also plans to introduce special vehicles designed for work on poles later this year.
In addition, the latest disaster affected some elevated bridges and utility poles that had undergone quake-resistance work. "We would like to complete the quake-resistance work as soon as possible, as well as find ways to limit damage even further in the future," the company said.
Add TheJapanNews to your Google News feed.