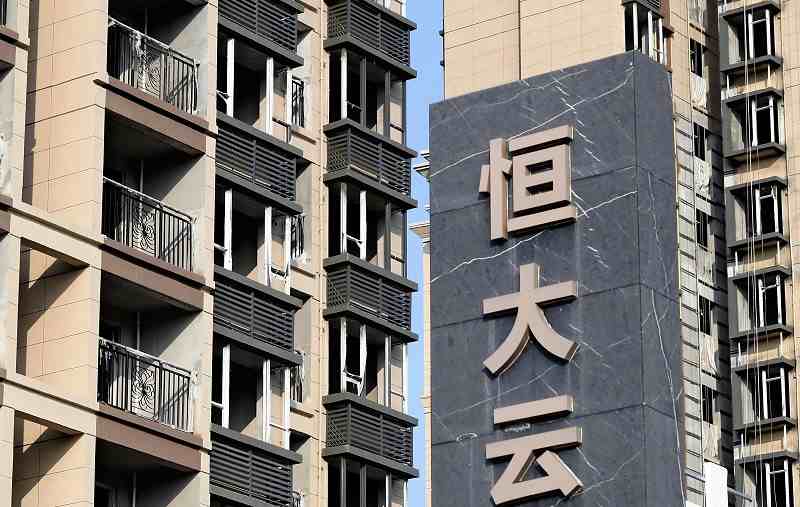 11:30 JST, October 28, 2021
BEIJING — Major property developer China Evergrande Group has so far managed to avoid default, as the Chinese behemoth paid the interest on a U.S. dollar bond just before the 30-day grace period expired Oct. 23.
Concerns remain whether Evergrande will be able to make its next coupon payment, due by Friday, U.S. time, when another grace period ends. Evergrande planned to sell some assets, but scant progress has been made.
Apparently to give the impression that all is well, Evergrande used its WeChat account on Oct. 24 to show photos and provide details of its condominium sites in Guangdong Province where construction has resumed.
Still, Evergrande is walking on a financial tightrope.
The company did not make its coupon payment on a U.S. dollar bond originally due Sept. 29 and has until the grace period ends Friday (Saturday in Japan) to do so. Otherwise, Evergrande will be in default.
According to Bloomberg News, besides the coupons due this year, Evergrande will have to pay about $7.4 billion (about ¥840 billion) for the redemption of its corporate bonds and interest payments in 2022.
Documents made public by Evergrande show its total debt as of the end of June was 1.9665 trillion yuan (about ¥35 trillion), which is almost the same as South Africa's gross domestic product.
Of the amount, repayment of 240 billion yuan worth of short-term debt falls due by the end of June 2022 and the company will have to pay 582.4 billion yuan in other transactions.
Evergrande has 86.7 billion yuan in cash reserves.
Raising funds
Evergrande has been trying to secure the necessary funds by selling assets. In late September, the company signed a contract to sell its stake in a regional bank.
But there has been little progress on this front since then. The company announced Oct. 20 that it terminated a negotiation to sell its real estate management subsidiary, which was the drawing card in its fund procurement plan.
According to the Chinese newspaper Securities Times, Evergrande's founder and chairman, Hui Ka Yan, presented a vision at an in-house conference Oct. 22 that the company will drastically downsize its real estate business and transform into a manufacturer of electric vehicles over the next 10 years.
But the Evergrande's EV subsidiary has not sold even a single unit, making the vision look unrealistic.
Hui's search for ways to survive the crisis could likely be linked to the miserable ends for Chinese business managers in the past who were urged to take responsibility, then executed or sentenced to prison.
What remains
The possibility of the Chinese government interfering in affairs to rescue Evergrande seems low.
"This company's management control is lax and it has unreasonably diversified and expanded its business," a senior official of the People's Bank of China, the country's central bank, said at a press conference Oct. 15.
If the Chinese government rescues billionaire Hui, it would contradict Beijing's goal of "common prosperity," which aims to minimize income gaps.
As a private company, Evergrande can't rely on China's "tacit governmental guarantee."
However, it seems that the Chinese government will continue to act to minimize negative impact on the economy and society as a whole.
Rumor has it that the Chinese government committed the company to the recent last-minute payment of the coupon.
If homes are not handed over to purchasers or a chain of business failures spreads among companies that made business deals with Evergrande, people's discontent may be directed at the Communist Party and Beijing.
The Chinese government has repeatedly emphasized that it will protect the rights of people who have purchased homes and aims to offer financial aid to resume condominium construction work that had been suspended.
Even if Evergrande defaults, it is possible for the company to continue business operations because China does not have a system to halt bank transactions of a company in default.
It seems that, even under a default scenario, Evergrande will enter legal procedures for business rehabilitation based on the corporate bankruptcy law, while continuing to sell its assets.
In China, there had been many cases where coordination among concerned parties took a long time until a failed company entered a legal bankruptcy procedure. In the case of HNA Group, a conglomerate, it took about 1½ years until the legal procedure began, making it possible that Evergrande's case will also take a long time.