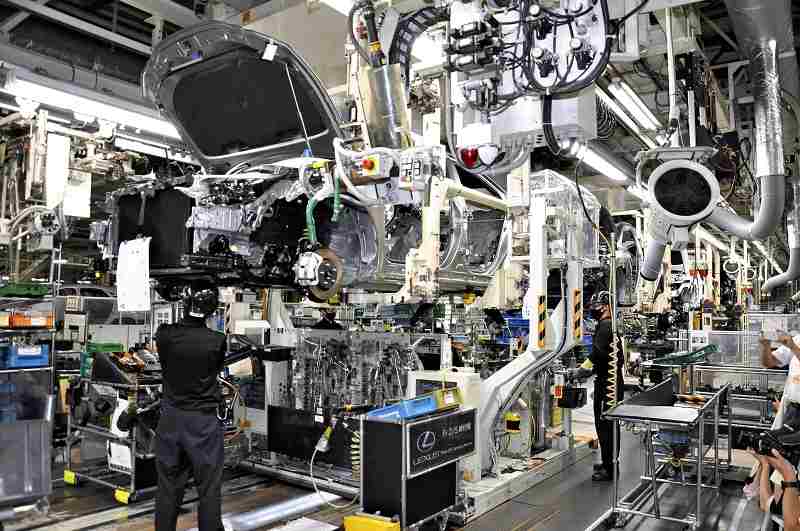 14:43 JST, October 23, 2021
Japanese automakers expect production to be down by at least 1.3 million units in fiscal 2021 due to the global semiconductor shortage and the COVID-19 pandemic situation in Southeast Asia, according to eight major manufacturers.
The cut is equivalent to 5% of the automakers' total annual production in fiscal 2020 when they produced 23.35 million vehicles.
Under Nissan Motor Co.'s new production plan, the company will reduce its global production for October and November by about 30% from the planned level. The company did not indicate the specific number of units.
The company said it could not secure the parts needed to assemble finished vehicles due to a shortage of semiconductors and stalled production of auto parts in Southeast Asia.
At the end of July, Nissan indicated that it expected to cut production by 250,000 units in total this fiscal year, and Nissan executives said that there was a strong possibility that production would fall further due to the pandemic situation in Southeast Asia.
Seven other automakers are also cutting production for the same reason.
On Oct. 15, Toyota Motor Corp. announced it would cut global production in November by between 100,000 and 150,000 units. The automaker has announced several production cuts since August, lowering its full-year production plan from the initial 9.3 million units to around 9 million units.
In August, Honda Motor Co. lowered its forecast for global sales for the current fiscal year by 150,000 units to 4.85 million units. The company has announced a series of domestic production cuts since August, which may further lower its sales volume forecast. Honda has said it is minimizing the impact, but that the situation will continue to be uncertain.
Suzuki Motor Corp. expects the impact of the semiconductor shortage to continue throughout the current fiscal year, and expects to reduce production by 350,000 units, the largest among the eight automakers.
Since the second half of last year, Japan, the U.S. and China have seen rebounds in automobile demand, which had dipped following the outbreak of the COVID-19 pandemic.
If the production cuts continue, Japanese automakers might miss out on the bump in demand.
The automobile sector is a key industry that accounts for about 20% of all domestic manufacturing shipments.
From steel manufacturing to parts makers, a wide range of industries are involved in the production of vehicles, supporting Japan's manufacturing sector.
Large-scale production cuts will have a negative impact on the performance and employment situation of such companies, potentially putting the brakes on the Japanese economy's pandemic recovery.