Japanese restaurant chains expand into stronger overseas economies of U.S., China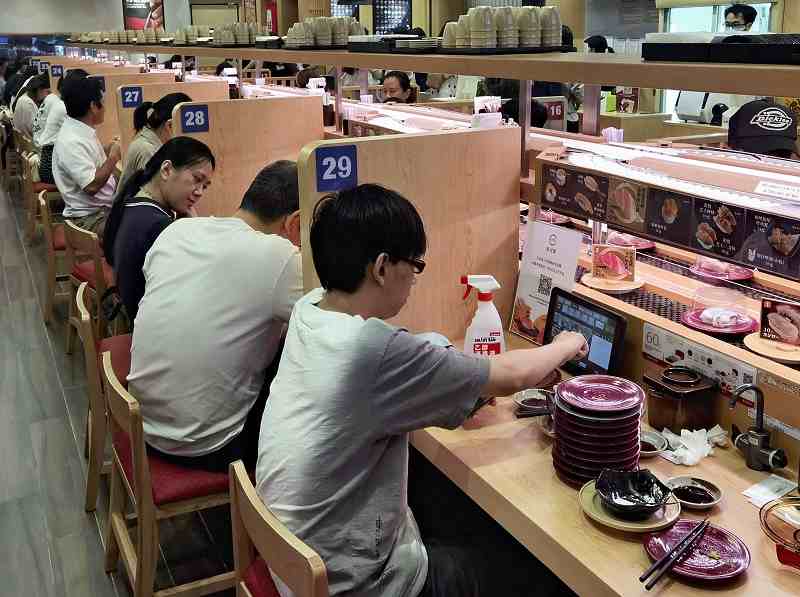 13:17 JST, October 13, 2021
Major restaurant chains are opening branches overseas, especially in China and the United States, where the economies have recovered from the coronavirus pandemic. They hope this will provide relief as the severely damaged domestic market is still suffering, even as it continues to face a declining population.
These companies aim to develop their overseas markets into a source of revenue by taking advantage of the growing popularity of Japanese food.
Hour-long wait
On Sept. 22, conveyor-belt sushi restaurant Sushiro opened an outlet in Guangzhou, China. It is the first Sushiro restaurant in mainland China, following outlets in Hong Kong, South Korea, Singapore and elsewhere in Asia. Customers of all ages have flocked to the restaurant, and many have to wait for more than one hour to enter.
A faithful re-creation of the Japanese original, the restaurant has captured the hearts of Chinese customers who are unable to travel abroad and miss Japan.
Due to the higher cost of procuring ingredients, the price of sushi per plate starts at 10 yuan (about ¥170), which is slightly higher than the price in Japan, where it starts at ¥110.
Despite the higher price range, a man in his 30s who works in real estate and visited the restaurant on Sept. 24, said with satisfaction: "The ingredients are fresh and delicious. I'll come again."
The head of the Sushiro operator's local unit said, "I've felt the potential of sushi once again by opening the store in Guangzhou."
Sushiro is planning to open another restaurant in Guangzhou within this year and also plans to aggressively expand into other countries and regions.
Skylark Holdings Co., which operates the restaurant chain Gusto among others, opened a shabu-shabu restaurant, Shabu-You, in Chicago at the end of September, with all-you-can-eat pork and beef.
"The restaurant market in the United States is huge and we can expect high growth," the company's employee in charge of publicity said enthusiastically.
Skylark Holdings runs about 3,100 restaurants in Japan but far fewer overseas: only 63 in Taiwan and two in Malaysia. The company is studying consumer responses and challenges in the United States, aiming to develop a chain there.
In July, Watami Co. opened the first overseas branch of its karaage deep-fried chicken shop chain Karaage no Tensai in Shanghai.
Watami withdrew from the restaurant business in mainland China in April last year due to the pandemic, but the company has returned to the Chinese market and its karaage is selling well now.
Popular cuisine
Companies that have taken the lead in launching businesses overseas are recovering more quickly from the damage caused by the pandemic.
Rising consumption in China saw The Monogatari Corp., which operates Yakiniku King and other restaurant chains, report an increase in sales and profits in the consolidated financial results for the fiscal year that ended June 30.
One of its chains, the Hokkaido Kani-no-Okadaya crab restaurant, led the recovery by capturing demand for the atmosphere of overseas travel, even though the cost per customer is around ¥5,000, which is relatively expensive for Chinese consumers.
The company plans to have 11 restaurants in China in the fiscal year ending June 30, 2022.
President Hisayuki Kato said energetically, "Focusing on our overseas business will be very important in the next 10 to 20 years."
In 2013, washoku Japanese cuisine was registered on UNESCO's list of Intangible Cultural Heritage. Japanese food is becoming more and more popular overseas.
The Agriculture, Forestry and Fisheries Ministry estimates that the number of Japanese restaurants overseas in 2019 was about 156,000, nearly triple the number in 2013. A wider range of dishes, such as sukiyaki and tempura, are also gaining in popularity.
VR glasses for training
Companies that opened restaurants despite the pandemic have faced new challenges. The sluggish local economy slowed down the delivery of goods. Also, it was not easy to provide technical guidance and develop products as expected because overseas travel became difficult.
In July, Toridoll Holdings Corp. opened the first restaurant in London of its flagship store Marugame Seimen, which specializes in udon noodles.
Glasses with a virtual reality function were used to train local employees. For example, employees learned by watching scenes of cooking at a restaurant in Japan projected onto the glasses, without trainers having to go to the restaurant.
Hideya Asaeda, senior analyst at Mizuho Securities Co., said: "Food is closely related to the culture of each place. The key to growth in the restaurant business is to develop flavors that suit local consumers and unique characteristics."
Add TheJapanNews to your Google News feed.