More Japanese firms ban smoking during office hours, even when working from home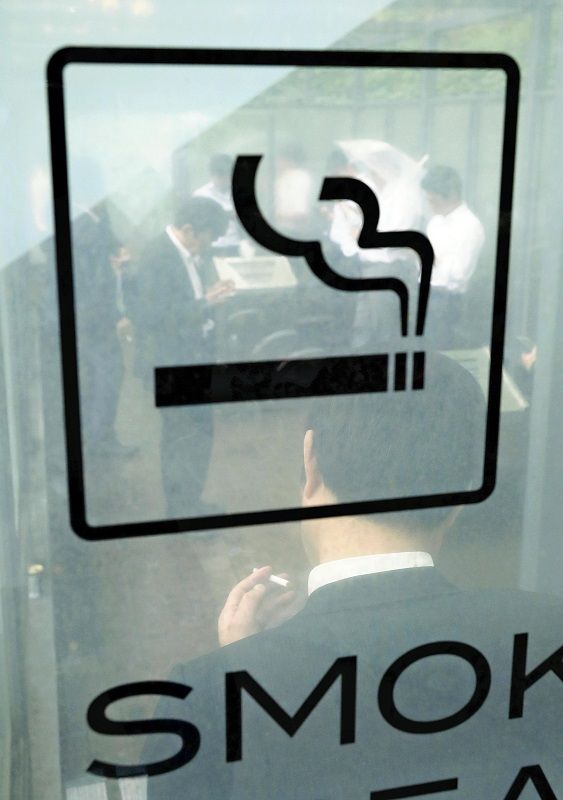 9:29 JST, September 20, 2021
A growing number of companies are asking employees to refrain from smoking during work hours — even when they're doing that work from home.
The move is aimed at improving the health and productivity of the workforce, at a time when teleworking has been on the rise amid the novel coronavirus pandemic.
Earlier this year, Aeon Co. rolled out its own nonsmoking policy, asking the nearly 450,000 employees of its group companies to phase out their workday smoke breaks by March.
Ajinomoto Co., which has prohibited smoking at its headquarters since 2019, has announced plans to start a similar initiative that will apply its roughly 10,000 employees at its group offices nationwide by the end of fiscal 2022.
Nomura Holdings Inc. plans to implement a blanket ban on smoking during working hours for all group employees nationwide, including those working from home, starting in October.
In addition to removing all smoking rooms from its facilities by the end of this year, the brokerage firm will ask employees to not return to their desks for at least 45 minutes after lighting up during lunch breaks and nonworking hours, in order to mitigate the harmful effects of "thirdhand" smoke.
Smoking affects not only the health of the smoker, but also that of their families.
According to a study published in May by the National Cancer Center Japan, about 20% of smokers surveyed said they were smoking more during the pandemic, citing the increase in teleworking and time spent indoors. The exposure of nonsmoker cohabitants to secondhand smoke also rose by 34%.
However, given the logistical difficulty of policing "no smoking" policies in the privacy of an employee's own home, the companies have said the measure will be implemented purely on an honor system basis.
"We will ask employees [to make efforts to quit smoking] based on their own good conscience and an awareness of their own health," said a Nomura Holdings official.
"Firms can improve productivity by protecting the health of their employees, and they can also expect more investors by improving their image," said Yasuko Matoba, chief researcher at Dai-ichi Life Research Institute Inc. "However, it is essential to provide a detailed explanation to employees to gain their understanding before [the nonsmoking policy] is fully instituted during work hours."
Add TheJapanNews to your Google News feed.