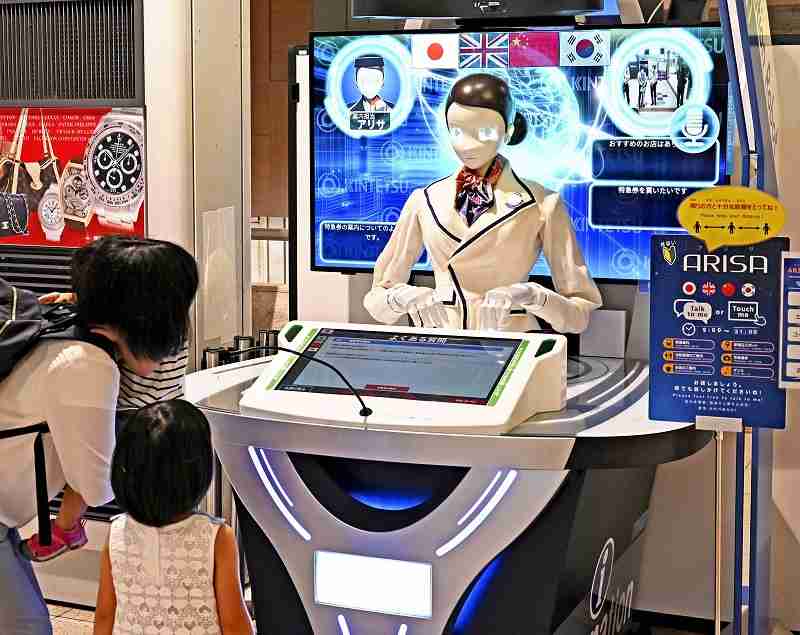 13:39 JST, September 20, 2021
Railway operators are turning to artificial intelligence to assist customers, and one company has deployed a humanoid robot at a train station to provide information in multiple languages to passengers.
On a weekday in early September, a robot modeled on a human female was speaking to passengers at a ticket gate at Kintetsu Railway's Yamato-Saidaiji Station in Nara.
"Welcome to Yamato-Saidaiji Station," the robot said. "May I help you?"
Named Arisa, the humanoid is 2.1 meters tall and was introduced on a trial basis in April last year.
The AI system can understand passenger's questions. When asked about transfers or about details of the station premises, Arisa can answer vocally and visually through a display behind the robot.
"It would've been troublesome checking on my own," said a 57-year-old man, who was asking about the route to Kyoto. "The robot looks friendly, and it's convenient."
Arisa fields about 70 questions on weekdays and 150 on holidays. Kintetsu extended the service hours in February — from between 10 a.m. and 5 p.m. to between 9 a.m. and 9 p.m. — because the robot was so popular and had no malfunctions or glitches.
Trials with 2D systems
Several other companies have introduced AI guidance systems, although robot types like Arisa are not common yet. Most use characters displayed on monitors to convey information.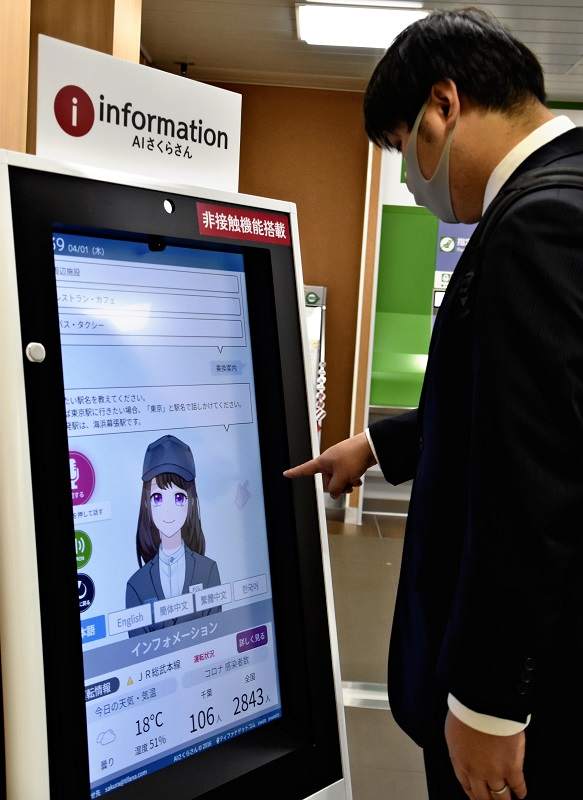 West Japan Railway Co. has been testing an AI system dubbed AyumI at Osaka Station since March 2020.
Nankai Electric Railway Corp. installed AI Sakurasan at Namba Station on a trial basis in July. Developed by Tokyo-based Tifana.com Co., the AI system is also used at airports, shopping malls and by East Japan Railway Co.
AI guidance systems not only save labor costs, but they also provide multilingual support. Railway operators consider adopting such systems because of the necessity to respond to passengers in multiple languages.
JR West's AyumI can communicate in Japanese and English, Kintetsu's Arisa speaks four languages, and AI Sakurasan understands up to 12 languages.
"When things return to normal after the coronavirus pandemic passes and foreign visitors once again come to Japan, multilingual support will be an important element," a Nankai official said. "We want to see to what extent AI can be used."
Improving safety
Some companies are looking to deploy AI for new services.
Kintetsu has positioned Yamato-Saidaiji Station, where Arisa is installed, as a neo-futuristic station.
The company has been testing an AI monitoring system for passengers with disabilities at the station.
The system detects when passengers in wheelchairs or with white canes pass through the ticket gates and notifies station staff to make sure the customers are safe.
From July to September, seven companies, including JR East and JR West, are sharing data accumulated through their AI guidance systems. The aim is to analyze the questions asked to improve existing services and devise new ones.
"In recent years, AI has dramatically improved, both in language and image recognition," said Toyoaki Nishida, a professor at the University of Fukuchiyama and an artificial intelligence expert. "AI is expected to be used for various purposes, such as preventing falls from platforms and molestation on trains."
Add TheJapanNews to your Google News feed.