Keio Group tests bringing seasonal produce to Tokyo using bus-train link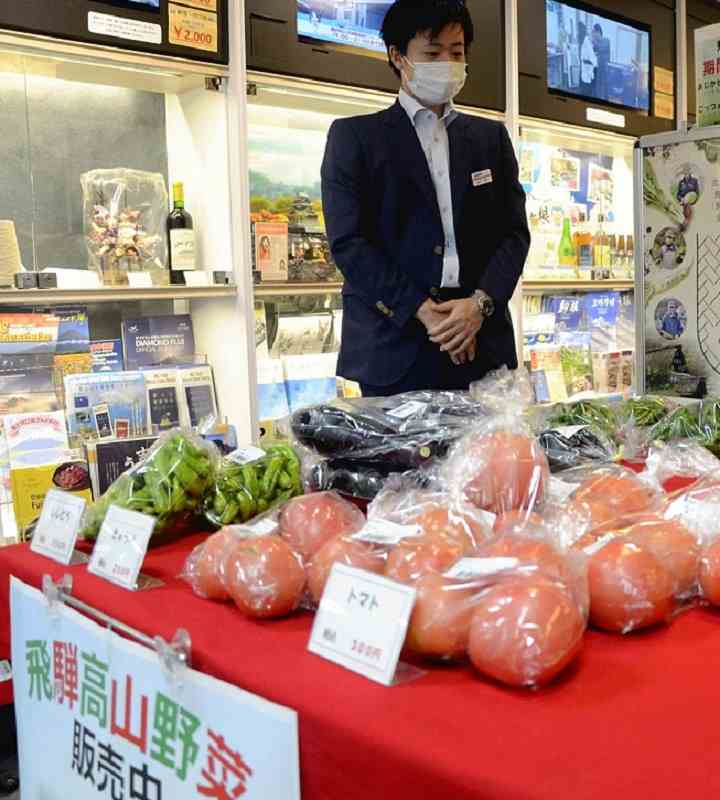 13:35 JST, September 13, 2021
Railway companies are promoting the transport of cargo in vacant areas of their passenger trains amid the pandemic, and one company that has routes mainly in Tokyo is looking to deliver produce from Gifu Prefecture along with passengers to Shinjuku Station in the capital.
Keio Corp. came up with the idea of using its expressway buses to carry cargo before transferring the freight to Keio trains. Trial runs are being conducted to see whether the business will be practical.
Around noon on Aug. 20, tomatoes, eggplants and shishito green peppers were displayed in the underground shopping mall near Keio Shinjuku Station. The produce bore labels from Takayama or Hida, areas of Gifu Prefecture.
The vegetables were harvested the day before in those parts of central Japan. Passers-by stopped to buy some.
"I was surprised that such fresh vegetables from Gifu were available in Shinjuku," said an 83-year-old woman who bought tomatoes.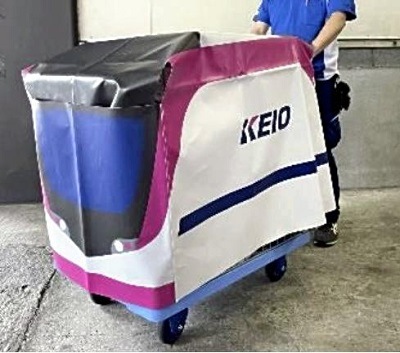 These vegetables are loaded on an expressway bus at a retail facility in Takayama from Tuesday through Saturday. The bus arrives in the capital and drops off passengers in central Tokyo before the cargo is transported to the Keio Group's warehouse in Setagaya Ward.
The next day, the cargo is loaded onto a Keio train at Hachimanyama Station, leaving for Shinjuku Station with passengers at 10 a.m. or later. The crops are displayed at Central Honshu Information Plaza in the underground shopping mall at the station.
"Fresh crops can convey the appeal of each region because they are more recognizable as 'local seasonal food' than processed products such as sweets," said Tomohito Shimada, a person in charge at the company.
Railway companies are struggling with the decline in commuters and travelers due to the pandemic, and Keio has also been directly affected. Passenger transportation revenue in the last business year was down about 32% from the previous year to about ¥54.8 billion, and total sales of Keio Group's bus companies were down about 37% to about ¥15 billion.
East Japan Railway Co. has also experimented with carrying cargo on passenger trains four times since February. It transported vegetables and fruits from Yamanashi Prefecture on limited express trains to sell them at Hachioji Station.
This drew people's attention because this regional produce can be eaten the day it was harvested. Normally, it takes two to three days to deliver harvested crops to urban shops.
Similar trials have been carried out by Seibu Railway Co., which has routes connecting Tokyo with Saitama Prefecture, and Tobu Railway Co., which also has routes to Saitama Prefecture as well as Tochigi Prefecture.
This type of business model has been difficult for Keio because its trains run mainly in Tokyo, except for part of the Sagamihara Line that reaches Kanagawa Prefecture. So the company focused on using expressway buses operated by a Keio Group company.
Gifu Prefecture was chosen for the trial because the group company has a bus route there. In 1998, Keio Dentetsu Bus Co. began operating an expressway bus connecting Hida-Takayama and Tokyo. Keio has also operated the Central Honshu Information Plaza in Shinjuku since 2016 to offer tourist information on Gifu and nearby regions.
Keio's experiment began on July 27 and the company's staff said that they often see vegetables sell out by the evening.
"After the pandemic is under control, we hope these endeavors will spark people to use such means of transportation to visit the places this produce comes from," Shimada said.
Add TheJapanNews to your Google News feed.