10:44 JST, August 23, 2021
A variety of plant-based alternative foodstuffs have come to market recently, delivering drastically improved taste and texture thanks to technological innovations.
These products are proving popular among health-conscious consumers, and the trend is encouraging food makers to go all out to release and promote new alternatives, hoping to explore new food cultures.
Meat alternatives, which are often based on soybeans, are a prime example.
In July, Seibu Ikebukuro department store sold four faux meat dishes for a limited period, including Next Galbi Kuromame Itame Don, a rice bowl topped with a stir-fried meat substitute. The store also set up a pop-up booth at the entrance on its first basement floor to sell meat alternatives.
The four dishes all used plant-based meat developed by Tokyo-based start-up Next Meats Co. It's said to be almost impossible to tell the product apart from real meat. The company said it enjoyed brisk sales of prepared food in July, which rose 30% year-on-year at some stores.
FamilyMart Co. released seven products using meat alternatives from late June to mid-July. Sales increased by about 30% compared with when similar products were released in January. In August, the convenience store chain released a keema curry using soybean-based ground meat.
Protein-rich soybean has been called "meat of the field." Since the alternatives these days taste almost like real meat, they are appreciated by those who want to eat meat but avoid animal fat. Some consumers appreciate the eco-friendly aspect of meat alternatives, which have a lower carbon dioxide footprint than livestock farming.
¥1.8 trillion market
Yano Research Institute Ltd. estimates that the global alternative meats market will grow from about ¥250 billion in 2020 to about ¥1.8 trillion in 2030. The growing demand will accelerate the use of advance technologies in this field.
A future shortage of protein sources has been feared amid the growing world population. Cultured meat — in which meat cells are cultivated to multiply and create muscle tissue — as a kind of meat alternative is expected to be a means of solving this problem.
Last year, Mitsubishi Corp. invested in a Dutch company that develops cultured ground beef. Production of cultivated meat costs from ¥200,000 to ¥1 million per 100 grams, posing a cost problem.
"The technology is rapidly advancing, and it may become commercially available in about five to 10 years," a Mitsubishi official said.
Nissin Foods Holdings Co. is working with the University of Tokyo and other research institutions to make steak from cow muscle cells.
Kumamoto-based start-up Daiz Inc. developed Miracle Meat from sprouted whole soybeans using artificial intelligence to re-create the taste of meat. Miracle Meat has been distributed to such supermarkets as Life Corp. since spring, and Daiz quadrupled its production capacity in June with investment from Marubeni Corp. and other firms.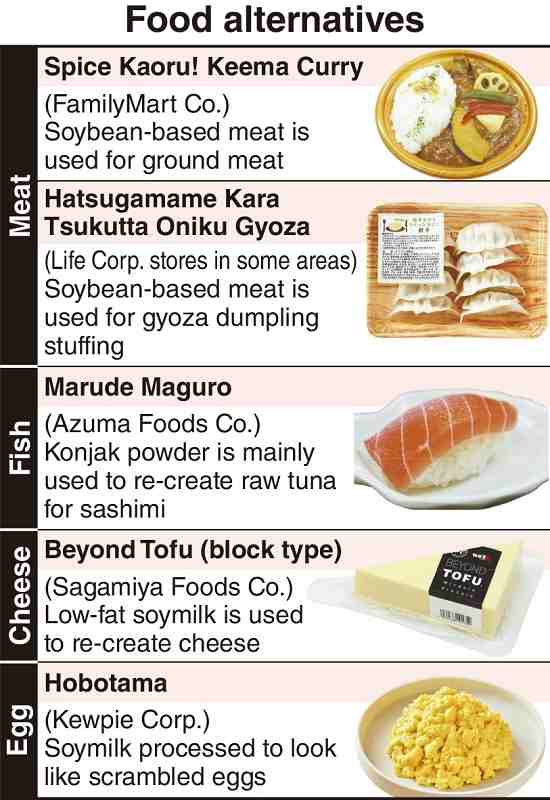 Fish, cheese alternatives
Alternatives for foods other than meat are also gaining a foothold.
Azuma Foods Co., a processed food producer and wholesaler in Mie Prefecture that specializes in seafood, plans to sell online seafood alternatives for tuna, salmon and squid using powder made from konjak as a main ingredient starting in September. It cooperated with a Taiwan manufacturer to develop a product that resembles a block of sashimi.
"Pregnant women refraining from raw fish can feel safe about eating our product," the company said.
Maebashi-based Sagamiya Foods Co. developed a cheese alternative using soy milk that recreates the texture of melted cheese. Its sales in fiscal 2020 were 2.3 times higher than the previous year.
Kewpie Corp.'s Hobotama, which is made of processed soy milk, re-creates the look and texture of scrambled eggs and currently sells for professional use.
"We received more feedback than expected. We'd like to commercialize it for the consumer market," a Kewpie official in charge of development said.