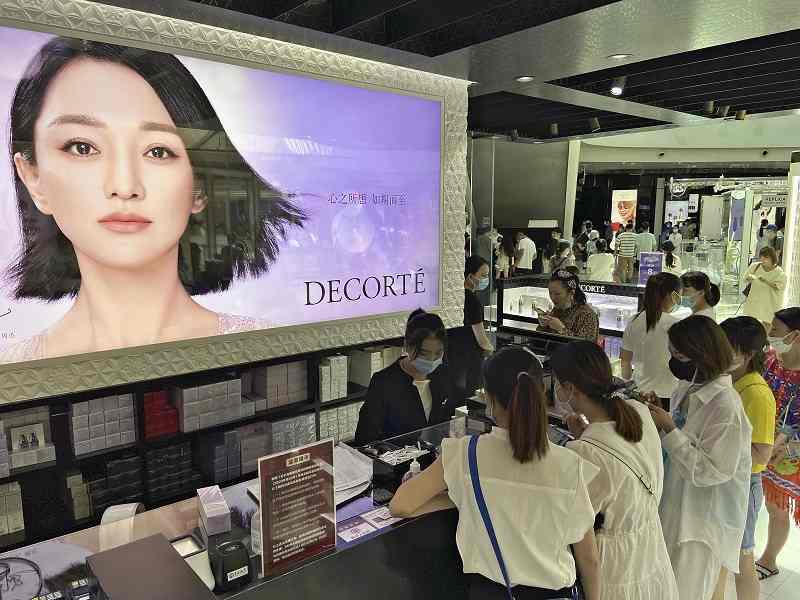 10:21 JST, August 20, 2021
The coronavirus pandemic has brought drastic changes to the cosmetics industry. Face-to-face sales have been limited for the sake of infection control, and the use of digital technology has been growing rapidly.
This is the second in a series of articles examining how the "pursuit of beauty" is taking on a new face.
Tariff exemption
Chinese tourists, whose shopping sprees once supported the Japanese cosmetics industry, have disappeared amid the pandemic. However, Japan still heavily relies on the Chinese market.
The resort island of Hainan, known as the "Hawaii of China," is now where various cosmetics companies worldwide compete for customers.
"I bought some Cosme Decorte products for 2,600 yuan (about ¥44,000)," said a woman in her 40s from Zhejiang Province in mid July. "I've been using them for a long time."
The woman had just made a bulk purchase of Kose Corp.'s high-end brand at the store's cosmetics counter at Sanya International Duty Free Shopping Complex on the island.
The 120,000 square-meter facility, which is about 2.5 times the size of Tokyo Dome, is home to about 300 brand-name stores. There are nine similar duty-free shopping centers on the island, and more are currently being constructed.
As a result of the tariff exemption system, prices are 20% to 30% lower at duty-free shops than at stores in mainland China. In July 2020, the Chinese government raised the annual purchase limit for duty-free items from 30,000 yuan (about ¥500,000) to 100,000 yuan (about ¥1.7 million) per person.
According to customs authorities in Hainan Province, tax-free sales in the first year of the system going into effect totaled 46.8 billion yuan (about ¥800 billion), up 3.3 times compared to the preceding year. The number of duty-free shoppers roughly doubled to 6.28 million as well.
"We will make people from Beijing, Shanghai and other places become lifetime Kose customers," said Hiroto Kitaki, 48, who oversees Kose's duty-free business planning section.
The aggressive expansion through duty-free shops, which emphasize low prices, risks damaging a brand's image, but Japanese companies have no other options.
The cosmetics market in China reached ¥6.2 trillion in 2019, far larger than Japan's market of ¥3.8 trillion, and it continues to grow.
"Hainan Island is vital for our brand to get more exposure in the Chinese market," said an official of a major cosmetics company.
Kao Corp. opened its first store on the island in April, and Pola Orbis Holdings Inc. followed suit in July. As of the end of March, Shiseido Co. had 34 duty-free shops on the island and plans to increase that number to more than 50 by the end of the year.
Influencers
When Shigetoshi Tsuda, 47, the vice president of Inagora Inc., was asked by a woman in China about a sunscreen that had yet to be released, he replied that it is moisturizing and sits well on the skin, through an interpreter during a livestreamed commerce show in mid-June.
The Tokyo-based e-commerce company purchases products from Japanese manufacturers and sells them via livestream through such apps as Douyin and Kuaishou, which are Chinese versions of TikTok, and the messaging app WeChat.
Tsuda is referred to as a key opinion leader (KOL) in the industry in China. It is not unusual for a popular KOL to sell tens of millions of yen worth of products per day.
Tsuda is known as someone who is very knowledgeable about cosmetics and has many fans in China. On that day, his livestream had more than 50,000 viewers. Many companies are working to train and utilize KOLs like him.
Heavy competition
In February and March 2020, most department stores in China were closed. A Shiseido beauty consultant, who had a lot of extra time on her hands during that period, used social media to introduce customers to various products, and e-commerce sales sharply increased. The content included giving detailed information about the product's ingredients and tips on how to use it, as well as exchanging messages with customers.
Surprised by the response, the Shiseido head office immediately established an official social media division of customer service. Millions of people soon followed Shiseido accounts on social media, and they became an indispensable point of contact between customers and the company.
"From now on, we will be able to separate ourselves from our competition not only in sales but also by how we connect with our customers," said Kentaro Fujiwara, 54, chief executive officer of Shiseido China Co.
There are still only a few success stories.
"Along with U.S. and European companies, Chinese and South Korean manufacturers have also been increasing their presence in the Chinese market," said Satoshi Morishita, 42, of Tokyo-based TrendExpress Inc., which supports companies trying to enter the Chinese market. "Many Japanese companies are losing out on online services that can increase sales and attract a lot of customers."
The competition to attract customers in the huge market, which can be the deciding factor if a business survives or not, is becoming increasingly fierce.