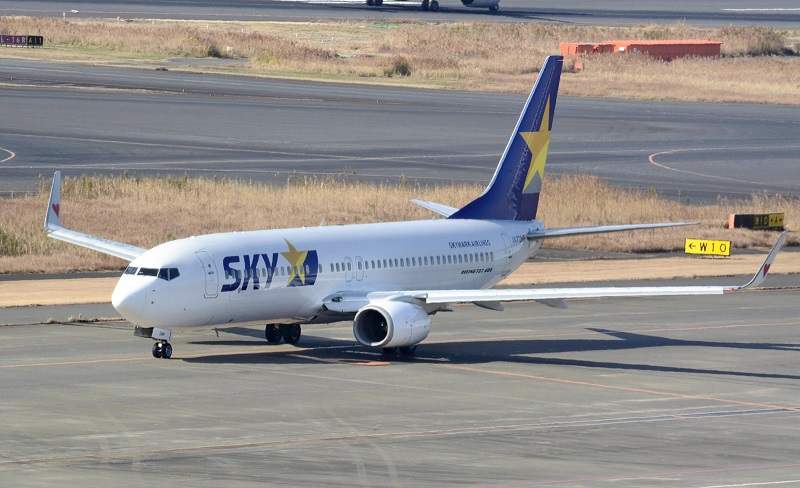 15:58 JST, August 18, 2021
A growing number of companies are moving to strengthen their capital structure, including airlines still being battered by the pandemic. The aim is to secure funds to rebuild their finances, which have been eroded by the protracted stagnation of the economy, and devise growth strategies for the future.
"Unless [major] shareholders share the responsibility, we can't agree to a request for financing," an official at the Development Bank of Japan said during negotiations with major shareholders of Skymark Airlines Inc. in late July.
The DBJ, a government-affiliated financial institution, had been examining its financial support for the Tokyo-based budget carrier, whose situation had become increasingly severe amid the pandemic. Through these remarks, the bank was pressing major shareholders in Skymark, namely the investment fund Integral Corp. and ANA Holdings Inc., to increase their capital support for the carrier.
The DBJ's financial support measures were to extend its financing through subordinated loans, meant to strengthen Skymark's corporate base. It was difficult for the DBJ to single-handedly provide financial support for the airline due to the grim business environment stemming from the prolonged coronavirus pandemic, so the DBJ decided that it needed to secure cooperation from Integral and ANA Holdings.
Skymark posted a net loss of ¥16.3 billion in its unconsolidated financial results for the business year that ended in March this year, due to a sharp decline in passengers. It had earlier embarked on capital reduction to secure funds — in preparation for relisting its stock — in addition to borrowing money. But its business environment remains dismal.
As long as the firm continues to see a decline in capital, which constitutes its corporate strength, it lacks the reserves to absorb a loss that may arise in the future. Skymark needed to recapitalize even if the per-share value of stocks held by existing shareholders decreases.
In the end, it was decided that the airline would reinforce its finances through a capital increase of ¥2 billion from the major shareholders and subordinated loans from the DBJ of another ¥2 billion.
Passenger demand has evaporated in the airline industry as the flow of people stagnated. With heavy fixed costs to maintain aircraft and manpower, it is ever more important to strengthen the airlines' capital structure.
Airdo Co., based in Sapporo, will increase its capital by ¥7 billion and Solaseed Air Inc., based in Miyazaki, will do so by ¥2.5 billion. The two companies announced in late May their plan for corporate integration.
"It was a decision based on a hard look at a recovery in tourism-related demand in the post-pandemic era," said Hiraku Yokohama, head of the research department at Hokkaido Research Institute for the Twenty-first Century Co.
Yet notable concerns remain. A senior bank official said: "The return of passengers has been slow. An additional capital increase is expected."
Among leading airlines, ANA Holdings has increased its capital by about ¥300 billion and Japan Airlines Co. by about ¥180 billion. The number of passengers on international flights handled by the two airlines during the April-June period stood at only 10% of the level during the same period in 2019. On domestic flights, passengers fell below half the same period in 2019.
Relying on loans
Business operators involved in domestic tourism, restaurants and other services also show no signs of escaping their current quagmire.
According to data released by the Tokyo Stock Exchange, there were about 600 cases of capital increase, worth ¥3.5 trillion, of listed companies through the issuance of common stocks and preferred stocks from March 2020 to June 2021. This is a considerable increase from the pre-pandemic period — in fiscal 2019, there were about 340 cases worth a total of ¥1.2 trillion over the whole year.
Watami Co., which operates a chain of izakaya pubs, and Royal Holdings Co., which handles in-flight meals, each raised their capital by more than ¥10 billion this year. In the tourism-related sector, JTB Corp. plans to issue preferred stock worth ¥30 billion at the end of September, underwritten by banks. Fujita Kanko Inc., a tourism firm that operates Hotel Chinzanso Tokyo, will issue preferred stock worth ¥15 billion to an investment fund affiliated with the DBJ.
Many companies have so far relied on loans from financial institutions amid the pandemic. Outstanding loans to Japanese firms, excluding financial institutions, exceeded ¥620 trillion at the end of December 2020, an increase of more than ¥50 trillion from a year earlier, according to the government.
Loans may deprive firms of their reserves for investment. According to a survey by Tokyo Shoko Research, Ltd., 15% of large companies and 35% of small and midsize firms felt overly indebted, making it likely that firms will continue to strengthen their capital structure in the future.
"While keeping in mind a change in the environment after this pandemic is brought under control, companies need to present their growth strategies so as to procure funds stably," said Eiji Taniguchi, chief researcher at the Japan Research Institute, Ltd.
Add TheJapanNews to your Google News feed.