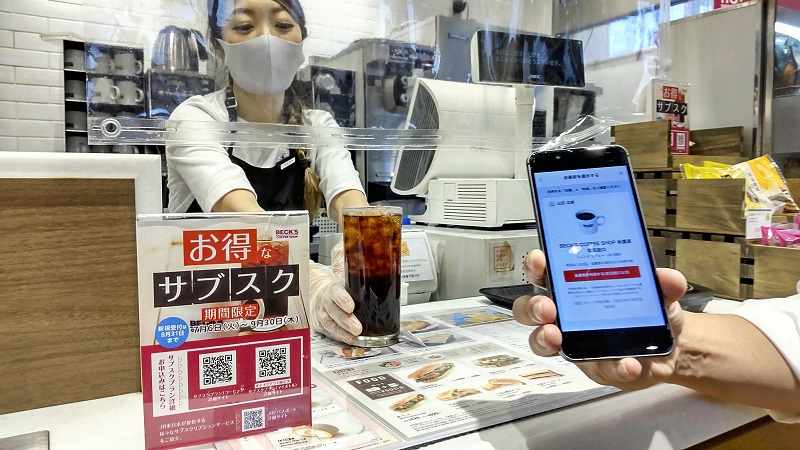 12:52 JST, August 6, 2021
Railway companies nationwide are launching a series of subscription services for food and beverages as part of their efforts to encourage people to visit stations and ride trains.
The companies also aim to explore the possibility of developing new services in the future, after the coronavirus pandemic is brought under control.
"We want to encourage [more people] to go back to riding the train as much possible," said Yuji Fukasawa, president of East Japan Railway Co. (JR East), at a press conference on July 6 when he announced the launch of a flat-rate food and beverage service.
JR East launched the flat-rate coffee and soba noodles service at JR Ueno, Akihabara and Hachioji stations for passengers using a commuter pass on the day he made the announcement.
By purchasing a ticket online costing ¥2,500 per month, subscribers can receive up to three free cups of coffee per day at Beck's Coffee Shop at the three stations.
Given that a cup normally costs ¥300 at the coffee shop, the user can save up to ¥25,400 a month.
"We wanted to start this service in such a way so it would be impactful," Fukasawa said.
West Japan Railway Co. (JR West) is offering a flat-rate service in which users can save 40% on Shinkansen and limited express train fares up to five times if they purchase a five-night stay at a local hotel totaling ¥16,000.
In the railway industry, Odakyu Electric Railway Co. was the first to offer a flat-rate service of this kind amid the pandemic. By purchasing a ticket costing ¥9,500 per month through an app developed by the company, subscribers can eat ¥500 worth of food at Odakyu Group restaurants and other eateries up to 90 times a month.
Customers can choose from a wide variety of options, including two onigiri rice balls, a bowl of soba, two pieces of bread, side dishes sold at department store grocery stores or a glass of beer. The service started in March at terminal stations.
Odakyu said it has received positive feedback from its users and has already sold 5,000 tickets. As the service has become too popular, the company has decided to limit the number of new ticket purchases to 100 people per month.
"We are hoping that the service will create a ripple effect on our company's business as a whole by having more people use our stations and becoming more aware of our app," said a company spokesperson.
Exploring new services
There are also moves to explore new services at stations.
Tokyu Railways has started a service that allows commuter pass holders to rent electric bicycles, smartphone chargers, umbrellas and other items for ¥500 a month. Tokyu has seen a 30% drop in the number of commuter pass holders amid the pandemic, the largest drop among major private railways in the Kanto region.
"We want to enhance the satisfaction of commuter pass holders [by adding convenient services]," a company official said.
Nankai Electric Railway Co. is considering introducing a fixed-price service in which passengers can order food from their smartphones and pick it up at a station.
The declining population has been an issue that railway companies have been struggling with, resulting in fewer riders, but the pandemic has exacerbated the problem and made the seriousness of the situation more clear.
"Rail companies understand that the demand for train travel will likely not return to the level it was before the pandemic," said Tatsuya Edakubo, a railway journalist.
It has become increasingly necessary for railway firms to expand their own "economic zone," such as by focusing on stations, as much as possible to attract more customers.