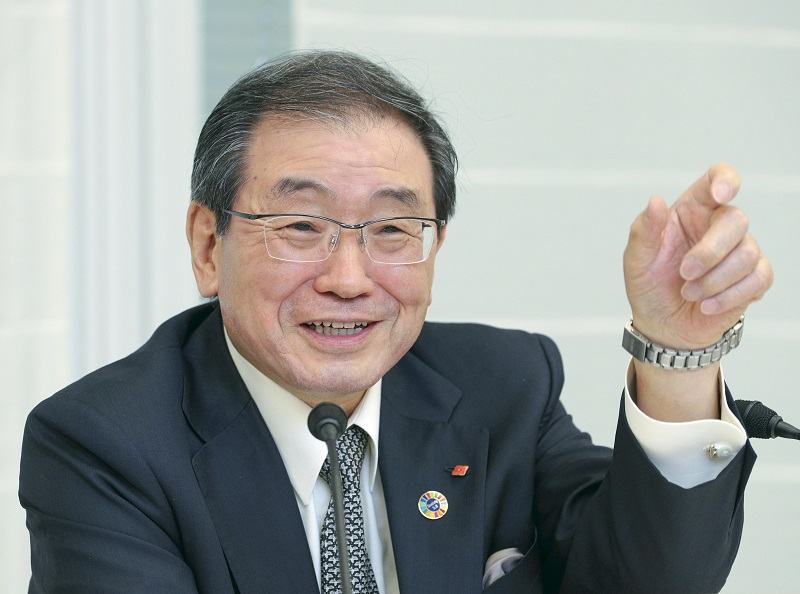 12:18 JST, June 2, 2021
The chairman of a major chemical company expressed a commitment to decarbonization in the context of his new role as chairman of the Japan Business Federation (Keidanren). Masakazu Tokura, 70, chairman of Sumitomo Chemical Co., held a group interview a few days before taking the helm of Keidanren on Tuesday. He said he would formulate an action plan by October and strengthen efforts to achieve the government's goal of reducing greenhouse gas emissions to net zero by 2050.
Action Plan
During the group interview, Tokura spoke of the goal of achieving carbon neutrality by 2050 with a sense of urgency.
"We have to achieve it, even if we clench our teeth. It seems like we have time, but we don't have much. We have to start immediately," Tokura said.
This is because Tokura believes that it will take 15 to 20 years to establish new technologies, make capital investments and see widespread adoption and benefits.
The policy paper "Keidanren's Commitment to a Low Carbon Society," released in 2013, will be reviewed and the federation will develop an action plan for carbon neutrality. The plan will lay out a process schedule for the development and introduction of innovative technologies to promote decarbonization.
Keidanren plans to call on industry groups to formulate voluntary action plans in mid-June, compile plans for each industry and announce them in late October.
Tokura said: "We can't do this with passion or enthusiasm alone. We will contribute to the world through innovation. We will also combine existing technologies." Regarding the energy mix, he said: "We must promote [the introduction of] renewable energy and work on restarting and [renewing] nuclear power plants. Nuclear power plants will be indispensable [even in 2050]."
Because Tokura comes from the chemical industry, which emits a large amount of carbon dioxide, some top economic authority officials are hoping that Tokura will have the pull to unite the industrial sector around decarbonization.
Distance from government
The late Hiromasa Yonekura, a former president and chairman of Sumitomo Chemical Co. who also served as the chairman of Keidanren, had a difficult time keeping his distance from the government.
Tokura expressed his intention to keep pace with the government saying: "Politics and economics are inseparable. Together with the government, we will say what we need to say and cooperate where we need to cooperate." He added: "We will slightly change our perspective of representing the interests of the business community. We will aim to make Keidanren a body supported by society as a whole."
However, some people believe that it will not be easy to build a good relationship with Prime Minister Yoshihide Suga's administration. Someone close to Suga even said: "The prime minister showed little interest in the report that the Keidanren chairman would be replaced. The prime minister may not believe that Keidanren will generate growth for the Japanese economy, as his idea is that it's emerging companies and small businesses that need to be supported."
Coronavirus and the Olympics
Regarding the prolonged coronavirus crisis, Tokura is determined to do his utmost to both prevent the spread of infections and balance economic activities.
"It is all about getting the vaccinations done as quickly as possible," Tokura said. "The most important thing is for Japan as a whole to draw up a schedule for the process and move forward." He said that the industrial sector would do its part, such as carrying out vaccinations at companies and providing venues.
On the other hand, regarding the Tokyo Olympic and Paralympic Games, which are less than two months away, he said: "It is a very difficult time, but it is also a fact that [the Games] are important and have significant value. Safety is the first priority when it comes to the Games, and a reliable management method is a prerequisite."
Add TheJapanNews to your Google News feed.