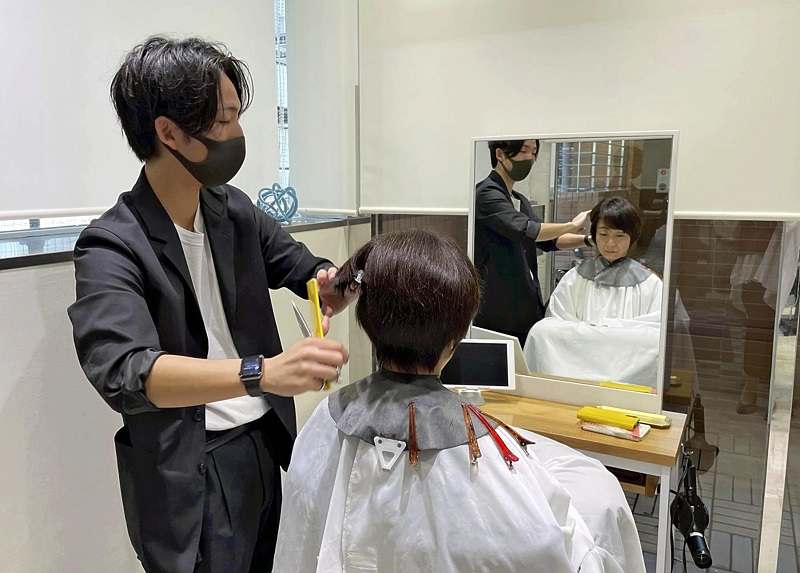 11:35 JST, May 2, 2021
Amid intensifying competition among beauty salons, salon owners' ambitions to stand out from the crowd seems to be matched by customers' hopes to have a hair stylist with specialized skills. More and more beauty salons are becoming specialized in services such as cutting short bobs or dyeing gray hair.
In late April, a 48-year-old woman with short hair got a haircut at a branch of The Bob & Short hair salon in the Jingumae district of Shibuya Ward, Tokyo.
"I had never been able to get the hairstyle I wanted [at other hair salons], but at this salon, they cut my hair so carefully that I can easily re-create such professional styling at home," she said.
The salon specializes in bobs and short hairstyles. With such styles, even a slight change in the cut can mean a big difference in the look.
"We cut the hair in millimeter increments or trim the hair in consideration of the qualities of the hair or the shape of the head to ensure customers can do their hair easily at home," said Takumi Nakayama, the representative of the salon.
Nakayama said many of his customers come back because they are pleased with the cuts and other services provided there.
Blow-drying your own hair
Many people with gray hair may be frustrated by the time and expense required to have it dyed at a hair salon, but it is not easy to thoroughly dye hair at home. A branch of the Care & Color Lounge Age — a hair salon chain that specializes in dyeing gray hair — that opened in Suginami Ward, Tokyo, in March is popular especially among women in their 40s and 50s as all-over coloring starts at ¥3,960, including tax, which is about half the fee charged at the average hair salon.
Lower prices are made possible by introducing automatic shampoo machines and by having customers blow-dry their own hair. Taking only about an hour for the coloring is another selling point of the salon.
"Many people who used to dye their hair at home come to our salon because of the affordable price," said Motonari Imai, who runs Tokyo-based 3 Arrows Co., the operator of the salon. Since the salon focuses on coloring, it is also helpful for beauticians who have a gap in their resumes because of child-rearing and other things to return to work while focusing on a single skill, Imai said.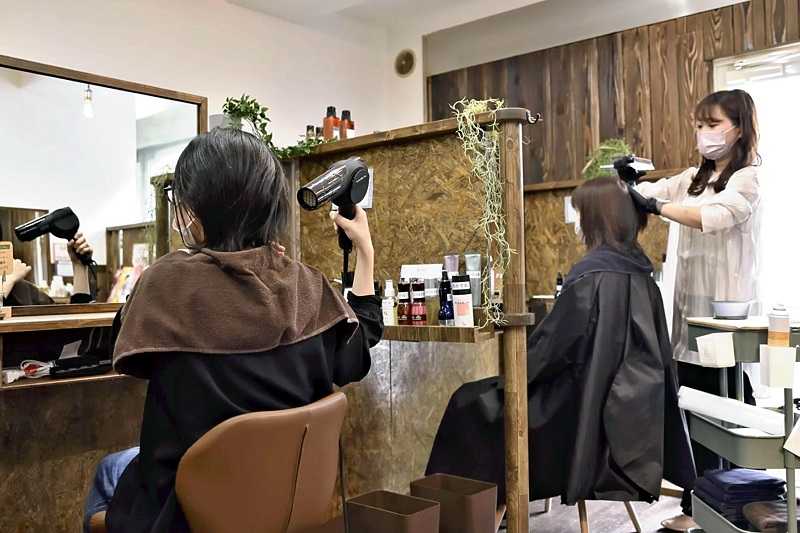 Hair straightening
Hair salon Ash in the Nishi-Kasai district of Edogawa Ward, Tokyo, specializes in straightening naturally frizzy or otherwise troublesome hair. Many people hate their unruly hair, and demand for hair straightening is growing. The salon said it introduces customers to the most suitable way to fix their wavy hair according to their problems with it while minimizing damage to the hair as much as possible.
"Specialized beauty salons have the advantage of having highly specialized beauticians," said Kimiko Tanaka, a researcher at the Hot Pepper Beauty Academy, a beauty research organization of Recruit Co. in Tokyo. "Customers also are able to easily consult with a beautician about their hair woes and focus on what treatments they want at such salons."
There were about 250,000 beauty salons nationwide, according to a fiscal 2019 survey by the Health, Labor and Welfare Ministry.
"Clarifying their strengths is one way beauty salons can survive," Tanaka said.
Subscription system
There also are salons that offer services through a subscription system.
For ¥1,000 per month, including tax, customers at Sleepy Morning in the Yurakucho district of Chiyoda Ward, Tokyo, can have their bangs cut as many times as they want without making an appointment.
Bangs are said to leave a strong impression on others. An official of DD Holdings Co. in Tokyo, which owns the store, said the salon offers the service for people who don't feel like cutting their bangs by themselves but don't want to take the trouble of making appointments at a hair salon just for their bangs, either. The service also makes the salon better known and encourages customers the chance to use their other services, the official said.
Add TheJapanNews to your Google News feed.