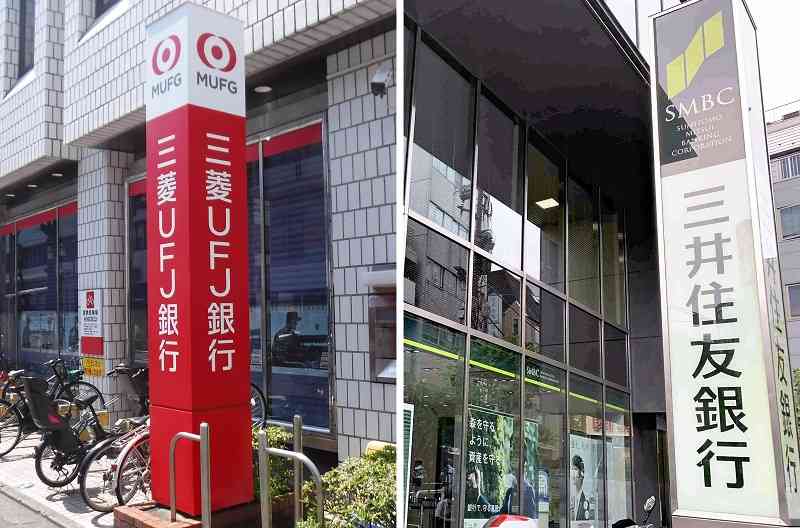 14:25 JST, May 2, 2021
MUFG Bank and Sumitomo Mitsui Banking Corp. are nearing a deal to jointly operate ATMs, in a move expected to cut costs by billions of yen each year, The Yomiuri Shimbun has learned.
Under the envisioned partnership, the megabanks will start joint operations of their ATMs as early as this fiscal year. They are also considering joint development of ATMs in the future, while encouraging regional banks and other financial institutions to take part in their plan, according to sources.
The joint operation will cover areas such as transporting cash to and from the machines, monitoring ATMs using security cameras and other devices, and responding in the event of ATM failures. The plan will also include security and jointly operating call centers.
MUFG, which has about 7,000 ATMs, and SMBC, which has about 4,500, are considering setting up a new company to implement the plan.
Since fiscal 2019, the two banks have set the same fees and other conditions when customers of either bank use the other's ATMs.
Should regional banks and other financial institutions nationwide join the MUFG-SMBC plan, the idea is that participants can further reduce their operating costs.
"It's not the time for banks to compete with each other in performance and strategy related to ATMs," an executive at a major bank said. "We should work together to reduce costs and provide benefits brought about by our collaboration to our customers."
For MUFG and SMBC depositors, the joint operation would not cause any change in their use of ATMs. The major cost reductions, however, could have the effect of lowering fees for services done through ATMs or online banking.
As major banks and regional financial institutions have been facing deteriorating business conditions because of the prolonged low interest rates, ATM maintenance costs have become a burden.
With the rise of cashless payments and online banking, ATMs are being used less frequently, so it has been a challenge for banks on how to efficiently operate the machines.
In recent years, regional banks have been forming tie-ups, looking to improve efficiency in several areas.
For example, Bank of Okinawa and Bank of the Ryukyus, both based in Okinawa Prefecture, announced an alliance in January through which they will consider issues such as jointly operating ATMs.
Chiba Bank has formed what is called the Tsubasa Alliance of 10 regional banks, aiming to reduce costs through joint operation on systems and office work.
Add TheJapanNews to your Google News feed.