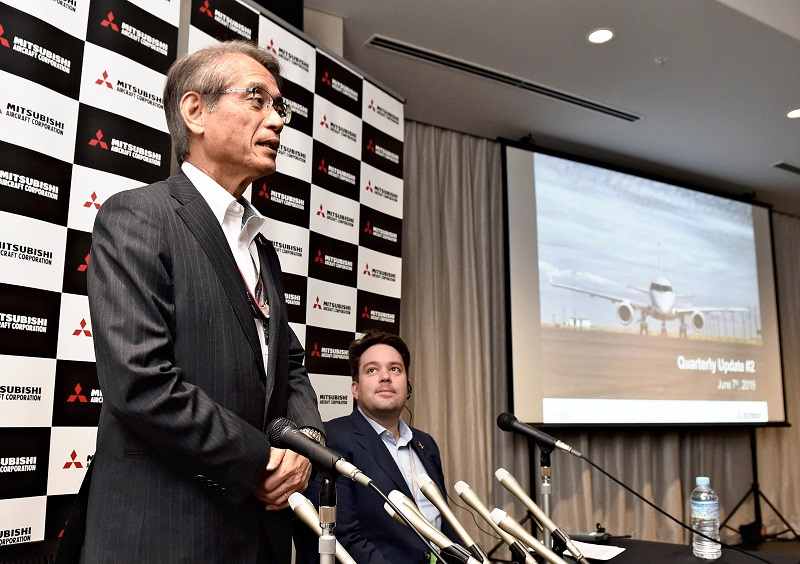 15:27 JST, April 1, 2021
In January, silence fell at a plant in Tobishima, Aichi Prefecture, which was supposed to assemble the country's first homegrown passenger jet, the Mitsubishi SpaceJet (MSJ).
About three months before, in October last year, Mitsubishi Heavy Industries (MHI) announced that it would freeze its plan to mass-produce the aircraft. It had taken too much time to obtain the "type certificate" required to fly the passenger aircraft, and the drastic decline in travel demand due to the coronavirus pandemic dealt the undertaking another blow.
Aichi Prefecture, where the MHI Tobishima plant is located, is known as a center for the aviation industry. Quite a few parts makers have made large capital investments in anticipation of mass production of the aircraft.
At a meeting held by the Economy, Trade and Industry Ministry in January, Aichi Gov. Hideaki Omura, 61, asked for the project to be quickly resumed after the pandemic is over.
However, a senior official at a related company said, "Since our sales declined, some of our employees were taken in by a group company of Toyota Motor Corp. Even if the project is resumed several years from now, it will not be easy to gather staff again."
Delayed 6 times
MHI Nagoya Aerospace Systems Works has played a major role in developing the MSJ aircraft. It was involved in the development of the Zero fighter, Mitsubishi F-1 supersonic fighter and the homegrown propeller passenger plane YS-11.
Takashi Nishioka, 84, and Hideaki Omiya, 74, who were senior officials there, later became presidents of MHI.
When the development project started for the Mitsubishi SpaceJet in 2008, MHI expected to be able to deliver the aircraft in five years.
MHI was confident, as it was producing aircraft engines as well as fighters. It also supplies many parts to U.S. aircraft maker Boeing, including plane wings of the Boeing 787 aircraft. According to a former senior economy ministry official, the government also thought it would not be difficult for MHI to enter the passenger jet market if all its technologies were brought together.
However, the reality was not so simple.
MHI stuck to the idea of developing the passenger aircraft on its own, and it had trouble procuring and managing about 1 million parts. One example was seats — the company put so much emphasis on making them lightweight that comfort was given short shrift, leading to bad reviews. The delivery of the aircraft was delayed six times due to design changes and other reasons.
As a revival measure, MHI hired many foreign staff. Mitsubishi Aircraft Corp., MHI's development subsidiary, had 400 foreign employees at one time. The company switched its official corporate language to English, which resulted in poor communication with Japanese engineers.
MHI President and Chief Executive Officer Seiji Izumisawa, 63, who made the decision to freeze the mass-production plan, said: "The full recovery of market conditions for aviation-related businesses will take place in 2024 or later. To enhance profitability, we will minimize the cost of developing the MSJ aircraft."
Development costs have totaled nearly ¥1 trillion, which has put a financial burden on the company. Soon after the suspension of the mass-production plan was announced, MHI stock price turned around. Over the two months through the end of last year, the company's stock price rose about 40%.
Learning from the experience, MHI began making efforts to broaden its perspective.
In October 2020, the Yokohama Hardtech Hub opened on the premises of an MHI plant in Naka Ward, Yokohama. This facility was created in response to Izumisawa's instructions to come up with a new approach.
In a part of the Keihin industrial zone, there was a 20,000-square-meter plant with ceilings over 10 meters high. It was once used to produce gas turbine parts. This large plant has since been refurbished into a facility that houses startups.
It has equipment that many startups with insufficient financial resources would struggle to obtain, such as large-sized cranes and high-voltage power supplies. Dangerous items can be brought into the facility, and thermal vacuum tests and vibration tests can also be conducted there.
"The floor is flat, which makes it easy to operate high-precision robots," said Takashi Nakamura, 45, the president of machinery maker Nichietsu Machinery Co., which is located in the facility.
MHI aims to use the facility as a base to deepen communications with external startups and educational institutions.
Takashi Takagi, 45, who is responsible for the Yokohama Hardtech Hub, said, "Startups can quickly complete processes from planning to commercialization, so we will learn from them and bring a new vitality to the company."
At present, only seven startups are operating in the facility. MHI plans to increase the number to 50.
MHI Chief Strategy Officer Hitoshi Kaguchi, 61, who assists Izumisawa, said: "It's wrong to think that we have technological superiority. We have to try to know what is in the areas we don't know. That attitude is becoming more and more important."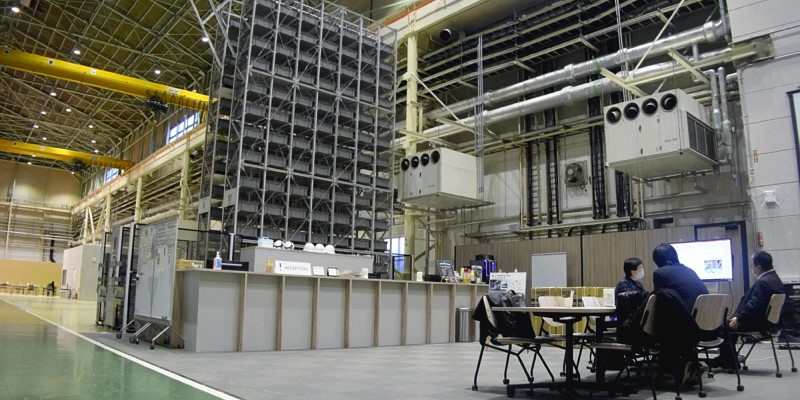 Add TheJapanNews to your Google News feed.