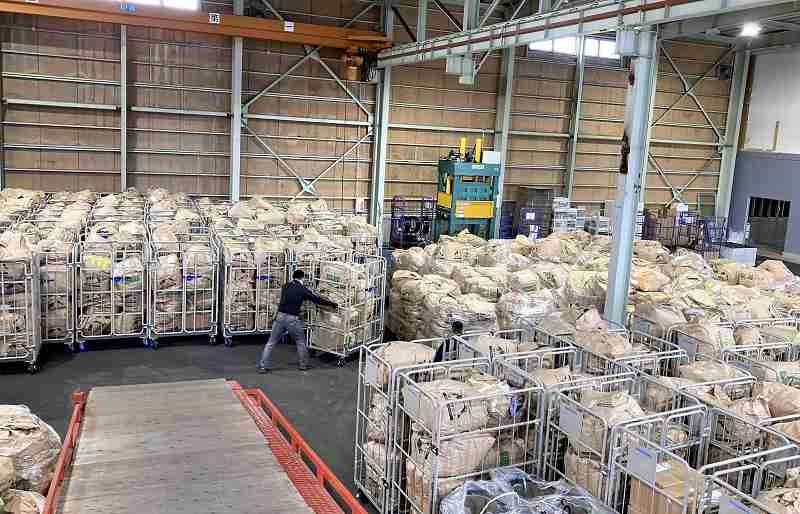 13:40 JST, March 14, 2021
Throwing out new and still wearable clothing has become an environmental problem, and there is concern that this problem is linked to large amounts of greenhouse gas emissions. A movement to reduce such waste is expected to spread.
Vaccines via recycling
A mound of about 1,500 brown bags crowded a warehouse at a recycling company in Kisarazu, Chiba Prefecture, in early February. The bags contained about 75,000 used clothing items that collectively weighed about 30 tons.
The bags were collected through a service called "furugi de vaccine," or donating vaccines through recycling, which is run by companies such as the Tokyo-based recycling company Nippon Reuse System.
Through this program, users pay ¥3,300 to have old clothes received, and each time in return, five polio vaccines are donated to developing countries in Asia through the NPO Japan Committee, Vaccines for the World's Children.
The clothing at this warehouse is normally exported to Cambodia and Mongolia, where it is sold. When the service was launched in 2010, the annual amount exported was 432 tons, but in 2020, that number spiked to tenfold the figure.
"Many users seem to like contributing to society through vaccines rather than selling their favorite clothing items for meager prices," a Nippon Reuse System spokesperson said.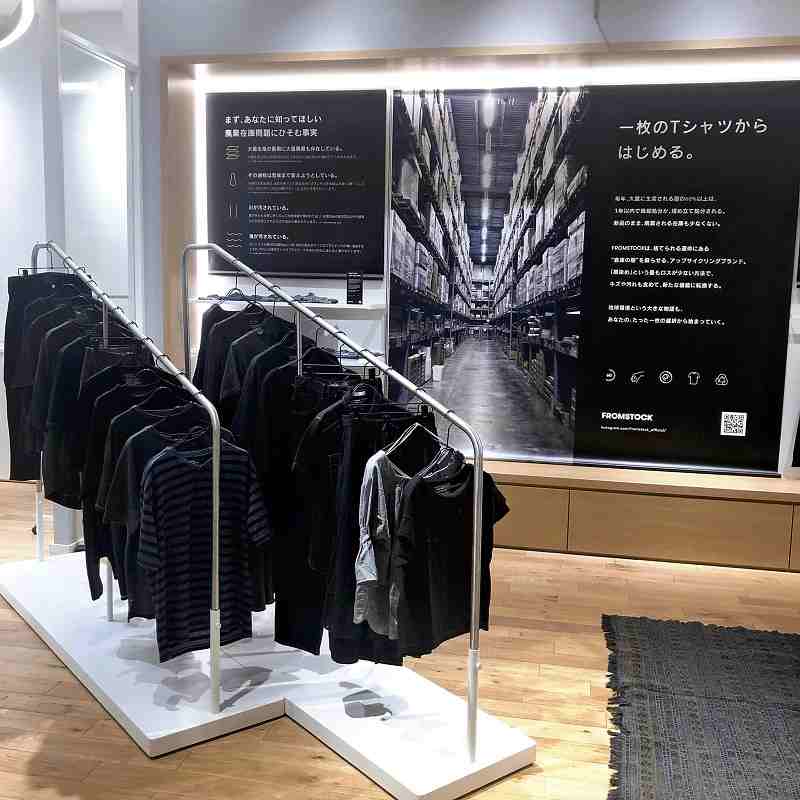 Turning focus to reusables
Clothing makers are also turning their focus to reuse of their products.
Adastria Co., a major Japanese apparel company known for its Global Work brand targeting young people, began dyeing old or outdated items black and has been selling them since June 2020.
Black hides dirt and other stains, and gives the items a more unique appearance, depending on the tone. By giving new value to clothing that was headed for the trash bin, Adastria aims to reduce waste.
The company also started collecting used clothing from loyal customers at its stores and has been recycling the items to produce polyester and other fabrics since 2017. The total collected annually amounts to about 10 tons.
In the future, the company plans to create a brand that indicates the amount of CO2 emissions generated during the manufacturing process when products are sold online.
The effort to reuse clothing has not only being made by the apparel industry.
Japan Airlines produced cotton biofuel from 250,000 used clothing items acquired during a nationwide collection effort.
It was mixed with regular fuel and used for a domestic flight for the first time on Feb. 4.
"[We hope] it will trigger people to think about how their old clothing items can help reduce emissions to zero," an official said.
Annually 650,000 tons wasted
The market size of the entire apparel industry in terms of value has decreased to about two-thirds of what it was around 1990, but supply has doubled to about 4 billion items per year. The rise of fast fashion is believed to be behind this trend.
According to the Environment Ministry, 98% of clothing in Japan is now imported. An estimate by the Organization for Small & Medium Enterprises and Regional Innovation shows that 940,000 tons were imported a year ago, while 1.11 million tons, including domestic material, were circulated in 2009. Meanwhile 940,000 tons were discarded — of that, about 650,000 tons were incinerated or taken to landfill and about 200,000 tons were reused or recycled.
These wastes are believed to be causing large amounts of greenhouse gas emissions, but the actual situation is not known.
Add TheJapanNews to your Google News feed.