Japan shipping companies aim at zero emissions with wind power, fuel cells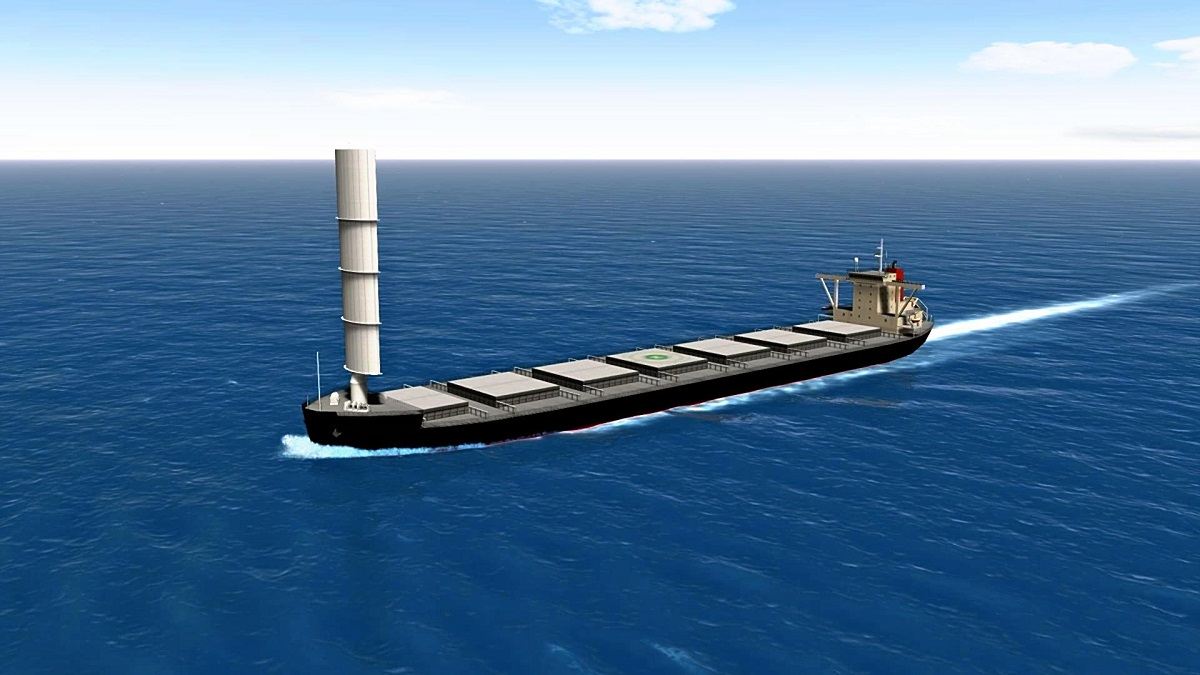 11:31 JST, February 15, 2021
Major shipping and shipbuilding companies have begun developing zero-emission ships that do not emit greenhouse gases to realize the goal of decarbonizing their businesses.
Ships powered by heavy fuel oil emit a lot of CO2. But it is expected that developing zero-emission ships will see companies shouldering huge costs for a long time, so the government will likely need to provide long-term assistance.
Electric power is key
Nippon Yusen Kabushiki Kaisha (NYK Line) will this year begin designing a fuel cell ship together with Kawasaki Heavy Industries Ltd. and other partners.
The ship uses hydrogen and oxygen to generate electric power, which rotates the propellers for propulsion.
With this system, the volume of greenhouse gas emissions while sailing drops to zero. The companies are scheduled to begin operating the new ship in 2024.
NYK Line President Hitoshi Nagasawa expressed his sense of urgency saying, "Unless we seriously commit to the reduction of emissions, our company will be driven out of the market."
In November last year, Mitsui O.S.K. Lines Ltd. and its partner firms including Oshima Shipbuilding Co. began full-fledged joint development of a next-generation ship that maximizes the use of wind energy through a hard sail propulsion system. The companies aim to start operating this ship by the end of next year.
In another joint project, the company aims to build a ship with turbines attached to the bottom of the vessel. The turbines will generate electric power that will be used to split hydrogen from water. In light wind conditions, hydrogen fuel cells will be used to propel the vessel.
Various other next-generation ship projects are in the works. For example, one aims to build ships with equipment that recaptures CO2 gases discharged by engines, and another aims to build electric-powered ships that use large-capacity lithium-ion batteries.
In October last year, nine shipbuilding companies, including Imabari Shipbuilding Co. and Japan Marine United Corp., established the Planning & Design Center for Greener Ships. Collaboration in the shipbuilding industry has begun.
Same volume as Germany
According to the International Energy Agency, the volume of greenhouse gases from the international shipping business accounts for 2.1% of the world's total emissions.
This is equivalent to the volume of emissions from the whole of Germany.
The International Maritime Organization aims to improve the average fuel efficiency of ships all over the world by about 40% from 2008 levels by 2030. By 2050, the IMO aims to halve the volume of greenhouse gas emissions.
Coinciding with this global trend, the Japanese government last year presented a goal of bringing emissions to net zero by 2050.
In the action plan for its green growth strategy, the government designated ship-related industries as one of 14 priority areas.
In its road map for cutting greenhouse gas emissions, the government aims to realize commercial operations of zero-emission ships by 2028, and complete the shift from ships powered by fossil fuels by 2050.
Road map
It is unclear whether the government's road map will be realized. Development of next-generation ships has just started. It is not even clear how much it will cost.
Takeshi Hashimoto, vice president of Mitsui O.S.K. Lines, said, "In addition to the level of technological difficulty, it is still unclear which method will be economical when it is employed."
The government plans to assist with funding for the development of next-generation ships with subsidies and low-interest loans.
Also, for shipping service companies, the government will encourage the introduction of energy-saving ships through preferential treatment such as tax cuts and low-interest loans.
Call for the government to continue to offer such assistance will likely become stronger.
Add TheJapanNews to your Google News feed.