Embattled Kimono Belt Maker Sees 'Miraculous Turnaround' with Silk Masks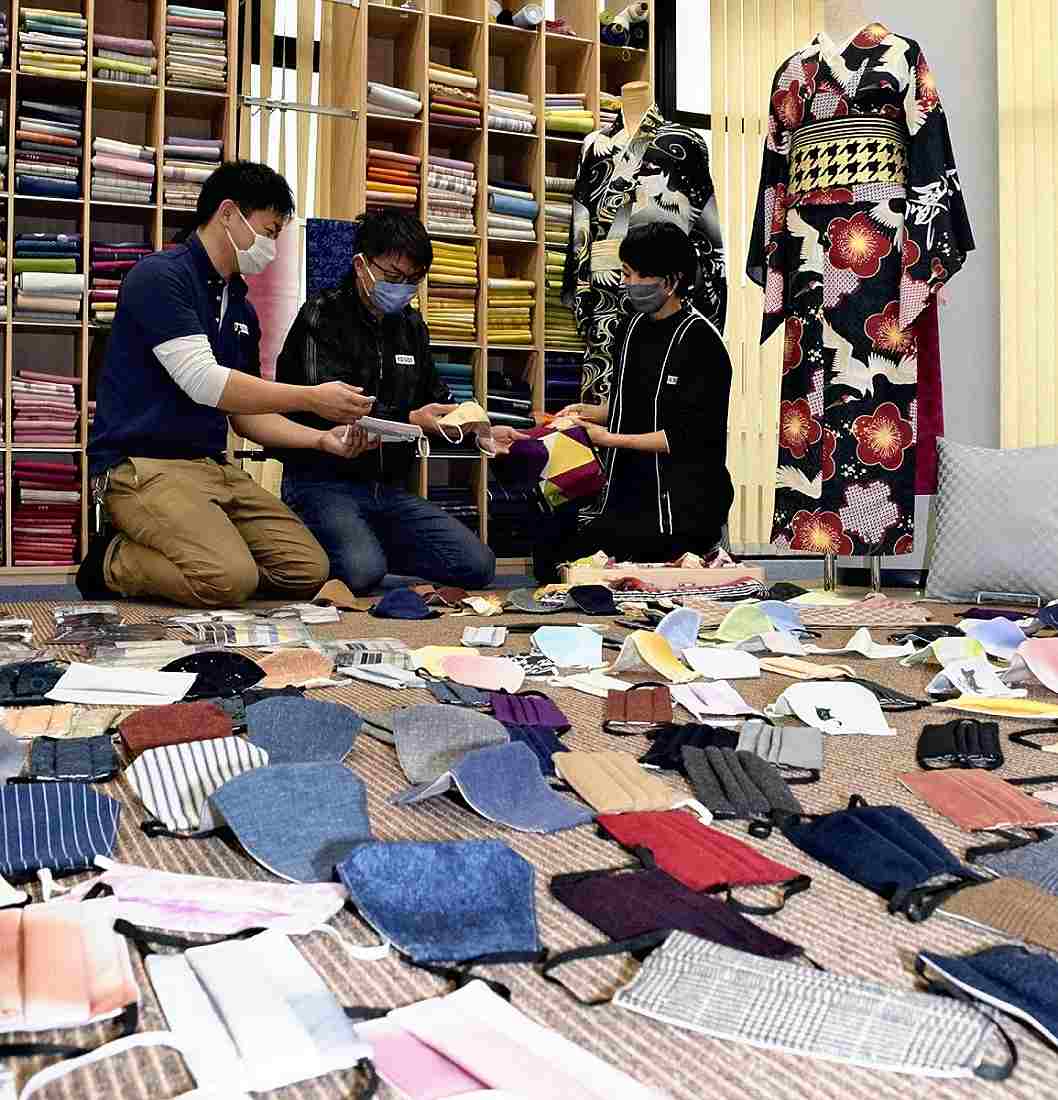 18:04 JST, January 11, 2021
This is the third installment of a series that looks at people seeking and developing new business opportunities.
With 30 sewing machines in action, the factory of Kosugi Fabric Industry Ltd. has been filled with a productive rattling sound, as employees tend to the sewing of glossy silk masks. The yukata belt maker in Sakai, Fukui Prefecture, switched its production focus from yukata belts to masks last year after the novel coronavirus outbreak squelched demand for its regular products.
Kosugi Fabric President Hidenori Kosugi, 63, described the production switch as "a miraculous turnaround" for the company, which was established in 1937.
As the virus crisis entrenched itself, the number of inbound visitors to Japan plummeted, and festivals and fireworks events were canceled one after another. In March last year, orders from kimono rental shops in Kyoto and Osaka finally stopped coming.
The company ran out of items to weave at its factory, which had until then been operating around the clock in three shifts. That was when the thought of closing the business crossed Kosugi's mind.
"I want to make masks. That's the last resort," Kosugi said at a meeting with his managers at the end of March.
The company had already been using silk in the fabric of its yukata belts, so the strategy was straightforward. A material used to make kimono belts was repurposed for the mask's nose-bridge shape-memory wire. Stretchable threads that were woven into kimono belts for children were transformed into elastic cords that fit around the ears.
On April 3, when the production of yukata belts was halted, Kosugi took the prototype of his silk mask to a wholesaler in Kyoto.
"The spread of infections will soon be brought under control. We won't be needing masks anymore," the wholesaler responded bluntly.
Kosugi asked the wholesaler to at least take a picture of the mask, and he left Kyoto totally depressed. However, the situation completely changed as he was driving back to Fukui.
As soon as the wholesaler tentatively posted a photo of the mask online, orders started pouring in. Kosugi received a call on his mobile phone, in which the caller said in haste, "Just start with 500 masks for now!"
A couple of emails followed with orders of an additional 800 masks and then another 1,000. By the time he arrived back in Fukui 2½ hours later, the number of orders had ballooned to 9,000 in total.
"I never expected this. How are we going to make 9,000 masks?" Kosugi recalled how he reacted to the string of orders. He called in the employees who were on leave to start mask production at full throttle.
Amid the prolonged pandemic, major apparel makers had launched functional masks one after another, putting the company into fierce competition in the mask market, but it received an unexpected tailwind.
In July, Kosugi Fabric's silk mask went viral on social media after shogi titleholder Sota Fujii appeared wearing one in a match in which he seized the title. Orders flooded the company's online shopping site, which had just been launched.
At present, sales of yukata belts remain low, reaching only 5% of the previous year's sales. So in the future, the company aims to become a comprehensive manufacturer of other silk products, including pajamas and bed linens.
"I hate to say this, but we were inspired by the virus outbreak, which almost closed our business. But now we can see the direction of our future," said Kosugi.
■ Crisis spurs inspiration
Higashi-Osaka, Osaka Prefecture, is home to a number of small and midsize enterprises. One of them, cleaner manufacturer Advance Corp., applied a technology it has cultivated in the cleaning business and stepped up the planning and selling of in-car sterilization humidifiers for taxis.
The idea emerged around March last year when Akio Yasukawa, 87, chairman of the company, saw on the news that taxi drivers were spraying their vehicles with disinfectants.
"How about putting our silver chips in humidifiers?" Yasukawa said, recalling the day.
The so-called silver chip — a chemical compound of metallic titanium, carbon and silver — was jointly developed with a venture firm started by Osaka Sangyo University. Putting it into a container filled with tap water creates silver-ion water, of which the disinfecting power is said to be 10 times stronger than chlorine. It is said to be harmless to humans and can be used repeatedly.
The company managed to start selling small humidifiers at the end of the year after demonstrating the product at a taxi company, which was introduced to Yasukawa from an acquaintance.
"We need to have ideas that could take advantage of the outbreak," said Yasukawa, who hopes to continue making products that will be useful even after 100 years from now.
■ Cost a major hurdle
There is a growing trend among small and midsize companies trying to change their business models.
According to a survey by Tokyo Shoko Research Ltd., 12.6% of large companies, as of October last year, answered that they hope to use the virus crisis as an opportunity to change their industry or business models, while 22.3% of small and midsize firms hope to do so.
However, many companies are short on funds. Regarding the estimated costs necessary for small and midsize companies to transform their businesses, 50.9% of respondents said "¥1 million to ¥10 million," while 29.5% said "¥10 million to ¥100 million." As the survey shows, costs have remained a major hurdle for many companies.
Add TheJapanNews to your Google News feed.