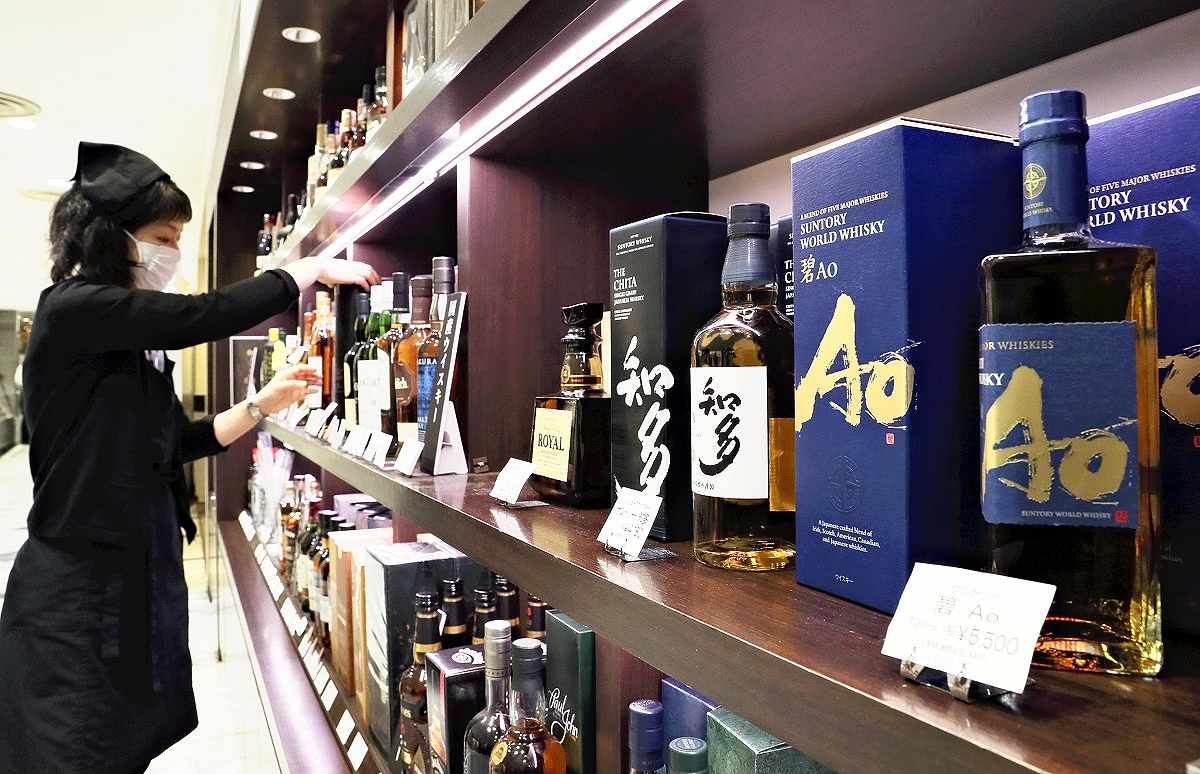 15:14 JST, January 8, 2021
Suntory Holdings Ltd. has decided to ease shipping restrictions on most of its whiskey products for the first time in 11 years.
The highball boom made it difficult for the company to keep up with the production of undiluted whiskey, but it has been able to increase production by reinforcing its production and storage facilities. The company will gradually expand its supply of whiskeys, including for households, where demand is rising due to the coronavirus pandemic.
The whiskey market was affected by the decline in demand for gifts after the collapse of the bubble economy, and more lately by the diversification of alcoholic beverages such as shochu and wine. The volume of shipments dropped from a peak of 380,000 kiloliters in 1983 to about 20% of that level by 2008. Although Suntory had been downsizing its production facilities in line with this trend, in the same year, it launched a sales promotion campaign using highballs – whiskey mixed with soda water – and the drink boomed in popularity.
Since whiskey is made by blending several types of undiluted whiskey that have been aged for 10 years or more, it is difficult to increase the volume of shipments in a short period of time. The highball boom led to a shortage of undiluted whiskey, which made it difficult to ensure a stable supply for the future, and thus the volume of shipments was reduced from 2010.
In particular, sales of the popular Hakushu 12 Years Old and Hibiki 17 Years Old have been suspended since 2018 due to a noticeable shortage of undiluted whiskey. As a result, the two brands are often sold at high prices in online auctions.
However, since stocks of undiluted whiskey increased following the restriction on shipments, and because the company has invested about ¥35 billion since 2016 to reinforce its production and storage facilities for undiluted whiskey, it decided to ease the restriction starting this year. The company will consider which brands to increase shipments for while monitoring market trends.
According to Suntory, more people are drinking whiskey at home as they refrain from going out due to the coronavirus and household sales of whiskey in 2020 grew by about 10% from the previous year. In the future, the company plans to add more variety to its lineup of half-size whiskeys in 350-milliliter bottles, which are popular among the younger generation. Hideki Kanda, president of Suntory Spirits Ltd., which manufactures and sells whiskey, said, "We want to increase demand by proposing a new way to enjoy whiskey."
Meanwhile, Nikka Whisky Distilling Co., a subsidiary of Asahi Breweries Ltd., is also limiting its shipments due to a shortage of undiluted whiskey. It is moving forward with plans to invest about ¥6.5 billion between 2019 and 2021 to increase its manufacturing capacity.
Add TheJapanNews to your Google News feed.