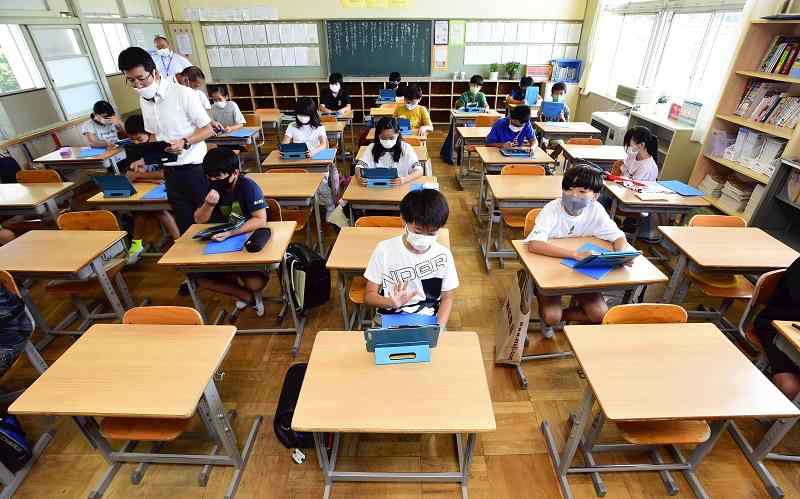 17:17 JST, May 7, 2022
TOKYO (Jiji Press) — Major technology companies in Japan are touting their services at a time when schools in the country are promoting the digitalization of education.
Companies are working to develop learning tools that enable teachers to offer intellectually stimulating online lessons, with personal computers and tablet devices available for each student.
NEC Corp. is developing a platform for inquiry-based learning, a type of active learning that is being practiced on a full scale at senior high schools from this year. The platform enables students to make connections with other students and outside experts online, as well as to keep and organize data.
Last year, NEC teamed up with Sapporo Shinyo High School in Hokkaido for the development of the platform.
Third-year students at the school spent a year engaging in inquiry-based learning on space using the platform. They tried their hand at making space food and designing a satellite under the guidance of NEC officials in charge of space-related businesses, as well as staff at the Japan Aerospace Exploration Agency, or JAXA.
The students' interactions with outside experts "change the quality of learning," a teacher in charge of the learning said.
Casio Computer Co. has started offering an application for online learning that enables cloud-based storage for digital notes taken by students and other learning data.
The app incorporates mathematics education materials that allow students to create graphs by entering quadratic functions and other formulas, as well as dictionaries and glossaries for areas in which Casio has expertise.
There is also a function that allows teachers to assign and collect homework online.
Lenovo Japan sells online education materials for programming education, which has become compulsory at elementary, junior high and senior high schools.
The company offers free-of-charge programming classes across the country for students to enjoy learning the basics of programming.
Despite calls from the government and efforts by companies, however, there are still gaps in the digitalization of education.
Casio conducted a survey of approximately 400 senior high school teachers across Japan last summer. Even at high schools where personal computers and tablet devices are distributed to students, only 37% of the teachers answered that such devices were being actively used.
For the devices be used effectively, functions that reduce burdens on teachers and high-quality content are necessary, Lenovo Japan chief David Bennett said, noting that devices are just boxes if they are not used.
Add TheJapanNews to your Google News feed.