In S. Korea, digitization of personal information takes the pain out of administrative paperwork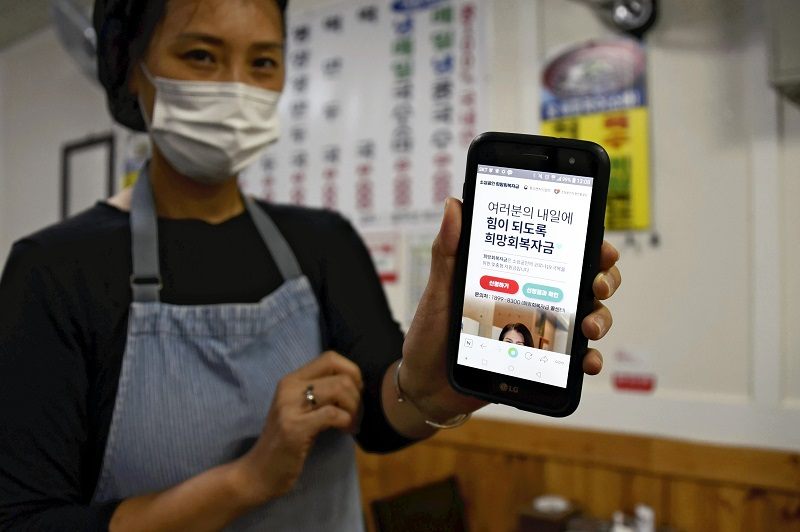 7:47 JST, September 14, 2021
Countries around the world have been tapping into technology to make daily life more convenient for their residents. Many administrative tasks that once required a trip to city hall can now be completed in minutes on smartphones. As Japan ramps up its own digital transformation, societies that have been ahead of the digital bell curve, such as South Korea and Denmark, may indicate what the future has in store closer to home.
Filing at fingertips
In downtown Seoul, customer traffic in the Jongno district remained sluggish even in mid-August, the usually-bustling crowds thinned out by pandemic dining restrictions.
The 40-year-old proprietor of a restaurant serving kalguksu noodle soup whipped out her phone to apply for a government subsidy to support businesses hit hard by the loss of sales.
Upon inputting the restaurant's government-issued registration number, the figure "3 million won" (about ¥280,000) flashed onscreen. With the tap of a button, her application was complete, in under five minutes from start to finish.
The South Korean government has been letting small and midsize business owners file for the subsidies entirely digitally, sparing them the hassle of filling out paper forms. The streamlined system automatically calculates the amount of financial support each business is eligible to receive, based on tax and other information. The registration number of each business operator is tied to National Tax Service records, while the SMEs and Startups Ministry, which oversees the grants, keeps track of how much a business' sales have dipped.
"It was really easy to file during a free moment at work," the noodle shop owner said.
The system has reportedly worked smoothly. By March, South Korea fulfilled upwards of 8.4 million subsidy claims, totaling about 11.8 trillion won (¥1.1 trillion), without fraud or other apparent hitch being detected.
In the system
In South Korea, a wide spectrum of personal information is managed digitally. About 2,500 different administrative procedures, including notification of address change and automobile registration, can be performed online. Over 1,000 administrative forms are also available for download and printing at home. Starting next year, drivers will be able to use digital driving licenses stored on a smartphone app.
The digitization of South Korean society took off under the leadership of then-President Kim Dae-Jung, who assumed office in the wake of the 1997 Asian financial crisis. Legislation was drafted and the unemployed were given data entry jobs, migrating land registry and other bureaucratic information over to digital databases.
The cornerstone of this digital system is the resident registration number issued to all citizens at birth. Although similar in concept to the My Number personal identification system in Japan, the South Korean registration number is linked to a range of personal data, such as bank account, credit card, cell phone, employment, and school information.
Foiling spies
Citizens' expectations regarding the handling of personal information differ markedly between Japan and South Korea.
When South Korea instituted the resident registration number system in 1968, they did so partly as a tool to distinguish between South Korean citizens and spies entering the country from North Korea. In turn, a mentality has taken root in South Korea that entrusting one's personal information to the government will help ensure safety.
Japan lags behind
The UN Department of Economic and Social Affairs releases a biannual "E-Government Survey," which covers its 193 member states. In the latest 2020 survey, South Korea ranked 2nd. Japan also ranked among the highest EGDI (e-government development index) group, albeit last of the 14 countries in the group. Japan's sluggish provision of administrative services online has hamstrung its movement up through the ranks.
First place in the EDGI rankings was Denmark, where each citizen is required to have a personal identification number, an e-post office box, and an Internet banking account.
Danes receive communication from hospitals and other public institutions via e-mail to their e-POB. The payment of wages, social security benefits, and taxes is transferred electronically through their online banking accounts.
Moreover, the government website for these services is hailed for its straightforward design, which allows users to readily navigate to categories such as "health care" and "education" from an easy-to-understand menu. "Cafes" to provide digital support to residents are set up at places such as public libraries.
Eiji Kano, a chief researcher at the Institute of Administrative Information Systems knowledgeable in the digital policies of countries around the world, said: "Denmark tries not to leave anyone behind, even those unequipped for the digital age. There are things to glean from Denmark's example going forward as Japan embarks on its own digitization in earnest."