Business Reboot / Technical solutions eyed in Japan to revive trucking industry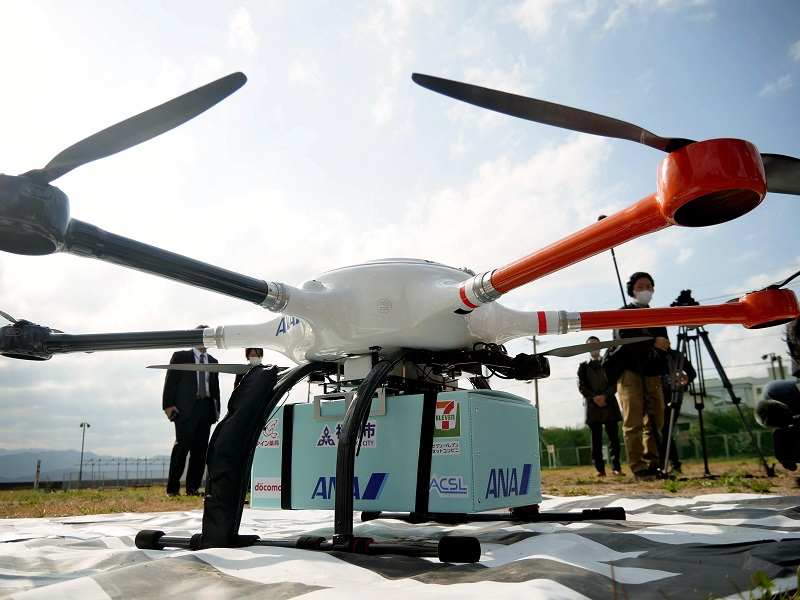 11:29 JST, August 14, 2021
In the full scope of logistics, only 10% of all orders are placed by individuals, while 90% are placed between companies. The trucking industry supports that 90%, but is facing a crisis known as the "2024 problem" that could exacerbate the sector's persistent labor shortage.
Under work style reform-related laws, the maximum overtime work limit for truck drivers will be restricted to 960 hours per year from April 2024. The regulation aims to address the shortage of workers by clamping down on the industry's unusually long working hours.
However, the Railway Freight Association predicts that the shortage of truck drivers could swell from about 140,000 in fiscal 2020 to about 210,000 in fiscal 2025. Thus, the industry will not be able to carry 15% to 30% of cargo between 2025 and 2030.
Low wages for drivers
One of the factors contributing to the driver shortage is low wages.
In 2019, the average annual salary for a heavy truck driver was ¥4.56 million, while that for a medium or light truck driver was ¥4.19 million. Both of these figures are below the ¥5.01 million average across all industries.
While the volume of cargo in the home delivery industry has been increasing due to vigorous stay-at-home demand, the volume of cargo between companies is decreasing due to stagnant economic activity.
According to data from a freight forwarding industry organization, truck delivery consignments fell to about 910,000 in fiscal 2020, down nearly 40% from the previous fiscal year. This situation may further intensify downward pressure on wages for drivers.
On June 24, large trucks were lined up around the Osaka Nanko Ferry Terminal in Osaka, waiting for ferries to the Kyushu and Shikoku regions. A male driver, 58, who carries aluminum products to Fukuoka Prefecture, said with a gloomy expression: "There are days when we have no cargo even on weekdays. My salary has fallen by about 10%."
Transport firms on ropes
Since last autumn, Hiroaki Matsuoka, the president of Nara City-based Fuji Transport Co., has been receiving 10 to 20 offers a month about buying other companies in the industry.
Matsuoka, who acquired three companies in June and July, said: "It takes courage to buy new trucks, which cost about ¥14 million each. I think the number of companies that quit will increase."
According to the Ministry of Land, Infrastructure, Transport and Tourism, there were about 62,000 trucking companies in Japan in fiscal 2018, about 98% of them small, midsize and micro businesses with 100 vehicles or less. Executives of the Japan Trucking Association do not hide their impatience, fearing that stable transportation will become difficult.
Autonomous driving
Emerging digital technologies and autonomous vehicles hold the promise of effectively reducing the amount of human labor while improving efficiency in transportation.
Next Logistics Japan, a Tokyo-based subsidiary of Hino Motors, Ltd., has been working on advanced logistics solutions with Asahi Group Holdings, Ltd. and Ezaki Glico Co. since 2019. Among their initiatives is trying to figure out the best ways to reduce wasted space in cargo hauls.
For example, if the load factor of a single truck, which is often only 40%, can be increased to 60%, it will be possible to reduce the number of trucks needed from three to two.
"The number of drivers needed will be reduced, and logistics costs will also come down," said Yukio Umemura, the president of Next Logistics Japan,
The use of autonomous driving is also coming into view.
In February, Toyota Tsusho Corp. succeeded in using autonomous driving technology to operate a convoy of three trucks traveling at 80 kph along a 15-kilometer section of the Shin-Tomei Expressway, a first in Japan.
Only the first truck had a driver on board. Sensors and cameras mounted on the vehicles worked to maintain a distance of about 9 meters between them.
The government plans to establish the necessary laws and regulations so that the system can be commercialized after fiscal 2025.
Ultimate measure
The ultimate measure to reduce labor and improve efficiency is to make vehicles completely unmanned.
Honda Motor Co. and Rakuten Group, Inc. started an experiment on July 19 at the University of Tsukuba campus in Tsukuba, Ibaraki Prefecture, to see if a four-wheeled autonomous vehicle can safely carry packages along a 500-meter delivery route without colliding with passersby.
The test vehicle is 1.2 meters long, 0.7 meters wide, and 1.1 meters high. It will run automatically when the destination is input and is expected to improve "last mile" efficiency between pickup and delivery points and homes.
The use of small unmanned drones to deliver packages by air is also becoming a reality. With the aim of using them in urban centers, the government will allow delivery drones to fly over such populated areas as early as fiscal 2022.
A Niigata City-based company engaged in the development of drone technology successfully conducted a delivery experiment in June, taking off and landing on the roof of a building in Niigata.
All Nippon Airways Co. also conducted an experiment in Fukuoka Prefecture in December, where residents of Nokonoshima island received their packages in as little as 30 minutes after placing an order.
The novel coronavirus crisis has brought to light the significant role that logistics plays in economic activities and the challenges being faced.
The key to the success or failure of the logistics revolution is a concerted effort by the public and private sectors to improve efficiency and sustainability.
Add TheJapanNews to your Google News feed.