Business Reboot / Freight costs soar amid labor, container shortages in Japan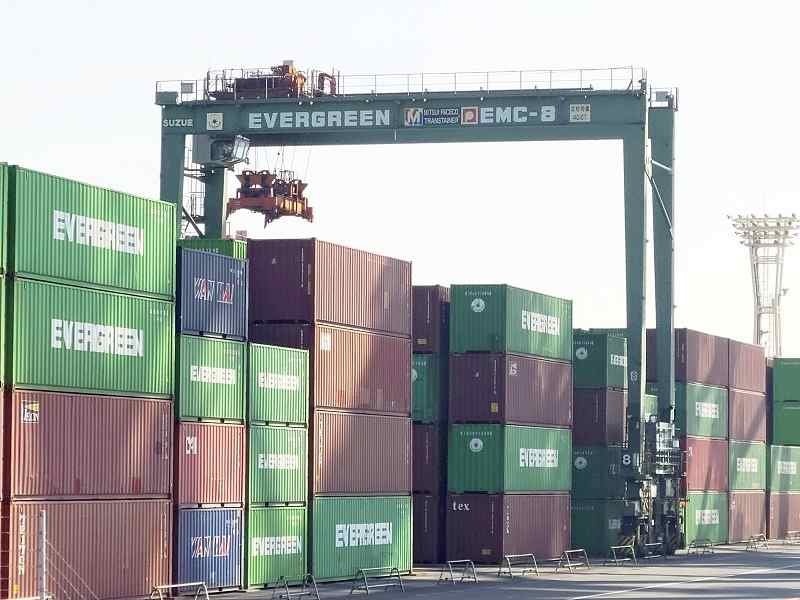 19:43 JST, August 13, 2021
The COVID-19 pandemic has triggered drastic changes in the global transportation network, and the effect is being felt not just in the "last mile," the final step in the logistics process.
The maritime transportation industry, impacted by a decline in shipping charges before the pandemic, cut back on the construction of new ships and the production of containers.
At a press conference on May 10, Yukio Toriyama, representative director of Kawasaki Kisen Kaisha Ltd., said: "Due to tight shipping fees and fierce market competition, we reduced the number of ships and have leased containers. A failure to take risks has caused problems. We were unable to anticipate a temporary increase in cargo demand."
The trend of "nesting consumption" following the outbreak of the pandemic and the resumption of economic activities after shutdowns triggered a surge in demand for cargo that was impossible to manage with sea transportation alone.
Shortages of necessary goods, price hikes, and rising freight costs are increasing the financial burden on businesses and households. Some believe that this will not be resolved until next year or later. Concerns are unlikely to disappear for the time being.
Toray Industries Inc. raised the price of carbon fiber used in aircraft and fishing rods by about 20% this year, the first hike in four years.
In June, Daiwa House Industry Co. and Sekisui House Ltd. raised the prices of their detached homes by about 1%, an increase of several hundred thousand yen per unit. The rise has been attributed to soaring lumber prices due to logistical hurdles and a recovery in housing demand in the United States.
Even though the COVID-19 vaccination rollout is underway and expectations for economic recovery have grown, Sekisui House Vice Chairman Yosuke Horiuchi said: "We cannot help but pass lumber price increases on to consumers. What we are worried about is market contraction."
Clogged arteries
Container ships, which transport goods such as foodstuffs, clothing, and home electrical appliances around the world, are said to be the arteries of the global economy.
According to the International Chamber of Shipping, sea transport accounts for 90% of global trade volume.
However, a bottleneck has occurred.
The epicenter of the crisis was the United States. Cargo shipments recovered rapidly following the resumption of economic activity to pre-pandemic levels. The volume of goods carried by container ships on routes to North America in the October-December period last year increased by 24.6% from a year earlier, and surged by 38.8% year-on-year in the January-March period this year.
However, because of COVID-19 measures, there were shortages of dockworkers and truck drivers.
The time taken to load and unload containers increased, resulting in lines of vessels waiting to dock and an unusually large buildup of containers in ports, which, in turn, led to a shortage of containers around the world.
The cost of ocean freight soared amid a shortage of labor and containers.
The cost of shipping a 12-meter container from China to North America on a major route rose three-fold to $6,350 in May compared to a year earlier, the highest it has been since November 2009 when comparable statistics were made available.
The size and weight constraints of cargo are among some of the reasons the switch to air transport has not progressed as expected, but they are not the only factors.
Demand for air transport has also risen sharply, for such goods as semiconductors, electronic parts and components, medical devices and equipment, and pharmaceutical products. Meanwhile, the number of flights that carry cargo and passengers has plunged, as demand for tourism has evaporated.
Perfect storm
In the mid-2010s, the shipping industry was hit by the worst recession in history.
For the term ending in March 2017, NYK Line posted a record net loss of ¥265.7 billion and Kawasaki Kisen Kaisha Ltd. posted a record net loss of ¥139.4 billion.
The Chinese economy made rapid growth in the 2000s, lifting global trade volume. In anticipation of high growth in demand, shipping companies increased operations of large container carriers, but the Chinese economy slowed in 2015.
The oversupply of ships became a serious issue and competition for customers erupted. Before long, shipping had turned into a losing proposition.
In July 2017, NYK Line, Mitsui O.S.K. Lines Ltd. and Kawasaki Kisen integrated their container shipping businesses and established Ocean Network Express (ONE) Pte.
Buoyed by the increase in ocean freight and higher rates, ONE logged a net profit for the fiscal year ended in March 2021 that was 2 to 20 times higher than a year earlier.
Looking at these numbers alone, the crisis appears to be over. However, what is now on the minds of industry leaders is the prospect of another perfect storm.
The number of orders for container carriers has been on the rise since the beginning of this year, and as the vaccination uptake increases, the shortage of workers and drivers will diminish.
However, the consumption of goods, which has been inflated amid the nesting consumption trend during the pandemic, may peak and turn to service consumption.
"Demand has been growing rapidly, so when it falls, it will also fall rapidly," said Mitsui O.S.K. Lines president Takeshi Hashimoto.
Add TheJapanNews to your Google News feed.