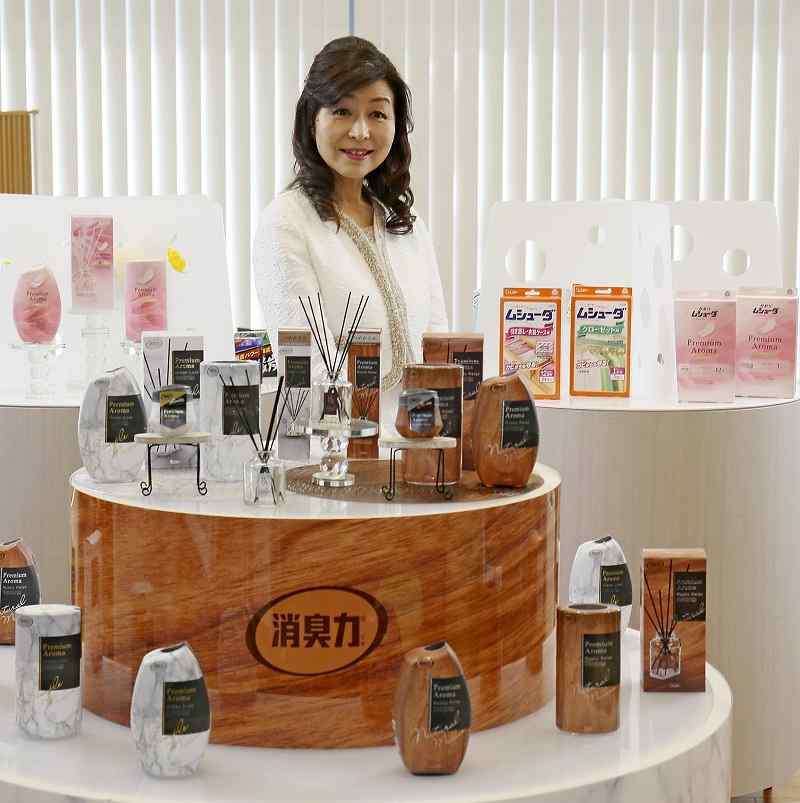 12:17 JST, January 24, 2021
Takako Suzuki, the president of daily commodities manufacturer S.T. Corp., has been distancing her company from price competition in the industry and striving to develop high value-added, highly profitable products. Suzuki talked to The Yomiuri Shimbun about how she has realized her strategy to increase the firm's brand value.
I joined the company because my uncle Takashi, the S.T. chairman, asked me to help him carry out design reform. I'd been involved in luxury products for many years, but I was interested in tackling the contrasting field of daily commodities.
The company faced a mountain of issues. First, it had too many brands. Let's take air fresheners as an example. We have several air freshener products, such as Shoshu-Riki and Shoshu-Pot. Unless we integrated products of the same kind, sales promotion and other activities wouldn't be effective, and, more importantly, consumers could get confused.
Furthermore, the company lacked awareness of the need to enhance the brand value. When it comes to air fresheners, they thought that the products were just for deodorizing bad smells and they didn't prioritize designs and fragrances.
For example, when I joined S.T., packages were designed with a picture of toilet bowl on them. If I were a consumer, I would never want to keep that at home. It would be more attractive if we improved the quality of the fragrance and used a package with an image drawn from the product. Our main consumers are women, but the company just pursued the functionality of products, resulting in a lack of emotional value.
However, even though I called for improvements, I faced fierce opposition from employees. At that time, the managerial staff were all middle-aged men who had been working for the company since they graduated from school. There was no diversity. Then an outsider woman like me suddenly joined them and had a say. I found it difficult to get on the same page with them.
So, rather than squarely confronting them, I tried to not reject their way of doing business. When there was opposition, I made proposals saying, "Just let's try it," and asked them if they knew other ways. I patiently worked with the employees. Chairman Takashi employed a top-down approach to lead the company when he was president. I tried to get the best out of each individual employee.
We had a hard time for a while. However, as we started to produce tangible results — such as the success of the new Shoshu-Riki air freshener after we improved the quality of the fragrance and raised the price — the atmosphere within the company also began to change. We adopted a similar measure for the moth repellent Mushuda.
Stay close to consumers
S.T. Corp. also focuses on products for business use.
We found that Sakhalin fir trees growing in Hokkaido contain a substance that purifies the air, and use that substance extracted from thinned timber. We call the substance "Clear Forest."
Our spray air freshener for hotel rooms is well accepted because it not only purifies the air but also offers the fragrance of a forest. We're asking manufacturers of air purification systems to add the Clear Forest substance to their filters and promoting other measures.
Amid the spread of the novel coronavirus, we've developed a coating agent with sterilization effects that last for about one month, and it's now being used by nursing-care companies and hotels.
Our company didn't use to place that much focus on products for corporations, but I believe we should take advantage of technologies and brands we have developed in the fields of air freshening and fragrance.
Professionals are demanding, and highly functional and professional features are required. However, if we satisfy their needs well and receive good evaluations, it will help increase trust in our company in the market for daily commodities.
In addition, I would like to change our business model quickly. The issues of odor and air exist not only in homes but also in many other places such as workplaces and public spaces. If we collaborate with various companies, we will have bigger opportunities.
Our corporate slogan is "Refreshing the Air." We don't need to remain as a daily commodities maker. Rather, I would like to engage in many kinds of business focusing on achieving clean and comfortable air. I call this "shedding our skin" and am asking employees to help realize this.
So, I don't pay much attention to our rival companies. In the past, it was important to beat competitors, and cheap prices and large quantities were emphasized when promoting products. I don't like that. Such methods may increase sales but profit will be sacrificed.
And first and foremost, I wondered what was interesting about that. If we offer products that suit the needs of consumers, they will sell well without competing. If the value of the product really increases, consumers will accept price increases.
I've been calling for enhancing and valuing our brands, and this awareness has taken root in the company.
Inspired by the pandemic
Suzuki often gets inspiration from daily life.
I always think things like: "Can we try this?" or "We need this kind of thing." For instance, our company has been selling disposable "healthcare warmers" for women suffering from sensitivity to cold temperatures for several years. I came up with the idea because I regularly got acupuncture treatments.
Disposable warmers were sold only in winter, but our healthcare-related disposable warmers are sold at drugstores and other places in summer, too.
Furthermore, I tried to find new uses for disposable warmers amid the coronavirus pandemic and asked employees for ideas. As a result, disposable warmers were developed that keep food warm during delivery. We can create new value by changing targets, not by developing a completely new product.
Society will significantly change after the coronavirus pandemic. I think it's necessary to get a wider range of information in the future.
When the Great East Japan Earthquake occurred, I suffered from a feeling of helplessness. But at the same time, I thought about what I could do. At that time, an image of a rose blooming in the debris sprang to my mind. The rose itself cannot remove the debris, but it can encourage people working there. I wanted to be a leader who emits fragrance.
S.T. Corporation aims to make people's lives cheerful and bright through the air. To that end, employees should be like that too. It is important to maintain a good work-life balance and create an environment where employees can enjoy working. I myself try to stay healthy, both mentally and physically.
I make sure to work out for one hour from five o'clock in the morning, every day. I always wear white clothes, not only because they convey a sense of cleanliness but also because they motivate me and keep me on my toes.
My father, who founded the company, seemed to really enjoy work. I want to be a bright and energetic worker, too. I don't really care that I was born to the founder's family, but I might take after my father.
Numbers — 323,980
S.T. Corp. has been organizing original musicals every year since 1998 and inviting spectators for free. So far, 323,980 people have seen them. Last year, the company canceled the musical for the first time. This year, it plans to put on "Anne of Green Gables" and is preparing for performances in eight cities across the country in August.
---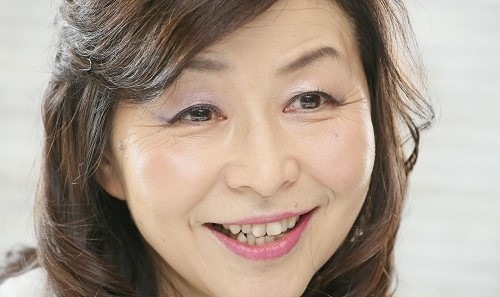 Takako Suzuki
Suzuki, 59, was born in Tokyo in 1962 and graduated from the Faculty of Foreign Studies at Sophia University. She worked for companies such as Nissan Motor Co. and Louis Vuitton Japan, and joined S.T. Corp. in 2010. She became president in 2013. Her hobby is pottery.
Suzuki is the third daughter of company founder Seiichi Suzuki. While growing up, her father said he would never let his children run his company. After graduating from university, she worked in marketing for a luxury foreign cosmetics brand and other companies. In 2010, she joined S.T. Corp. at age 48 and became president in 2013.
---
Add TheJapanNews to your Google News feed.