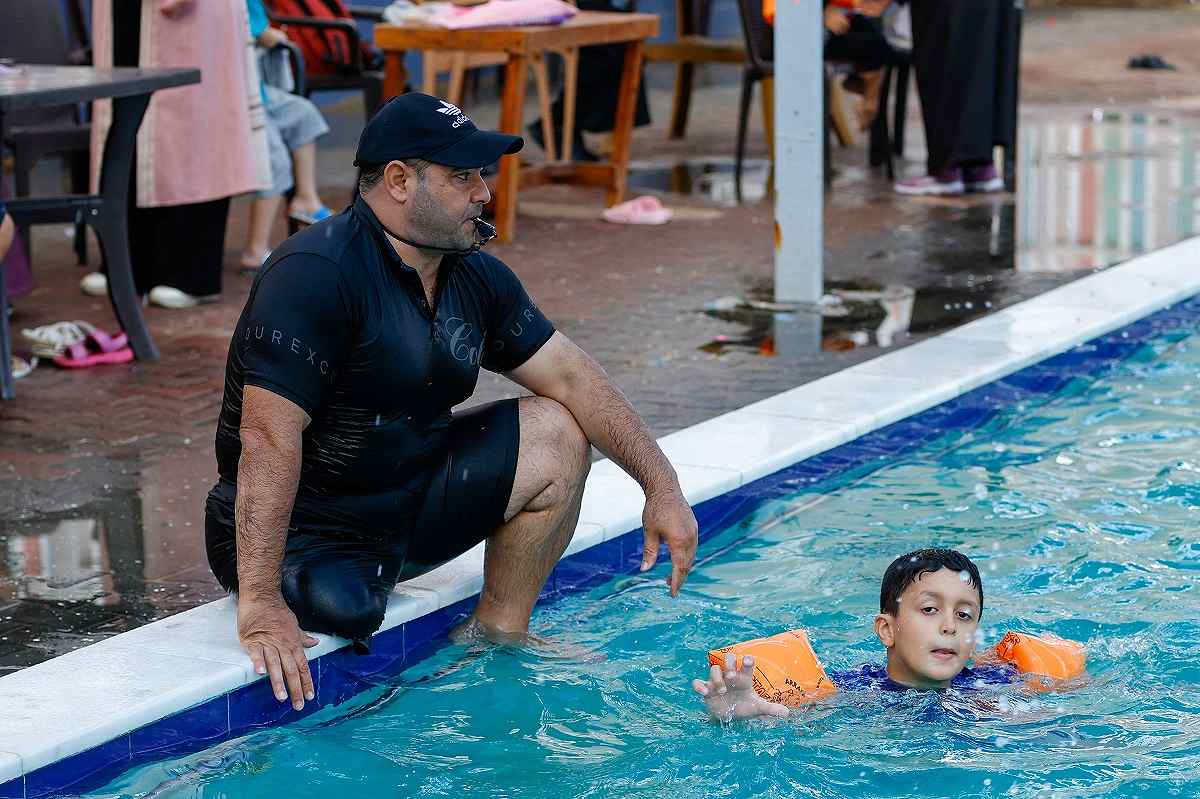 16:45 JST, August 21, 2023
GAZA (Reuters) — Majdi El-Tattar was just 9 years old when he lost his leg in an accident. Now he is an inspiration to aspiring swimmers in Gaza — as a qualified swimming coach who runs his own school.
Parents bringing their children to swimming classes for the first time are surprised to see Tattar standing on crutches, but their doubts soon turn into confidence when they see his skills in the water.
Tattar, now 42, lost his right leg when he was run over by a car. Faced with the problem of finding a job in the Palestinian enclave, where nearly half the working-age population is unemployed, he took to swimming and qualified as a coach.
"I told myself I had to turn this ordeal into a blessing, I made the amputation of my leg a motive for me to become an active member of the society," he said.
"I developed my skills and that enabled me to start a swimming school," Tattar told Reuters as a few dozen of his students trained in the water.
His Palestinian Swimming Academy holds classes in a local pool and its students include youngsters and adults alike.
The International Committee of the Red Cross lists at least 1,600 amputees among Gaza's population of 2 million.
Assalama Charitable Society, which cares for wounded and people with disabilities, said 532 Gazans had lost limbs in the conflict with Israel.
Earlier this month, the U.S.-based Palestine Children's Relief Fund (PCRF) brought together 120 Gaza children who have upper and lower limb amputations into a summer camp.
"Our goal in Camp Ability is to join the kids together, to bring them, to show them and show the communities they live in that they are able-bodied and they can do anything," PCRF Dunia Saed said.
Add TheJapanNews to your Google News feed.