Libya Recovers Colonial Wolf Statue Sold as Scrap and Found on a Farm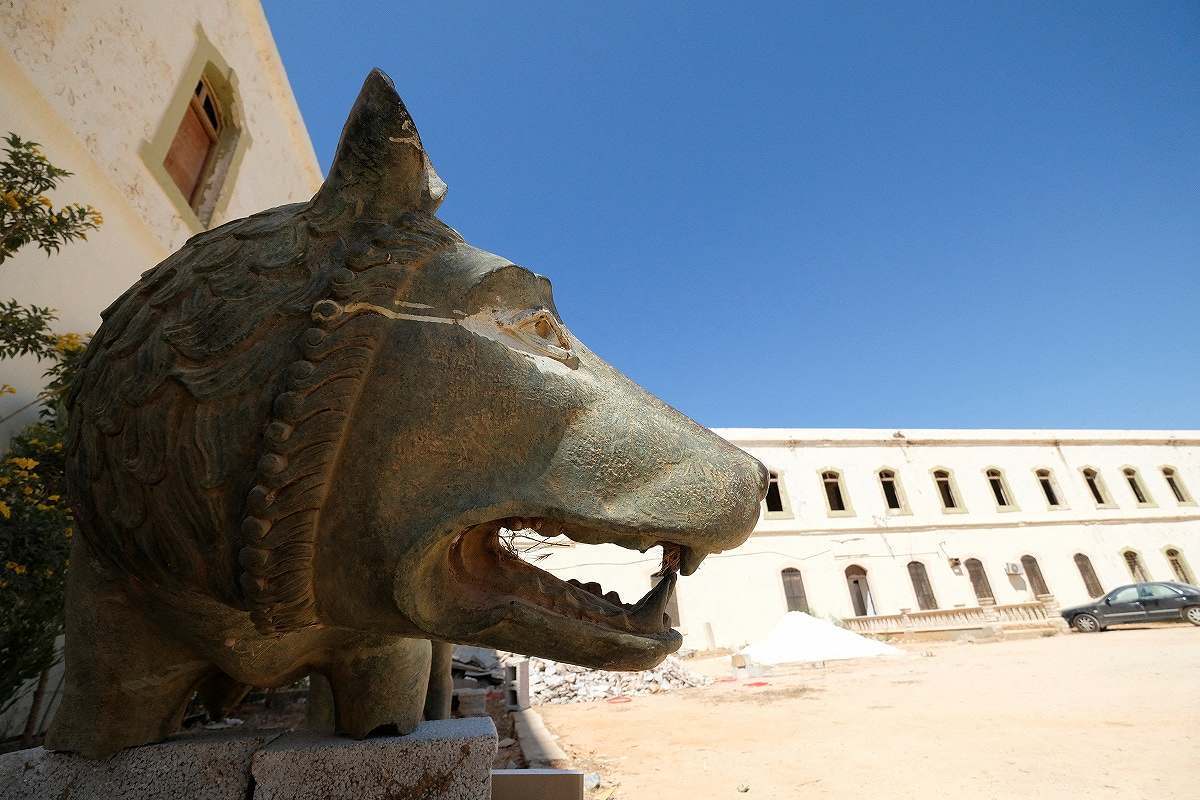 14:20 JST, August 19, 2023
BENGHAZI, Libya (Reuters) — Libyan authorities have recovered a large bronze wolf statue that once sat atop a pillar in central Benghazi before disappearing decades ago, found on a farm whose owner said he bought the sculpture as scrap.
Authorities were alerted to the colonial-era statue after a tip off and discovered it on a farm near Benghazi belonging to Saied Mohammed Bourabida, who told them he had bought it from a metal yard because he liked the way it looked.
"I remembered this statue in its position near the port from when I was young … I had a smelting workshop and when I saw it by chance at the scrap dealer's I liked its shape and the quality of work so I bought it," he said.
Bourabida, 80, kept the statue, a replica of the famous Capitoline Wolf sculpture that depicts a legendary scene of ancient Rome, in plain view under a spreading tree next to the terrace of his house.
Khaled al-Aqouri, head of the tourism and antiquities department of the Benghazi police, said he was confident that Bourabida had not known that it was still public property.
Italian colonial authorities erected the statue in the new Benghazi city center they were building in the 1930s, promoting a connection between the ancient Roman settlement of Libya and their modern colonial rule over the country.
After Libya won independence, the authorities removed the wolf from its pillar and it disappeared following Muammar Gaddafi's seizure of power in 1969, a revolutionary period when relics of foreign colonial rule were banished from sight.
At some point the statue lost its front legs as well as the figures of two human infants suckling underneath, representing Romulus and Remus, the mythical founders of Rome who were said to have been raised by a wolf.
It is now outside the antiquities department in Benghazi, propped on concrete blocks while it awaits possible restoration.
Libya was an important Roman province, home to the great port cities of Sabratha and Leptis Magna whose imposing stone temples and theaters still stand on the Mediterranean shore.
However, many priceless Libyan antiquities have disappeared: pillaged by Europeans in colonial times, appropriated after independence or looted in the chaos that has followed a 2011 NATO-backed uprising.
Khaled al-Hadar, a Libyan researcher on stolen antiquities, said heritage monitoring remained weak in Libya and had not been started until 1974 — after the wolf had disappeared.
Add TheJapanNews to your Google News feed.