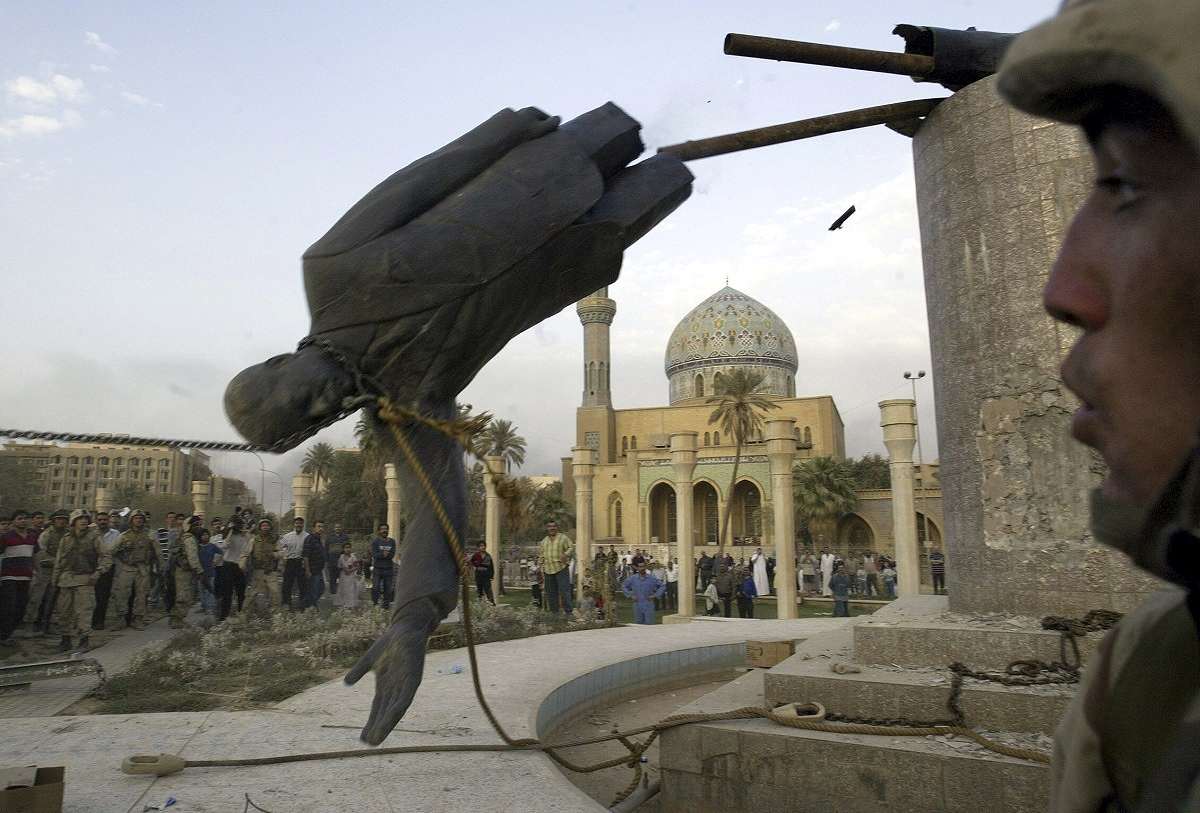 13:00 JST, April 20, 2023
BAGHDAD (AP) — Of his countless stories of his life as a hairdresser in Iraq, the one Qaiss al-Sharaa most enjoys retelling is about the day April 9, 2003, when he watched Iraqis and American Marines pull down the statue of Saddam Hussein in front of his salon in Baghdad's Firdos Square.
The 12-meter statue of the Iraqi dictator extending his right hand had been erected just a year earlier to celebrate his 65th birthday.
"There were lots of younger Iraqis from around the country with the American troops toppling the statue — who naturally wanted their freedom," al-Sharaa told The Associated Press. "The statue showed the face of a man everyone feared."
For the world, it became an iconic moment of the U.S.-led invasion; live TV coverage as Marines tied the statue to a vehicle to pull the statue down inflated it into a symbol of the end of Saddam's quarter century rule. In reality, the Firdos Square statue was a minor part of the huge number of monuments and palaces that Saddam erected to show off his power.
All his statues and images are long gone now, 20 years after that day. Many of his palaces and buildings have been repurposed for a new Iraq. But much of the hope that came in wiping away Saddam's oppressive visual presence has also evaporated, burned away first by years of brutal violence and now by a wrecked economy and rampant corruption by the new political elite of sectarian-based factions.
Firdos Square has been refurbished as a small park, funded by private banks. On a building towering over the square is a large mural of Iranian Gen. Qassem Soleimani — assassinated in a 2020 U.S. drone strike — and Imam Hussein, grandson of the Prophet Muhammad. It is the sort of Shiite imagery that proliferates around Baghdad because of the domination of Iran-backed Shiite parties in the government.
"This new garden that replaced Saddam's represents the widespread corruption in Iraq today, underneath the nice greenery and fountains," said al-Sharaa. He said that while he doesn't miss Saddam's rule he does miss "the rule of the law."
"Families are too scared to take their kids there, because drug dealers hang out there at night," he said of the square.
It's not known what happened to most of the Saddam statue, but pieces of it were taken away by souvenir hunters.
A group of young U.S. Marines from Utah in 2003 said they sawed off the statue's right hand and intended to sell it on eBay. But it disappeared from their cargo as they tried to smuggle it home on their military flight back. All they have is the photo they took of themselves holding it like a prized fish. In 2016, a German antiques dealer said he bought Hussein's left leg and then resold it on eBay for over $100,000. British journalist Nigel Ely wrote a 2017 book about a chunk of Saddam's left buttock that he pried off the statue. He tried to auction it off for charity but didn't get a high enough bid.
Saddam's policy of filling Baghdad and other cities with palaces and statues and portraits of himself "created this image of this divine leader," Senior Research Fellow at Chatham House Renad Mansour told the AP. Saddam "needed to project power in different ways to remind the people who was in charge."
Some of Saddam's signature monuments remain in place, largely because they had a nationalist meaning that went beyond him. Still towering over the Tigris River, for example, are the Victory Arch, an arch formed by two giant hands holding crossed swords, and two large turquoise half-domes called the al-Shaheed Monument, or Martyrs' Monument. They were opened in 1983 and 1989 to commemorate those killed in Iraq's war with Iran in the 1980s.
The al-Faw Palace was built on an island in the middle of an artificial lake by Saddam in the 1990s to mark the retaking of the peninsula of the same name during the war. It was first used post-2003 as a U.S. coalition military headquarters called Camp Victory. Later it was turned into the American University in Baghdad, through funding by influential Iraqi businessman Saadi Saihood.
Saddam's presence can still be found on campus. His initials are etched on the walls and ceilings. The artificial lake is still stocked with a breed of giant carp that U.S. soldiers called "Saddam bass."
AUB Vice President Dr. Dawn Dekle said it was important to preserve the university's history. "This palace belongs to the future of Iraq," she told the AP. She now hopes the university can be a tool to retain Iraq's youth after years of Iraqis leaving the country. "The generation that went abroad are wanting to send their sons and daughters back to Iraq so they can experience it."
Anything directly reflecting Saddam was wiped away.
A day after the Firdos Square statue was taken down, Kurds pulled down a Saddam statue in the northern city of Kirkuk. They hit its face with shoes and celebrated the fall of a man who had brutally repressed their population, including a vicious campaign in the 1980s that Human Rights Watch called a genocide. That and other statues were replaced with images of Kurdish leaders, particularly Massoud Barzani, who led the Kurdish autonomous area in the north from 2005 to 2017.
In Baghdad, the biggest Shiite neighborhood had long been named Saddam City. Saddam, who brutally crushed any dissent among Iraq's Shiites, intentionally put a giant, colorful mural of himself in a main part of the district.
In June 2003, Shiites thronged to a ceremony that formally renamed the district as Sadr City, after a family of prominent Shiite clerics. A replacement mural was revealed, showing Mohammed-Baqir al-Sadr and Mohammed-Sadiq al-Sadr, two clerics killed under Saddam's regime for their opposition to his rule.
They are also the father-in-law and father, respectively, of Muqtada al-Sadr, a firebrand cleric whose militia battled the U.S. occupation after Saddam's fall. Today, he is one of Iraq's most powerful factional leaders, presenting himself as an outsider opposed to rival, Iran-backed Shiite parties that dominate government positions. Sadr City, home to millions of mainly impoverished Shiites, is his core stronghold.
"Words cannot describe how I felt during that moment. It was like going from darkness to light," Thalal Moussa said of the renaming ceremony, which he attended as a teenager. Now 37 and a contractor at the state electricity agency, he has seen those expectations of a better future frustrated.
"Now unfortunately we have this corrupt junta that has controlled the country for the past 20 years."
Add TheJapanNews to your Google News feed.