Israel regaining normality as outdoor mask mandate lifted, but concerns remain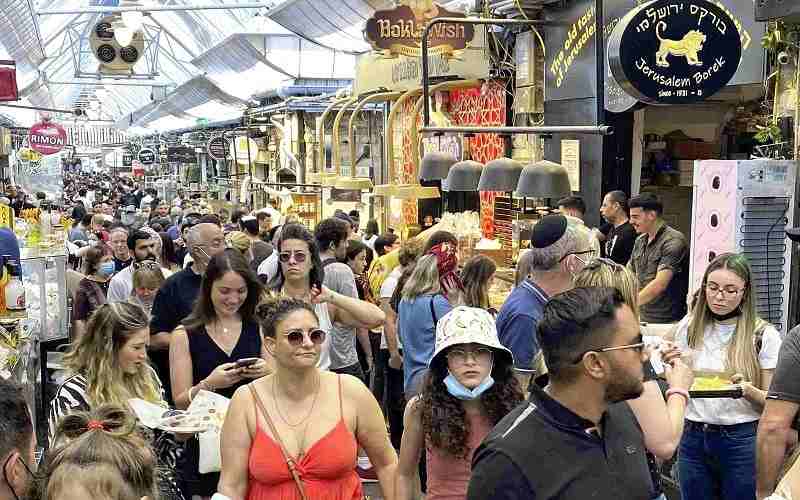 10:31 JST, April 29, 2021
JERUSALEM — Israel is returning to active daily life after its government lifted the outdoor mask mandate ahead of many other countries in the world.
Novel coronavirus vaccinations were rolled out in Israel at the world's fastest pace, but inoculations have slowed recently, and infections with a new variant have also been confirmed in the country. Ahead of a planned reopening to foreign tourists, some have voiced concerns about people letting their guard down against the virus.
The Machane Yehuda market in Jerusalem was crowded with shoppers on Friday, the first weekend after people were no longer required to wear masks outdoors. Popular among local residents, the market was so busy that visitors were shoulder to shoulder, but few people were wearing masks. Shopkeepers were hawking their wares, and all the restaurants and bars in the market were packed.
A 62-year-old man who visited the market with his wife said he had a hard time breathing with masks due to chronic respiratory disease. Although he was a little nervous about taking off his mask, he said with a smile that he was happy to be able to breathe and fill his lungs with fresh air.
Israeli Health Minister Yuli Edelstein declared on April 15 that the country's vaccination campaign had been successful and announced the easing of restrictions on wearing masks outdoors, effective April 18.
Israel in February introduced the Green Pass vaccination certificate that allows inoculated people to eat inside restaurants and visit movie theaters, hotels and other establishments.
Wearing masks outdoors is no longer necessary largely due to the steady progress of vaccinations. Inoculations began in late December, and 54% of Israel's population has already received two doses of COVID-19 vaccine.
Recently, the number of new infections has been hovering around 100 per day, a sharp decrease to one-hundredth of the number recorded during the peak in January.
On April 22, the country recorded no deaths from the virus for the first time in about 10 months since June last year.
Vaccinations slowing
However, the vaccination rollout, which had been progressing steadily, has come to a standstill. In mid-January, more than 200,000 people a day were vaccinated, but now the number is only about 10,000 people. This is believed to be because people concerned about side effects are hesitant to receive inoculations, and the number of vaccination sites has been reduced.
In addition, the major Israeli newspaper Haaretz and others in February reported the results of a domestic study showing an 85% reduction of symptomatic COVID-19 after a single dose of the vaccine produced by U.S. pharmaceutical giant Pfizer Inc. The second shot may cause stronger reactions in some cases, likely prompting many people to forgo the second inoculation.
It is said that if about 70% of the population are vaccinated, herd immunity can be achieved, but at present, the inoculation rate is below 60%.
Schools fully resumed on April 18. There is a possibility that the virus could spread among children who have not been vaccinated.
Taking this into consideration, the Israeli government plans to launch a new vaccination campaign within six months, expanding the range of people eligible for vaccination to include children between the ages of 12 and 15 in order to achieve herd immunity.
According to Pfizer, the vaccine is expected to remain effective for at least six months. For some people in Israel, six months will have passed in July since they got the second shot, prompting the government to consider additional vaccinations.
Caution over new variants
New variants first identified in India and other countries are also a cause for concern. Seven infections with the Indian variant have already been confirmed in Israel. The "double mutant" variant is believed to be highly infectious, and the number of infections has been skyrocketing in India.
Israel will begin accepting tourists from outside the country in May for the first time in 14 months. Tourists will be limited to vaccinated people traveling in groups.
Although tourists from India will not be included, people infected with the Indian variant have been confirmed in many other countries. Vaccines are believed to be less effective against it, and there are fears it may cause another surge in infections.
Some people in Israel are optimistic about the coronavirus, describing it as something in the past and saying they are free from it. However, Nachman Ash, who is in charge of the Israeli government's measures against the pandemic, on Sunday urged people to remain vigilant, stressing that the pandemic is not over yet.
Add TheJapanNews to your Google News feed.