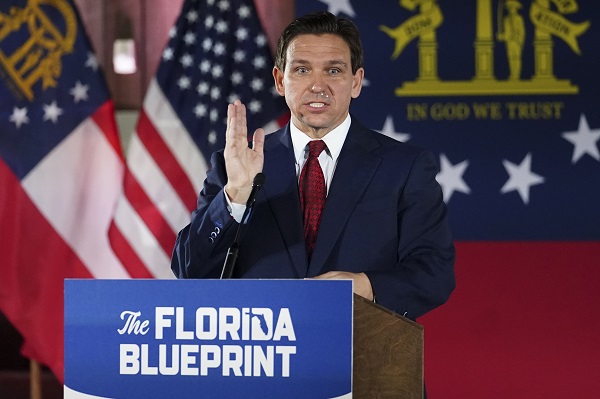 13:57 JST, April 7, 2023
WASHINGTON — Florida Gov. Ron DeSantis, seen as a possible Republican Party presidential candidate for the 2024 U.S. presidential election, intends to visit Japan later this month, according to sources. If the visit is realized, it will be the first time for DeSantis to visit since assuming the office of governor.
DeSantis is expected to lead a state delegation to Tokyo to promote business with Japan. He would also likely meet with Foreign Minister Yoshimasa Hayashi, and is also said to be keen to talk with Prime Minister Fumio Kishida, if schedules allow.
DeSantis served as a U.S. representative before becoming Florida governor in 2019, but he has limited diplomatic experience.
Republicans have been taken an increasingly hardline stance on China and attention would be strongly focused on what DeSantis had to say about the Japan-U.S. alliance and policy toward Beijing.
DeSantis is also coordinating visits to South Korea and Israel, following his planned sojourn to Japan. The governor has long indicated that he attaches importance to relations with Israel. He is scheduled to give a speech in Israel, which will serve as an opportunity for him to lay out his diplomacy-related thinking in the run-up to the 2024 U.S. election.
Add TheJapanNews to your Google News feed.