Delegates assemble in Vienna for 1st meeting of nuclear weapons ban treaty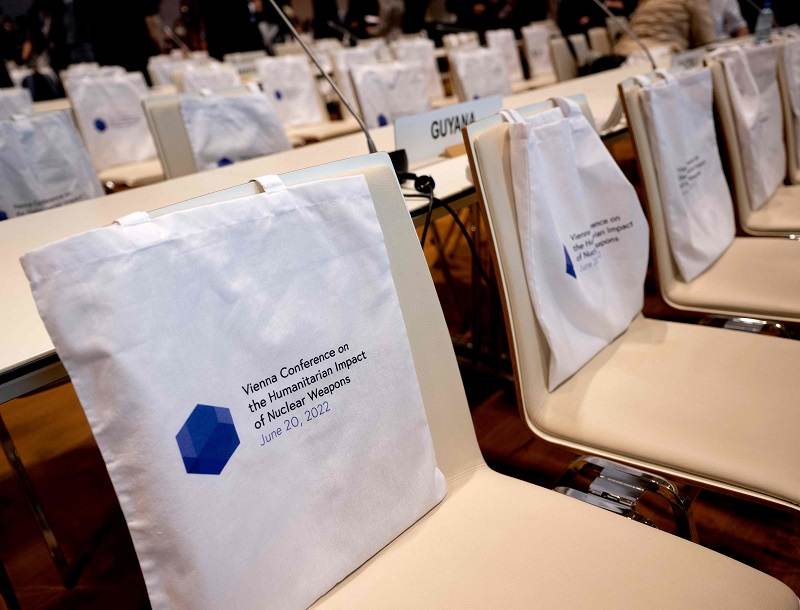 14:13 JST, June 21, 2022
VIENNA — Austria's capital will host the first meeting of the states parties to the Treaty on the Prohibition of Nuclear Weapons (TPNW) on Tuesday.
During the three-day meeting, participants are likely to reiterate the importance of nuclear disarmament and also condemn Russia for threatening to use nuclear weapons during its invasion of Ukraine.
Discussions are expected to address mechanisms to encourage non-parties to join the treaty, such as by holding regular dialogues, and support for victims of nuclear weapons, and an outcome document will be compiled.
On Tuesday, Hiroshima Mayor Kazumi Matsui and Nagasaki Mayor Tomihisa Tagami, as heads of atomic-bombed cities, are to deliver speeches to raise awareness about the inhumanity of nuclear weapons.
Non-signatory countries including North Atlantic Treaty Organization (NATO) members Germany, Norway, Belgium and the Netherlands, are expected to participate as observers without voting rights.
The global situation regarding nuclear abolition is becoming increasingly complicated, with calls to eliminate nuclear weapons from a humanitarian standpoint continuing to increase amid a growing emphasis on the usefulness of nuclear deterrence.
The TPNW was adopted by the United Nations in 2017 and entered into force in January last year. As of June 13, 62 countries and regions, mainly in Africa and South America, have ratified the treaty.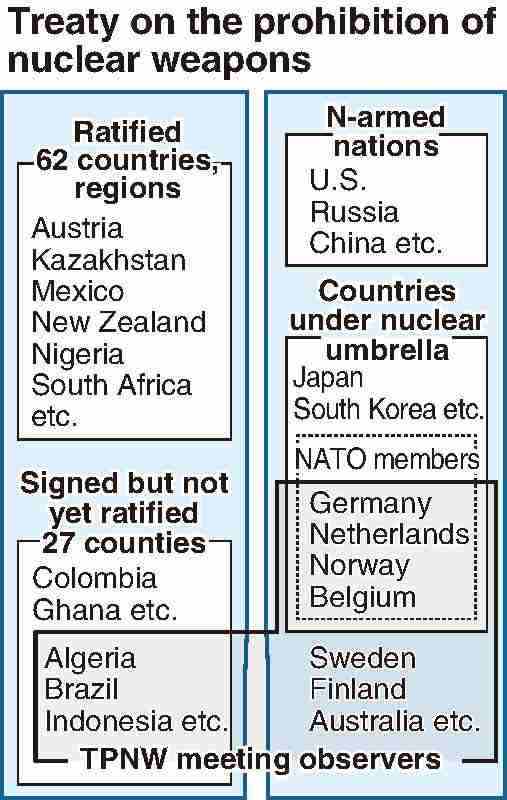 Nuclear powers, including the United States, Britain, France, China and Russia, which are permitted to possess nuclear weapons under the Treaty on the Non-Proliferation of Nuclear Weapons (NPT), will not participate in the TPNW and therefore will not be bound by the treaty. European NATO members, Japan and South Korea, which rely on the U.S. nuclear umbrella, have not joined the TPNW, either.
The Japanese government claims to share the TPNW's goal of abolishing nuclear weapons but takes the position that its ratification would "undermine the legitimacy of the U.S. nuclear deterrence" according to government sources.
Finland and Sweden, which have applied to join NATO, and Ukraine have not signed the treaty. Nor have major countries in the Middle East that are reeling from Iran's nuclear program.
Since Russia invaded Ukraine, Russian President Vladimir Putin has repeatedly mentioned the possibility of using nuclear weapons. Meanwhile, China is trying to modernize its nuclear arsenal and North Korea is thought to be preparing for its seventh nuclear test.
In March, Germany announced it would upgrade its fighter jets that can be equipped to carry nuclear bombs as part of its strategy to share nuclear forces with the United States.
The move suggests that Germany, which is participating in the Vienna conference as an observer, has no intention of ratifying the TPNW.
Add TheJapanNews to your Google News feed.