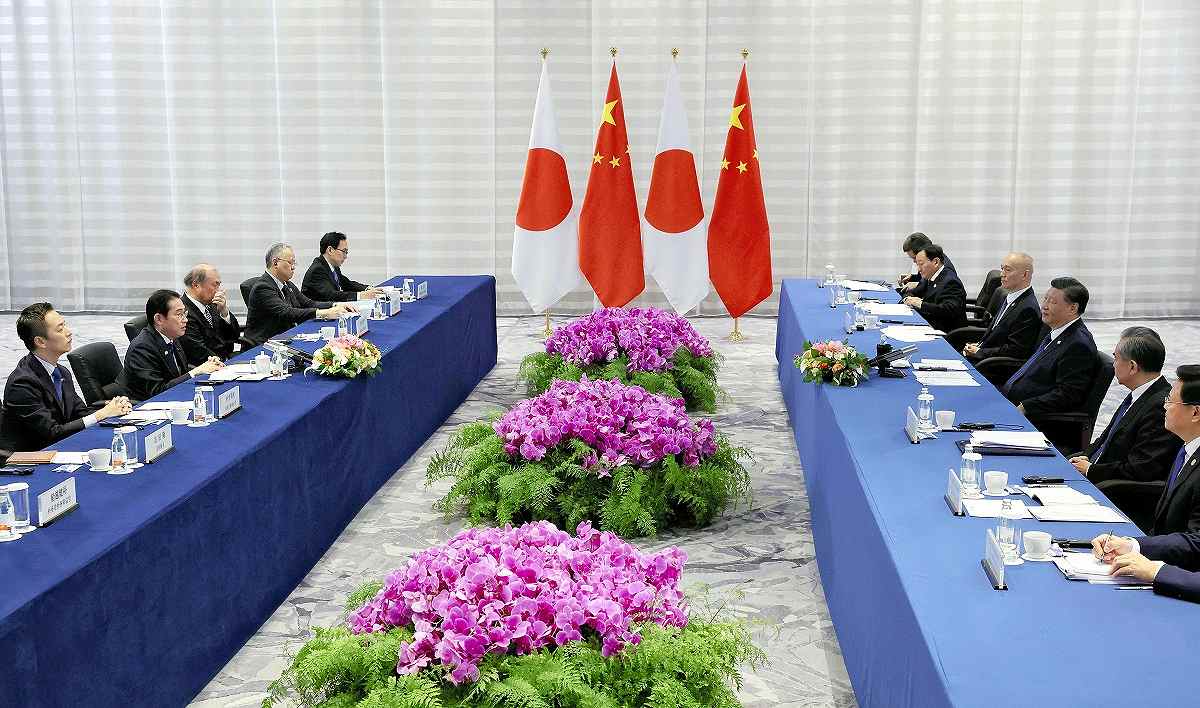 16:55 JST, November 18, 2023
SAN FRANCISCO — Chinese President Xi Jinping called for deepening economic cooperation between Japan and China during talks with Prime Minister Fumio Kishida in San Francisco on Thursday.
China is promoting "a high-level opening-up, which will bring unprecedented opportunities to countries around the world including Japan," Xi is quoted as telling Kishida.
Xi's decision to meet with his Japanese counterpart amid a busy schedule of international meetings was apparently aimed at restoring economic exchanges with neighboring Japan — and hence attracting investment in China — against the backdrop of China's increasingly slowing economy.
According to sources involved in the talks, the Chinese side suddenly approached the Japanese side about a summit immediately after Foreign Minister Wang Yi, a member of the Politburo of the Communist Party, visited the United States in late October.
China has failed to get its economy back on track even with the end of the pandemic. Direct investment by foreign companies during the July-September quarter recorded negative figures for the first time since comparable data became available in 1998.
Beijing reacted unilaterally and harshly over the release of treated water from the Fukushima No. 1 nuclear plant. With China wanting to save face and unwilling to quickly compromise, it led to stagnation in Japan-China economic exchanges.
The Chinese side thought that Xi's arranging of a summit would send a signal within China itself that entities could proceed with exchanges with Japan. The fact that this year marks the 45th anniversary of the signing of the Japan-China Treaty of Peace and Friendship helped smooth the way to realize the talks.
"[Japan-China] bilateral relations have maintained a momentum of development through thick and thin, playing a positive role in regional peace, development and prosperity," Xi said in flattering Japan.
There also was a political motive. In the Taiwan presidential election to be held in January, Beijing foresees a potential win by the Democratic Progressive Party (DPP) candidate, which it sees as pro-independence.
Sources knowledgeable in Japan-China relations say that China believes that "if relations with the United States and Japan are unstable, it will embolden pro-independence elements in Taiwan." Therefore, Beijing needs to move to stabilize relations with Japan.
China is also seen as working to distance Japan from the United States as the latter becomes preoccupied with the Ukraine and the Middle East. By softening its stance toward Japan, China hopes Japan would not automatically side with the U.S. on matters pertaining to China.
Xi reportedly told Kishida that the trend of "decoupling" does not benefit anyone, and urged that Tokyo take a separate approach from the United States as the latter leads the restricting of exports to and investment in China in high-tech fields such as semiconductors.
Add TheJapanNews to your Google News feed.